Do you like ads in websites? Unless you make money from them I bet you don't. That is why I will show you how to block all ads inside your Smart Home using AdGuard Home and Home Assistant. 
What AdGuard Home is Actually Doing?
AdGuard Home operates as an internal DNS server that re-routes domains that provide ads to a "black hole," preventing your devices from connecting to those ad services.
AdGuard is a network-wide software for blocking ads that integrates beautifully with Home Assistant.
After you install AdGuard Home, you can either set it up to cover all of your home devices at once or if you wish you can enable ad blocking only on some devices manually.
And I will show you both methods as well as how to control AdGuard from Home Assistant, so let's go:
Install AdGuard Home in Home Assistant
Go to your Home Assistant Lovelace/Dashboard and click on "Supervisor" in the lower left corner, then on "ADD ON STORE", search for "AdGuard" and click on the result.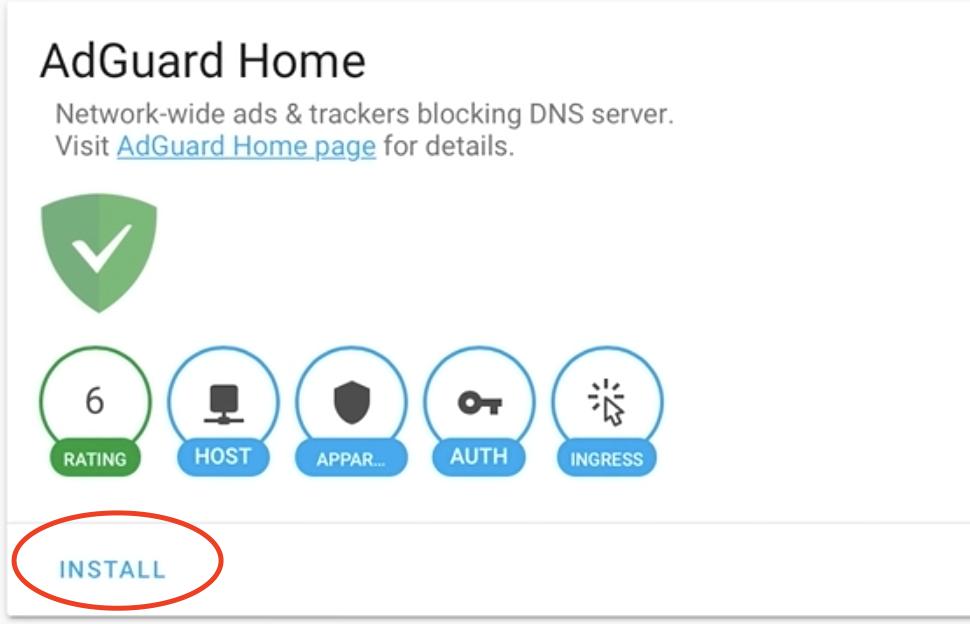 Hit "INSTALL" and wait several second for installation to finish.
And don't forget to hit the "START" button to actually start AdGuard Home.
AdGuard is now installed using Home Assistant. I will quickly show you the available options.
 The Important AdGuard Options
AdGuard Home have a lot of options, but I will quickly show you only the most important ones. For the rest – you can read the documentation if you have such need.

Go to "Filters" -> "DNS Blocklists" as I'm showing in the screen above.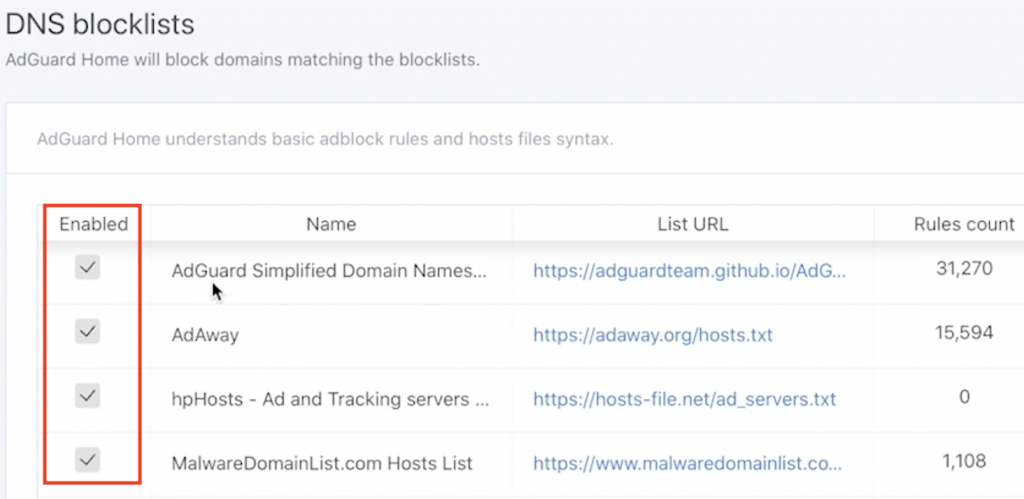 On top you can add additional ones.
Adding Additional DNS Blocklists
Go to this website https://firebog.net.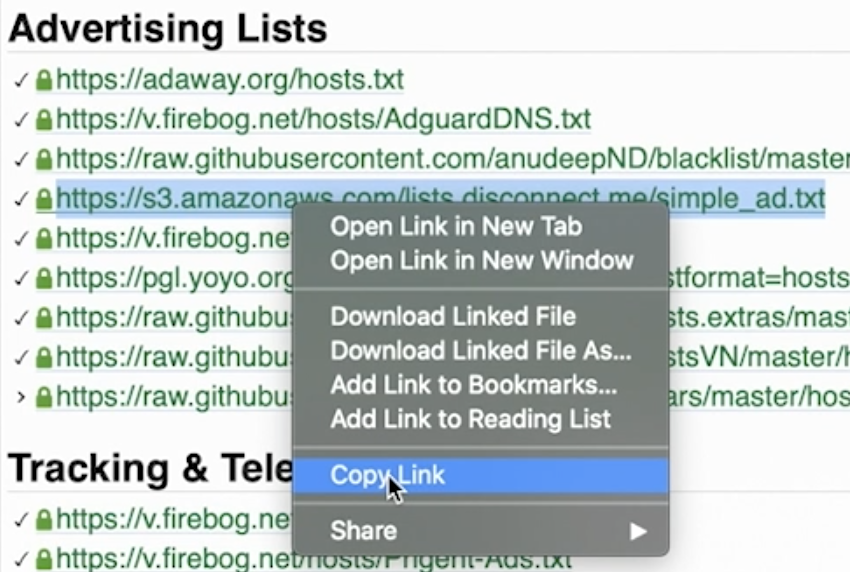 Choose a Blocklist that you want to import and copy the link.
Then go back to DNS Blacklist menu and just add it there.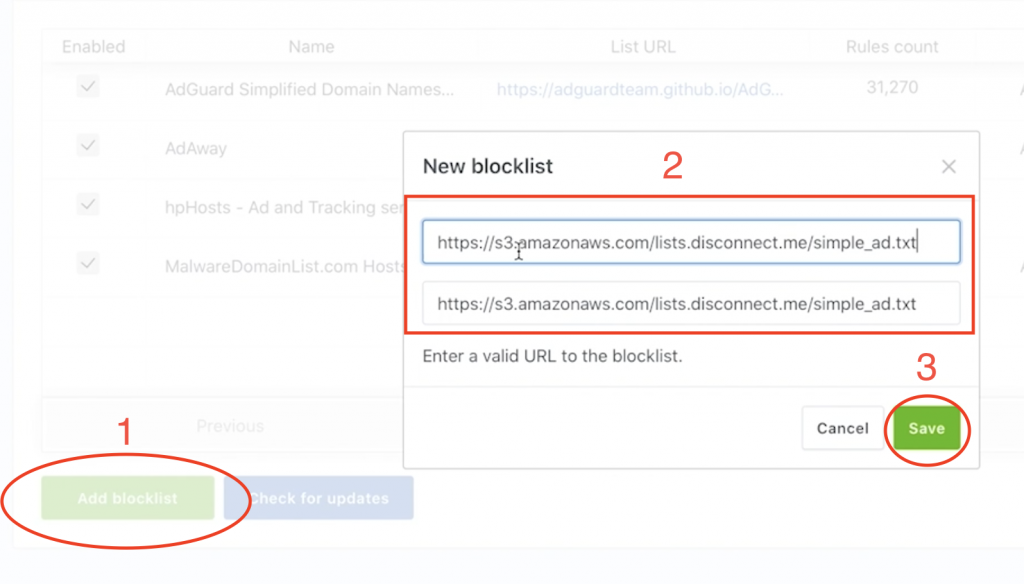 You can repeat the same process for every other DNS Blocklist that you want. But remember if you go too far you with that can end up with blocking even good domains.
If this happens just go to "DNS allowlists" under "Filters" and add the good domains there and they will be accessible again.
Configure only one client with AdGuard Home
Now l will manually configure only one device to show you this option first and then I will activate AdGuard in for my entire Smart Home network.
Go to the Setup Guide in the AdGuard and choose your operating system (Windows, macOS, Android, etc) for the device that you want to block ads on.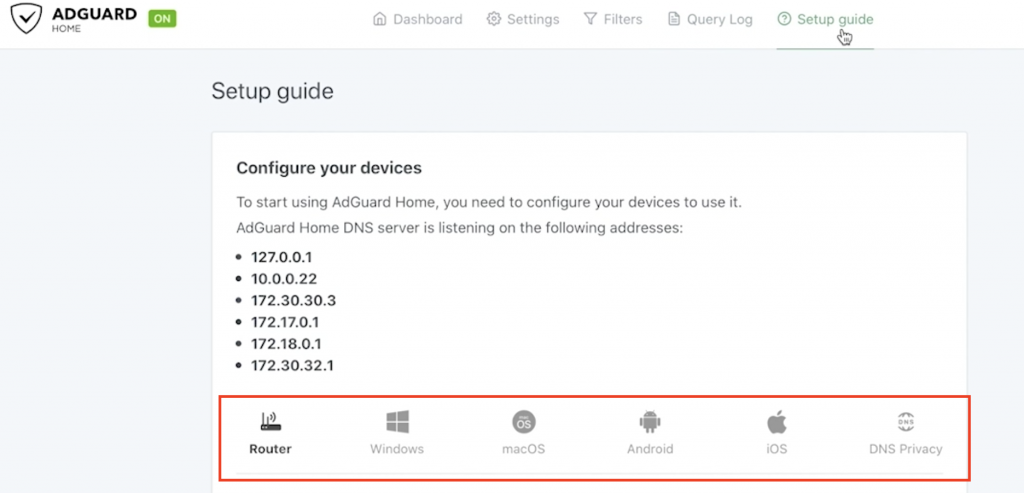 Follow the instructions for your Operating System, but in general you have to add the IP of your host where the AdGuard Home and Home Assistant are installed to your network as a DNS server.
After you do the above you can try to open a website full of ads and see if they are blocked. Sometimes it is required to hit the "refresh" button of your browser few times to make it work.
Add AdGuard Home integration to Home Assistant
I will add AdGuard Home integration to Home Assistant so you can control it without entering the web interface of the AdGuard Home.
Just go back to your Home Assistant and choose: Configuration -> Integration and then click on "CONFIGURE" in front of AdGuard Home integration.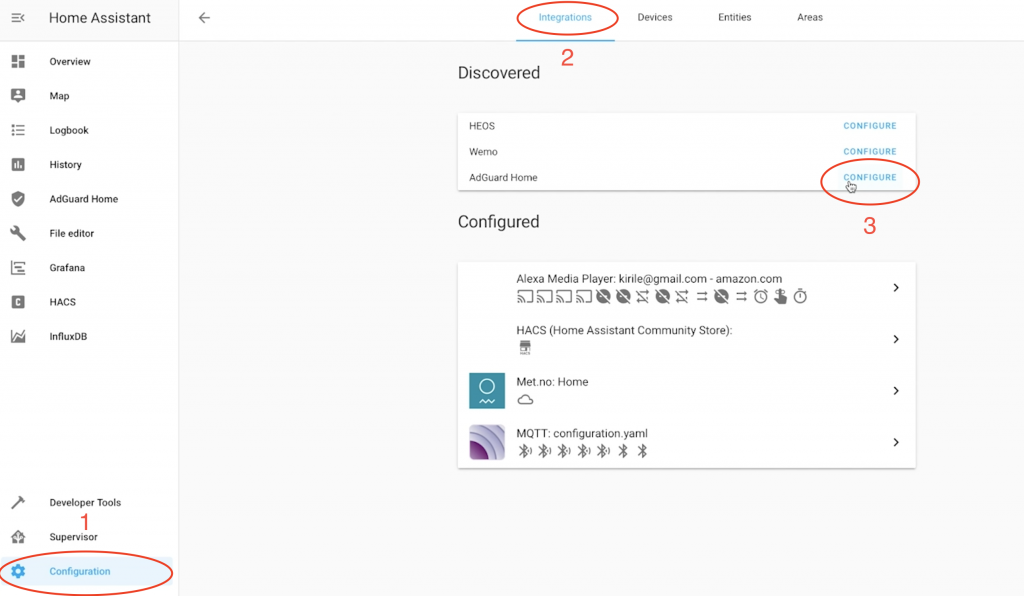 Then you have to click on "SUBMIT" and "FINISH" buttons to conclude with the AdGuard Home integration.
Your new AdGuard Home integration should appear under the Configured Integrations like so: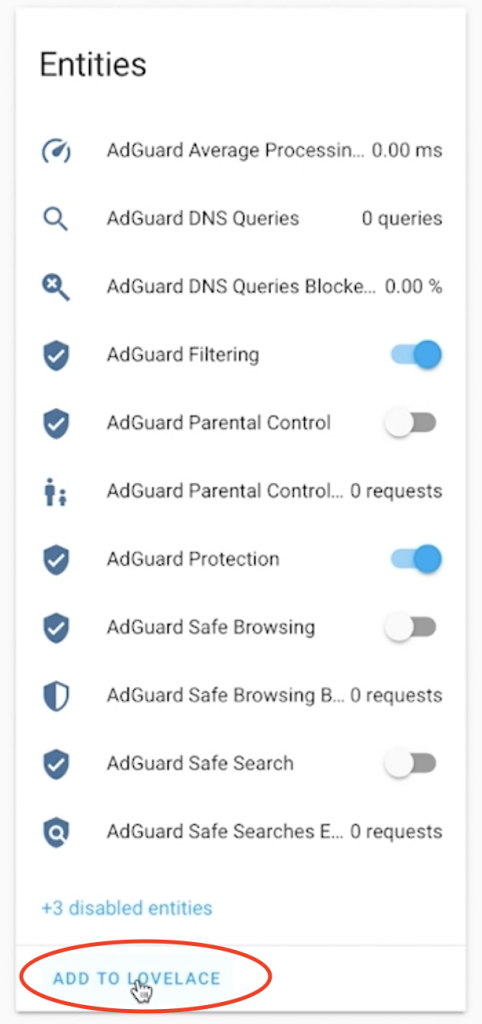 Click on it and add it to Home Assistant Lovelace.
From these switches you can control AdGuard Home right from the Home Assistant without even go to the web interface of the AdGuard.
Subscribe
I just have to inform you that you can continue to smash the subscribe button even after you successfully activate AdGuard Home.
I will even send you a FREE Getting Started Smart Home Guide bonus.
Try it out if you don't believe me 🙂
Enable AdGuard Home in my entire Smart Home network
It is time to enable AdGuard Home in my entire home network so every connected device will have no ads.
This setup will automatically cover all the devices connected to your home router and you will not need to configure each of them manually.
To do this you have to edit your router settings a little bit. I cannot tell you how to do it exactly, because every router have different interfaces, labels and options. In general you have to follow this guide:
Open the preferences for your router. Usually, you can access it from your browser via a URL (like http://192.168.0.1/ or http://192.168.1.1/). You may be asked to enter the password. If you don't remember it, you can often reset the password by pressing a button on the router itself. Some routers require a specific application, which in that case should be already installed on your computer/phone.
Find the DHCP/DNS settings. Look for the DNS letters next to a field which allows two or three sets of numbers, each broken into four groups of one to three digits.
Enter your AdGuard Home server IP addresses there.
Question for You
I have quick question for You: Are you using any kind of ad blockers and if yes, what exactly?
I personally used Pi-Hole until recently, but then decided to switch to AdGuard and for now I like it better.
Support my Work
Any sort of engagement on this web site and my YouTube channel does really help out a lot with the Google and YouTube algorithm, so make sure you hit the subscribe, and comment as a mad man.
Also feel free to add me on Twitter by searching for @KPeyanski. 
I really hope that you find this information useful and you now know how to block ads from Home Assistant and AdGuard Home.
Thank you for reading watching, #StayAtHome, stay safe and see you next time.