Having a control panel from where you can quickly change your Smart Home settings on the go and where you can instantly see some vital information is not a fad. 
How to create such Smart Home control panel? What hardware and software to use? Can this Control Panel be done on Budget? There is no one size fits all solution here, but let me share my personal experience on this topic, so you can replicate it or make it even better. 
What is Smart Home Control Panel?
Smart Home Control Panel in my understanding is an always on device with a touch screen display and enough real estate, so that the main info and controls can be displayed at once.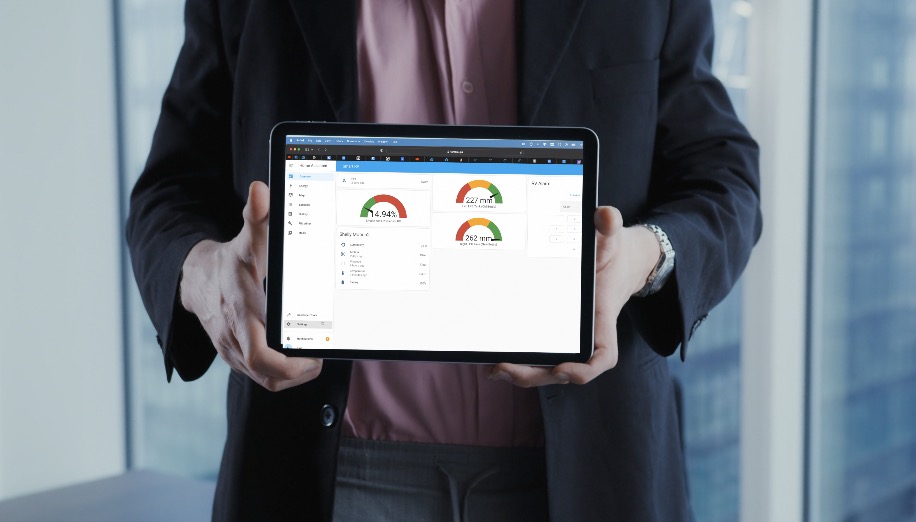 It also have to be mounted somewhere that every family member to have an easy access.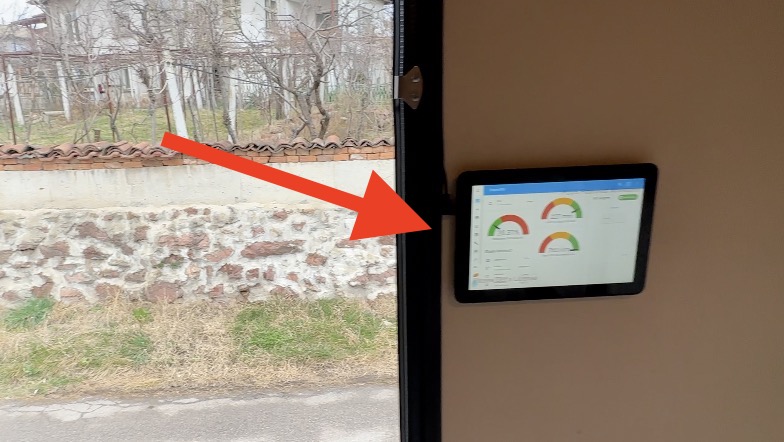 In other words, a Tablet that can run programs or websites in so called Kiosk mode will be a perfect fit.
What are the three main hardware options?
And when we are talking about tablets the main options here are three:
To use an iPad,
To use an Android tablet,
or some other tablet.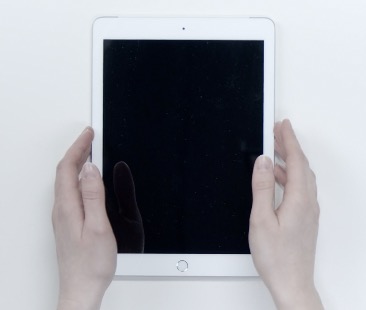 Spoiler alert: I chose some other tablet…
What I chose for Smart Home Control Panel?
I will not go into any crazy detailed Tablet specs here, as everyone have different preferences and budget, but I will share my top priorities.
I wanted the tablet to be relatively modern and budget friendly.
I didn't care much about the CPU & Memory. As long as the tablet is released in the recent years and it is coming from a respected brand – I'm sure it will be able to run simple programs and websites flawlessly. 
I didn't care much about the screen resolution and display quality either, as this device will be used several times a day for only several seconds or something.
Amazon Fire HD 8" Tablet
All of the above made me choose the latest Amazon Fire HD 8" Gen12 Tablet (released in 2022)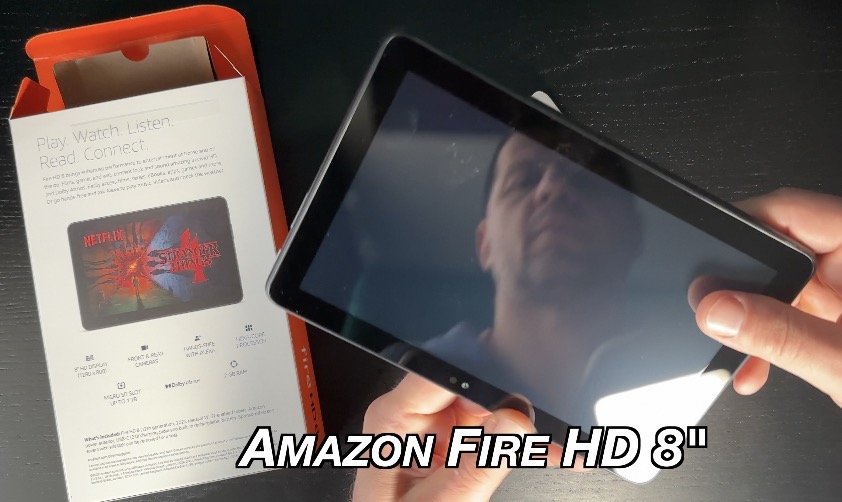 The Amazon Fire HD 8″ Tablet cost me around 80 British pounds, because I got it from Amazon UK on some kind of a promotion, which by the way are happening pretty regularly on all Amazon sites.
You can check the current price and if there is an active promotion at the moment using the links below:
All tablets above a perfect fit for a Smart Home Control Panel in my humble opinion
In that price of 79.99GBP it is also included an ad removal fee, which means I will not have some banners while the tablet is not in use. Paying this additional fee of around 10 pounds is optional and you can select it or not during the check-out process.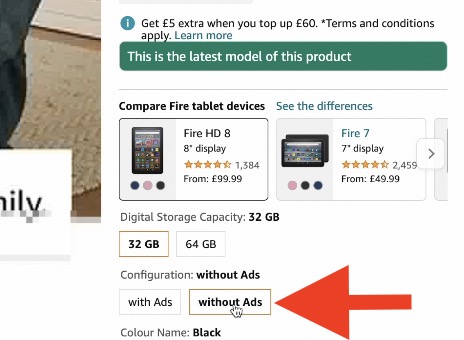 Are there other Amazon Fire HD tablets?
Have in mind that there are several versions of the Fire tablets:
The 8 inch regular and Plus models, where plus have wireless charging support and slightly more RAM.
After all, my idea is to mount this tablet in my Camper, where I will not have so many stuff at first to control and monitor. 
What software is needed for the Smart Home Control Panel?
And with that being said, I will stop talking about the hardware and I will move to the software.
By the way, let me know what is your favorite tablet for a Smart Home control panel in the comments section below? 
So, the needed software here can be divided in two main categories. 
The Smart Home software or the Smart Home hub graphical interface that actually will display and will allow controlling Smart Home devices. 
And The Kiosk software that will run the Smart Home Hub Interface in a full screen on the Tablet without any distractions and interruptions. 
For the first part, the best Smart Home Software or hub that can be selected at the moment and there is no doubt about that is called Home Assistant 
Free Home Assistant Webinar?
If you're interested in Home Assistant, but haven't got it yet, there's a free Webinar coming up, hosted by me. On this Webinar, you can hear all about the possible official options to get Home Assistant + 1 super simple way to get started on a PC in under 5 minutes.
Register your seat on my other site – https://automatelike.pro/webinar it is free. 
What is Fully Kiosk Browser?
The other needed software which I will use to run the Home Assistant Interface in full screen or in Kiosk mode is called fully-kiosk browser. Fully-kiosk is running perfectly on Amazon Fire and of course Android Tablets.
This software is very good, it is full of features and you can use every one of them without paying a single penny. But have in mind, if you enable some of the Plus labeled settings, a large watermarks across the screen will be shown.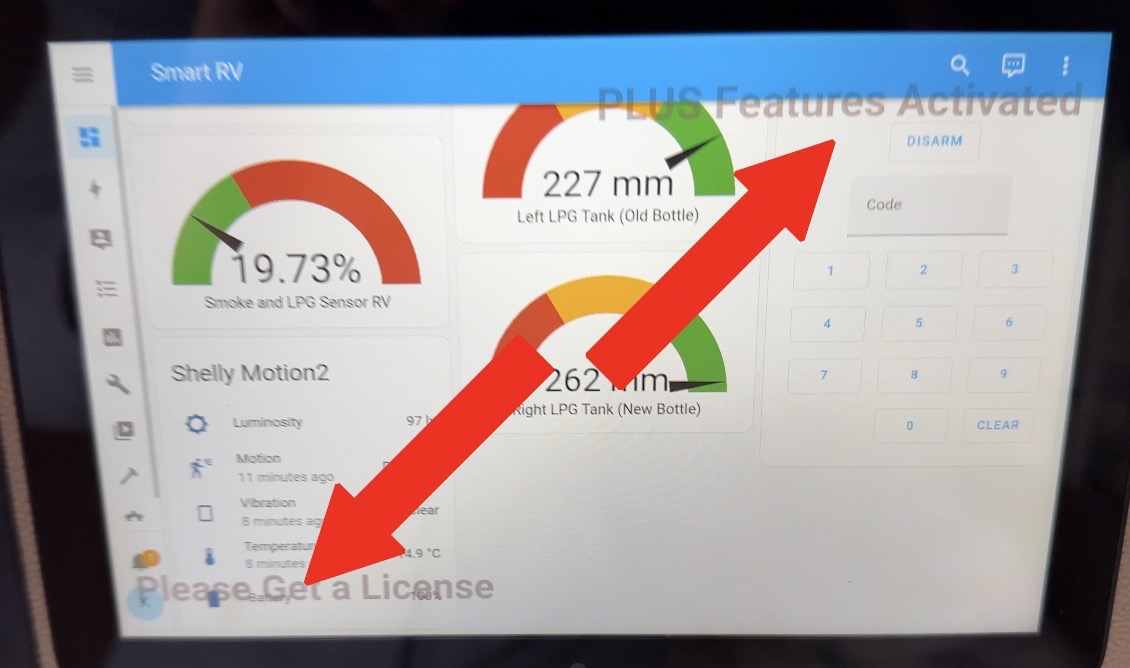 If you wish to remove these watermarks you have to pay one time fee of 8 euros or dollars to the Fully Kiosk authors. 
How to install Fully Kiosk Browser on Amazon Fire HD tablet?
I will not go very deep into the program features and I will stick to the basics to run it. And here is what I did to install Fully-Kiosk on the Amazon Fire HD tablet. 
First thing, I have to enable the Developer options on the Amazon Fire Tablet. This can be done very easily:
I'll go to Fire HD Settings > Device Options > About Fire Tablet and I will tap around 7 times on Serial Number, so that the hidden Developer Options menu to become visible.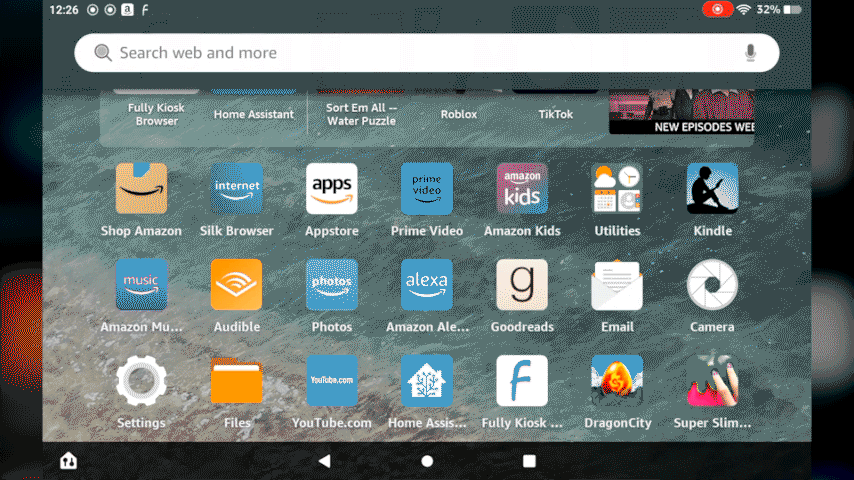 I don't know about you, but I love such Easter Eggs.
Then I'll go one step back to see the newly appeared Developer Options menu which will be now available. Inside it, I'll turn on the Developer Options.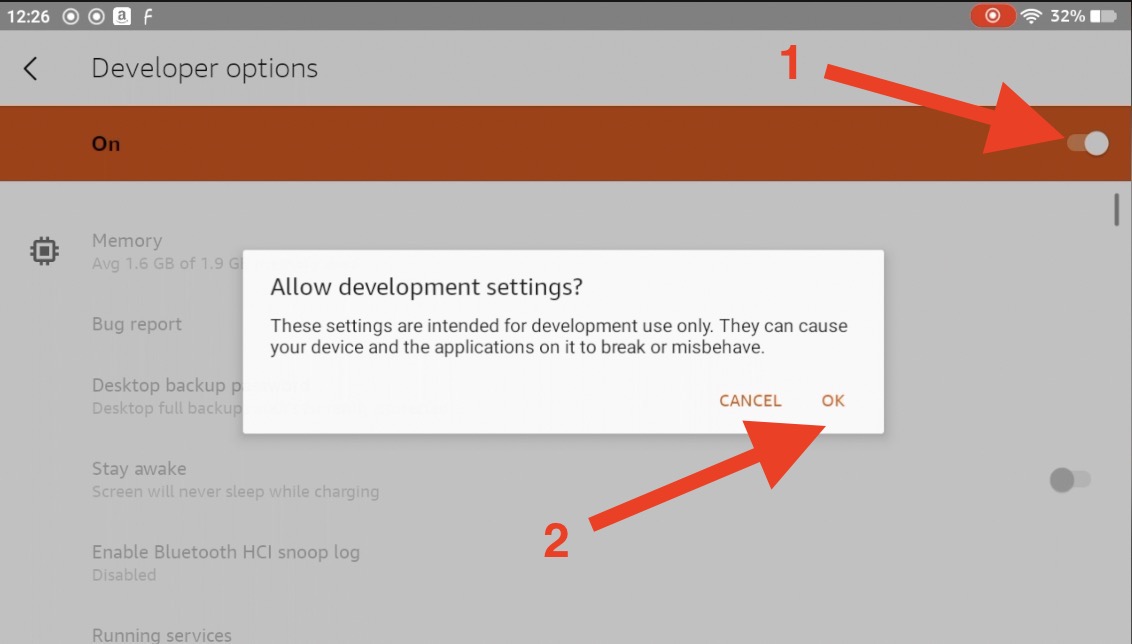 After that:
I'll open the native browser of the Fire HD tablet.
I will search for "fully kiosk browser" or I will directly type the website URL https://www.fully-kiosk.com and I will download the latest APK file of the program for Android/Fire and I will install it.
Then I will start the fully-kiosk program and I will type the URL of my Home Assistant as Start URL.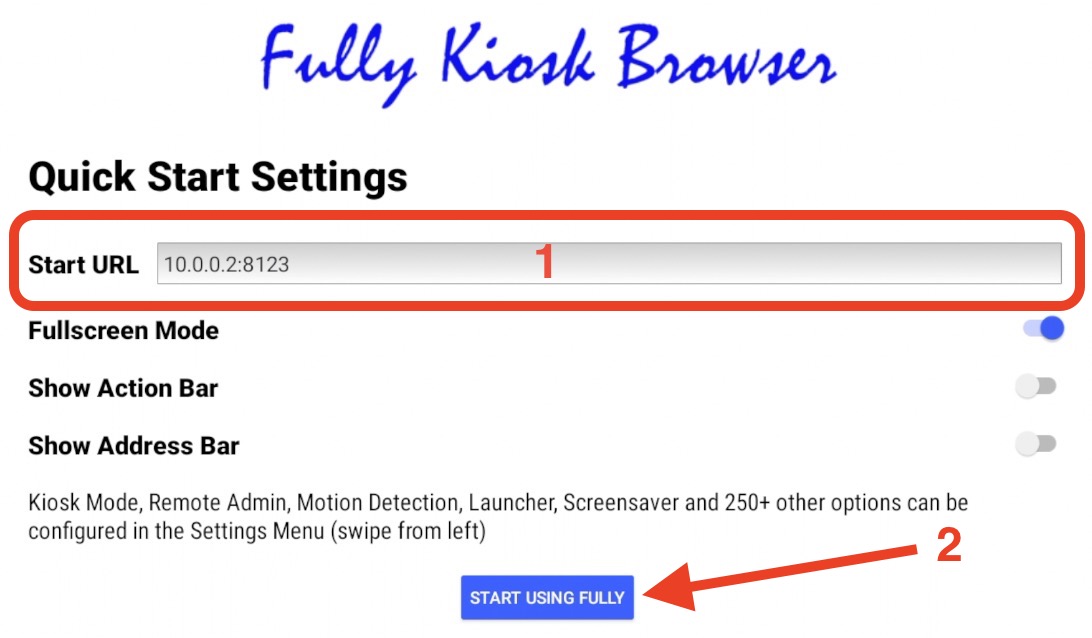 If I swipe right I can open the Settings of the Fully-Kiosk and I can play with them whole day. 
The features of this Fully-Kiosk are so many that they needs a dedicated video just to cover them. If you are interested, you can get more info on the official site – https://www.fully-kiosk.com
p.s. I have no affiliation with fully-kiosk, I just like the program. 
Integration of Amazon Fire HD in Home Assistant
It is also possible to integrate the Fire HD tablet in Home Assistant, so you can control it and monitor it from your Home Assistant dashboard. For that, Remote Administration should be enabled in the Fully Kiosk browser settings and this Fully Kiosk Browser integration for Home Assistant custom component should be installed in Home Assistant using HACS or Manually. 
Mounting the Amazon Fire HD Tablet on the wall
Now that I have the Smart Home Control Panel hardware that was the 8" Fire Tablet & the software that is Home Assistant + Fully Kiosk browser, I can proceed to the mounting the panel on a wall.
The whole idea here is to mount the tablet somewhere with a high traffic inside my place. Sticking the tablet to the wall can be done in multiple ways from simply using 3M double adhesive tape, through cutting the wall or by using a 3D Printed case.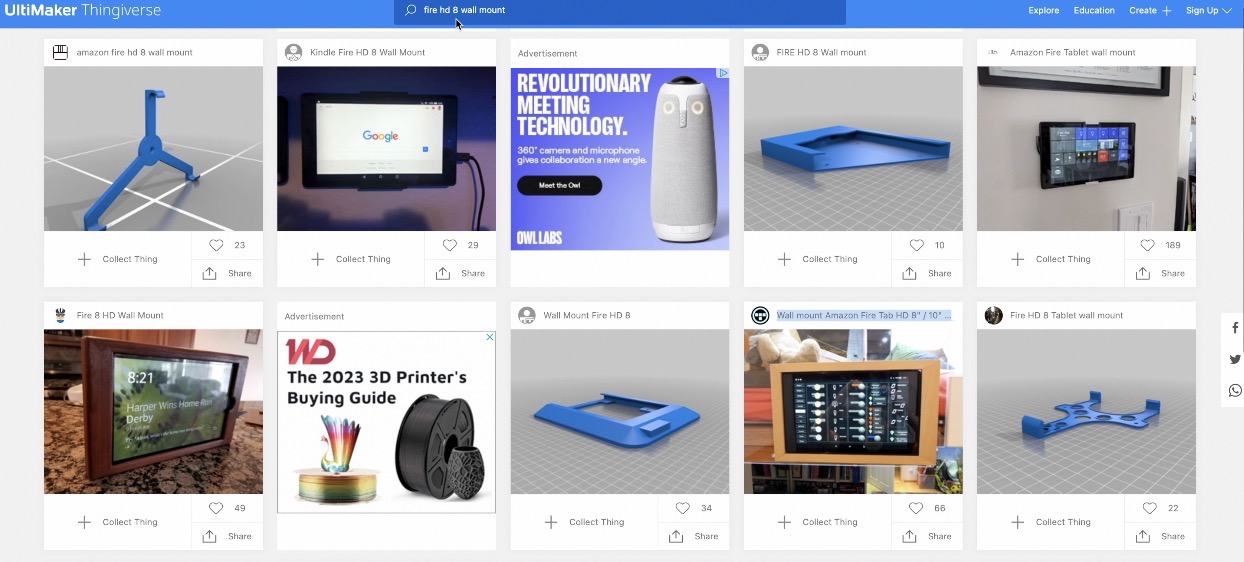 I planned to use a 3D Printed case, so I can hide the charging cable better, but unfortunately I couldn't find one for the latest Fire HD 8 tablet. Currently, all 3D models that are available are for the older Fire Tablets.
If you happen to find one suitable, please share it in the comments section below.
Amazon Fire HD Tablet Mounted inside my Camper
What happened at the end is that I managed to hide the charging cable in the camper door rubber seals.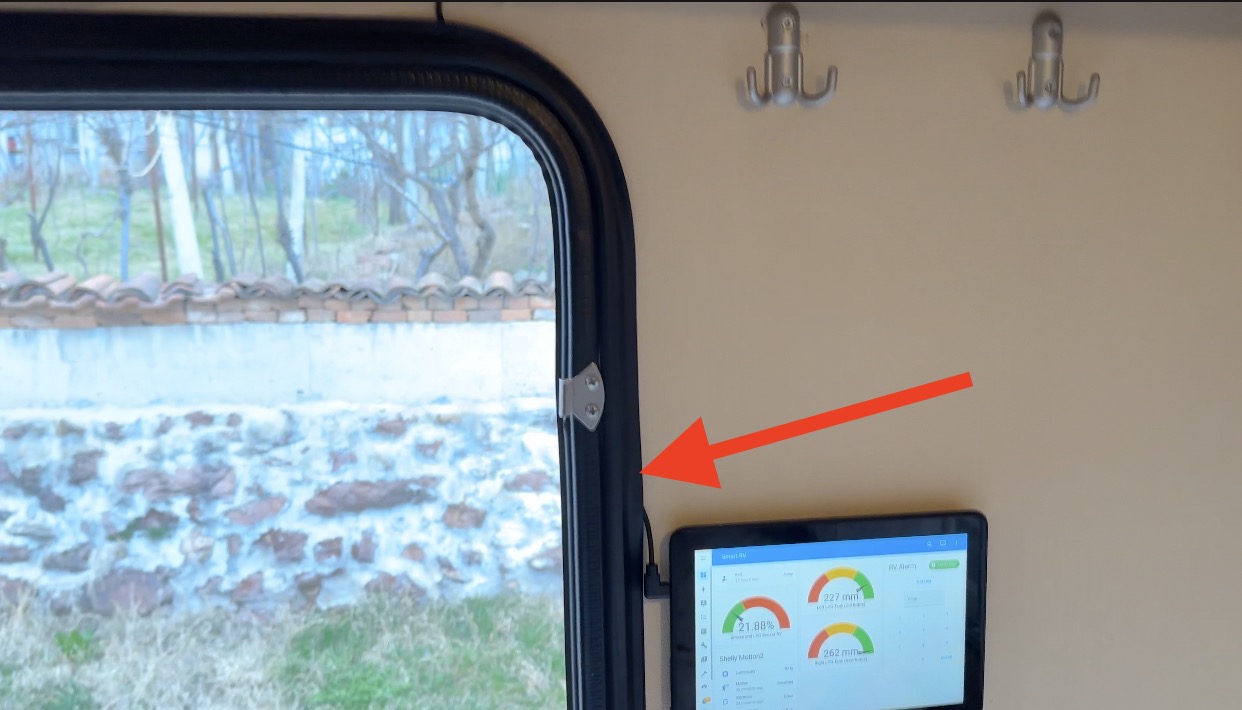 I printed these universal wall mounts – https://www.thingiverse.com/thing:5848751
UPDATE: Meanwhile Koen contacted me via e-mail and shared that he managed to create an up to date 3d case for the model for the Fire HD 8″ 2022 – https://www.thingiverse.com/thing:5904384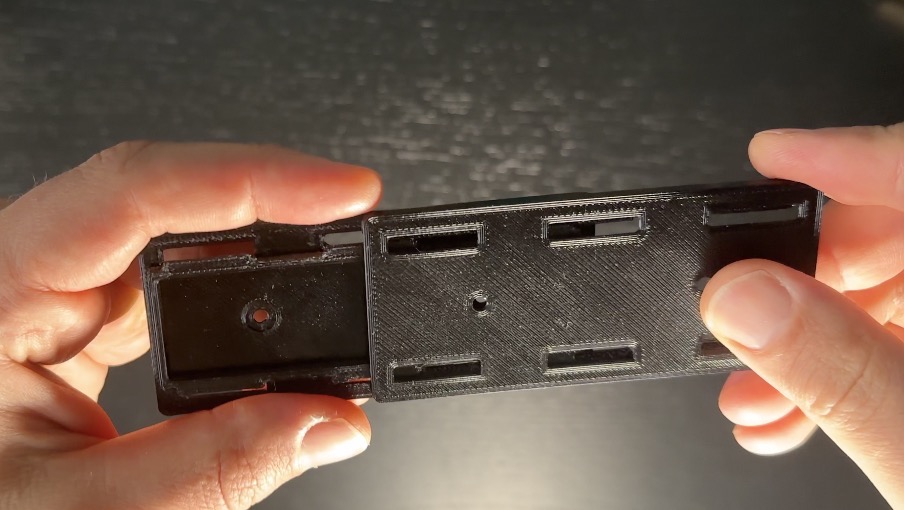 I stick one of the parts to the tablet using double adhesive tape and the other one I mounted on the RV wall.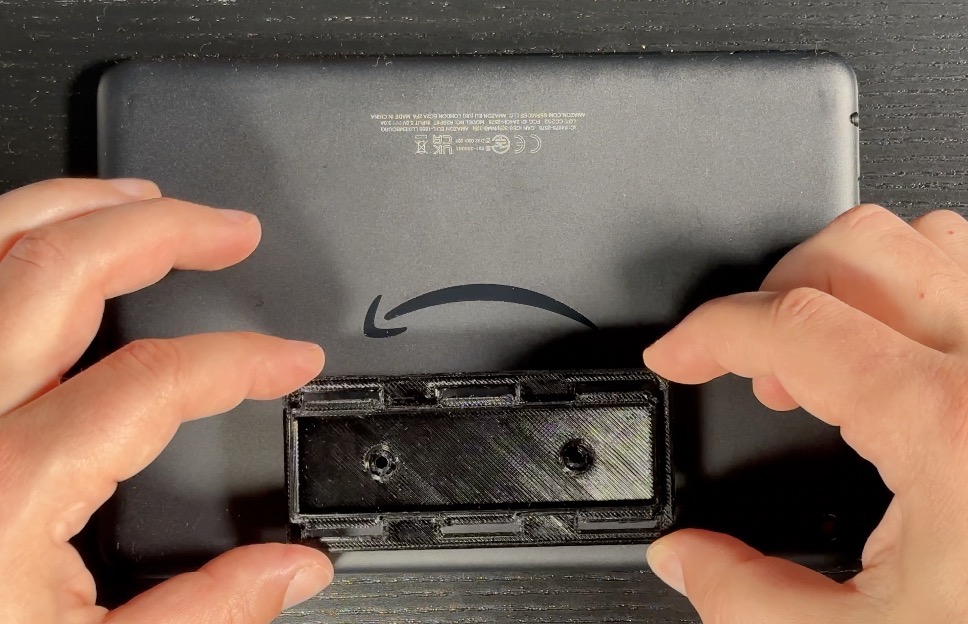 This is the end result of the 8 inch Fire HD Tablet running Home Assistant using Fully Kiosk browser mounted on my Camper wall.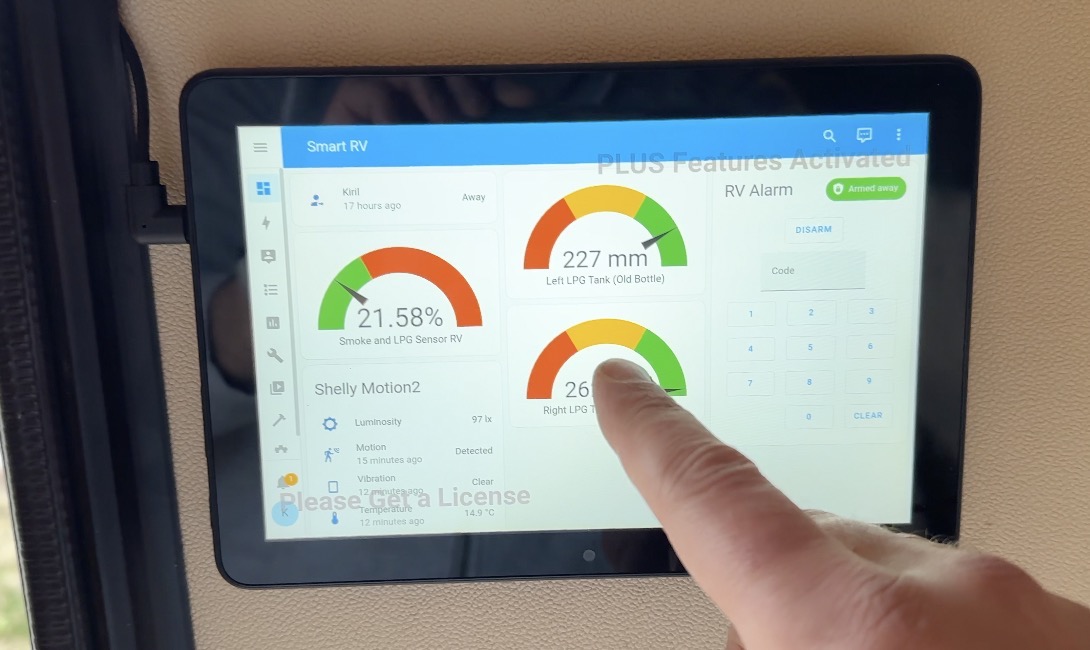 The best part is that I can easily remove it and use it read books or to watch some YouTube videos or something. So this device can be used for Smart Home control panel, a regular tablet and Voice Assistant (voice assistant because Fire Tablets can be used as Alexa voice assistant)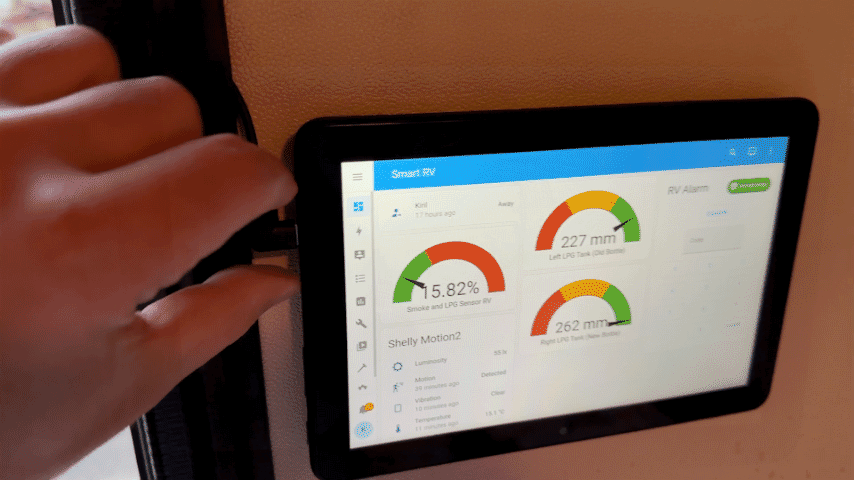 Smart Home Glossary
Don't forget to download my free Smart Home Glossary from my website https://automatelike.pro/glossary it will help you in your Smart Home journey.
You can also check my Smart RV Conversions series – https://peyanski.com/category/smart-rv-conversion/
Thanks for reading, I'm Kiril, see you next week. Bye!