Proud to introduce you a detailed review of the INKBIRD Wi-Fi 8-in-1 Indoor Temperature and Humidity Monitor and home weather station, featuring an electronic ink display. 
This INKBIRD IBS-TH5-WIFI supports real-time monitoring of temperature and humidity data, live weather forecasts, comfort level indicators, environmental assessment for colds, time, and date.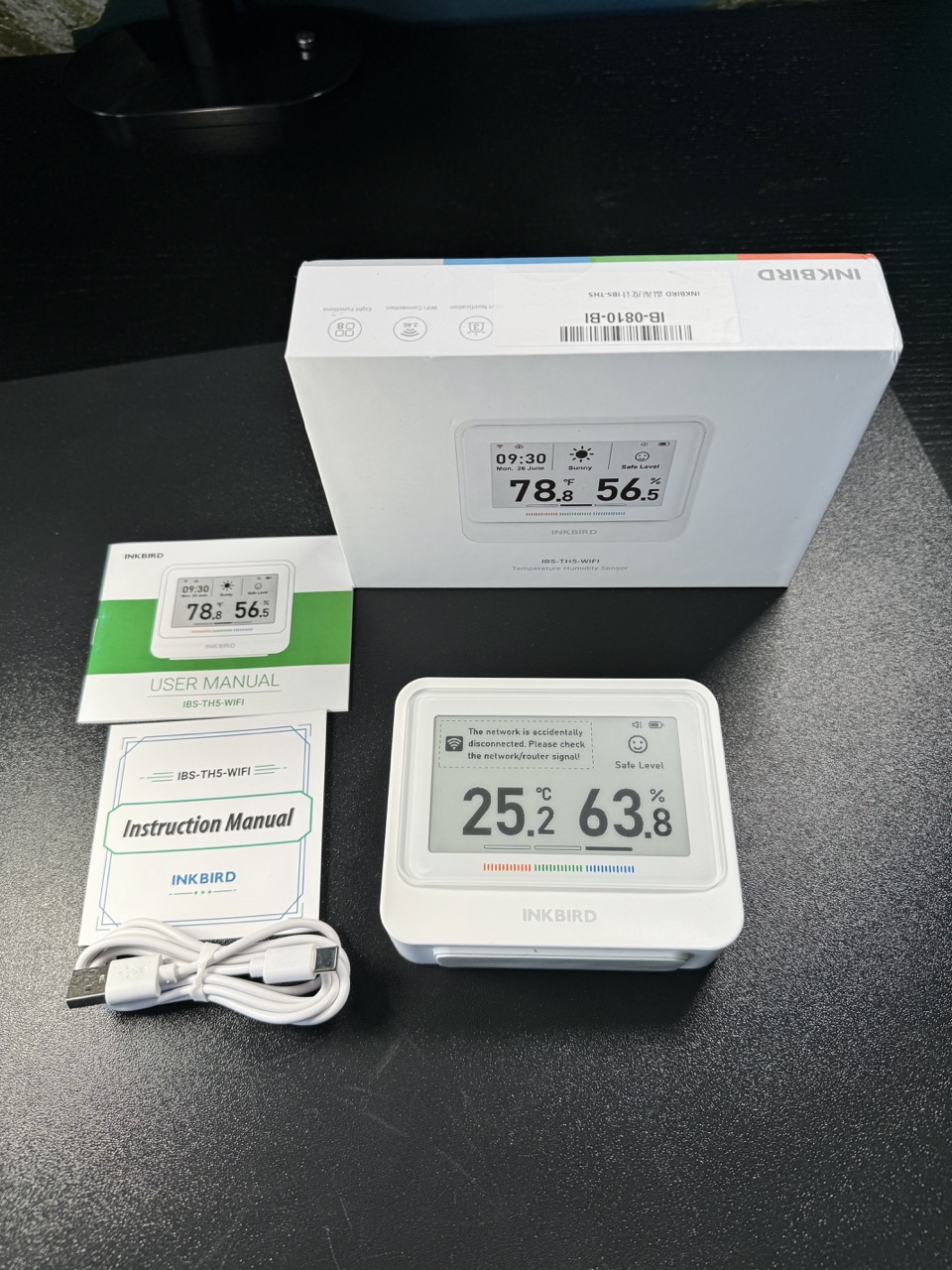 All-in-one design that the device have show all that information at once. A nifty gadget is a game-changer, and I'll walk you through every aspect of it.
The INKBIRD Solid Ink Display
Let's start with the display. The device boasts a 3.71 inches ultra-large electronic ink display. It's high contrast, wide viewing angle, eye-protecting, and easy to read. This feature sets it apart, ensuring that you'll have no trouble getting the information you need at a glance.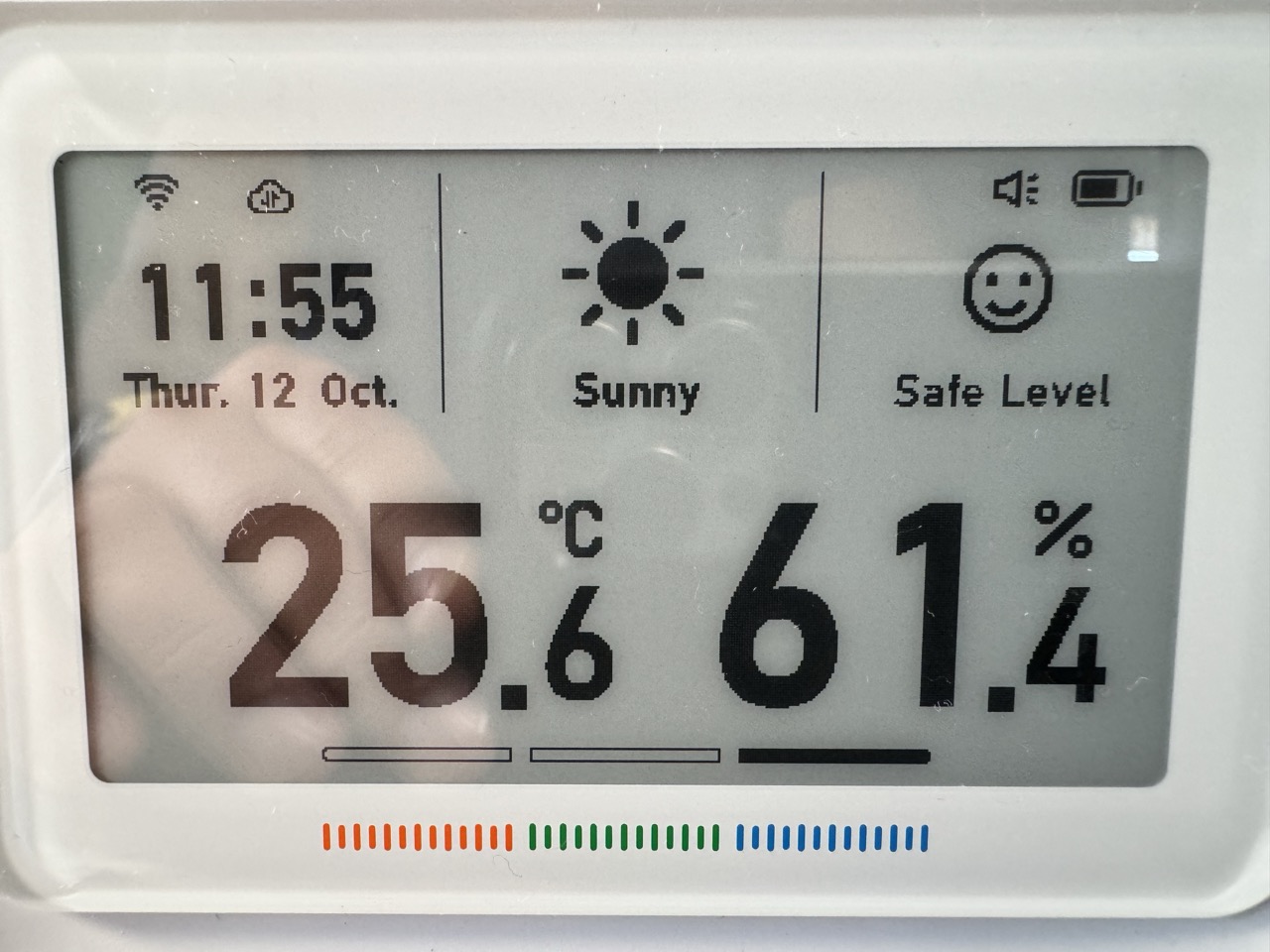 The Ink display is rock solid and super energy efficient, but more on that later. Unlike some other models out there, this one doesn't give you any trouble from odd angles. It's clear as day, no matter where you're standing. I'm currently looking at a comfortable 25.6 degrees in Celsius from 4m away. 
Plus, it's got the humidity level right there on the side – a nice touch for comprehensive weather information.
Ease of Setup
Connecting to Wi-Fi is a walk in a park. I'm already linked up, but let me show you how easy it is. The instruction manual guides you through a quick process. Just open your photo app, scan the QR code that is printed in the manual, and voila, you're good to go.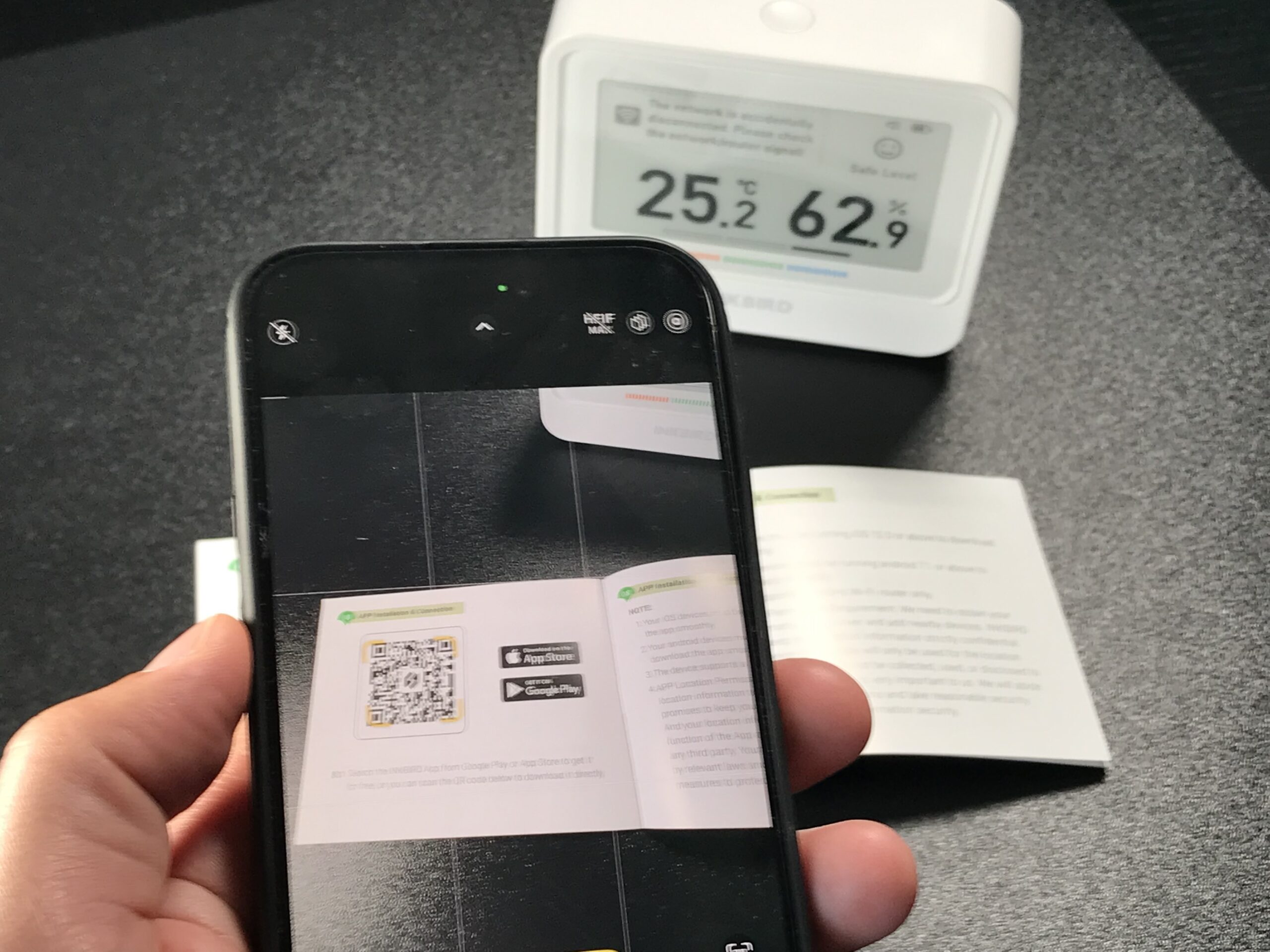 The app isn't just for setup. It's a portal into all the weather info you need. From temperature to humidity to even the current weather conditions, it's all there. This connection to your phone ensures that everything stays up-to-date and in sync. No more outdated weather reports!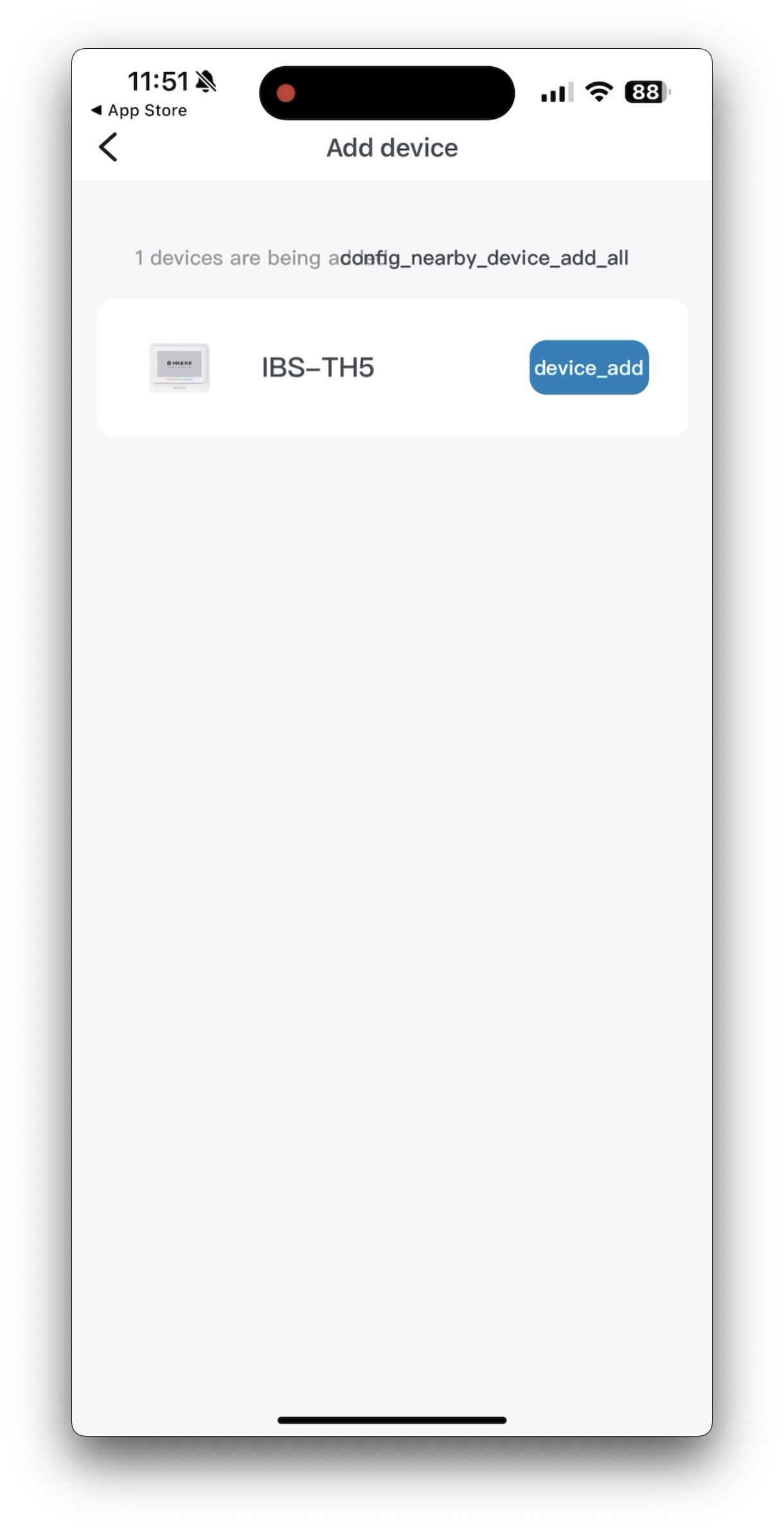 Long-lasting Battery
One of the standout features of the INKBIRD IBS-TH5-WIFI is its impressive battery life. With a built-in 2000mAh rechargeable lithium battery, it can last a whole 12 months on a full charge.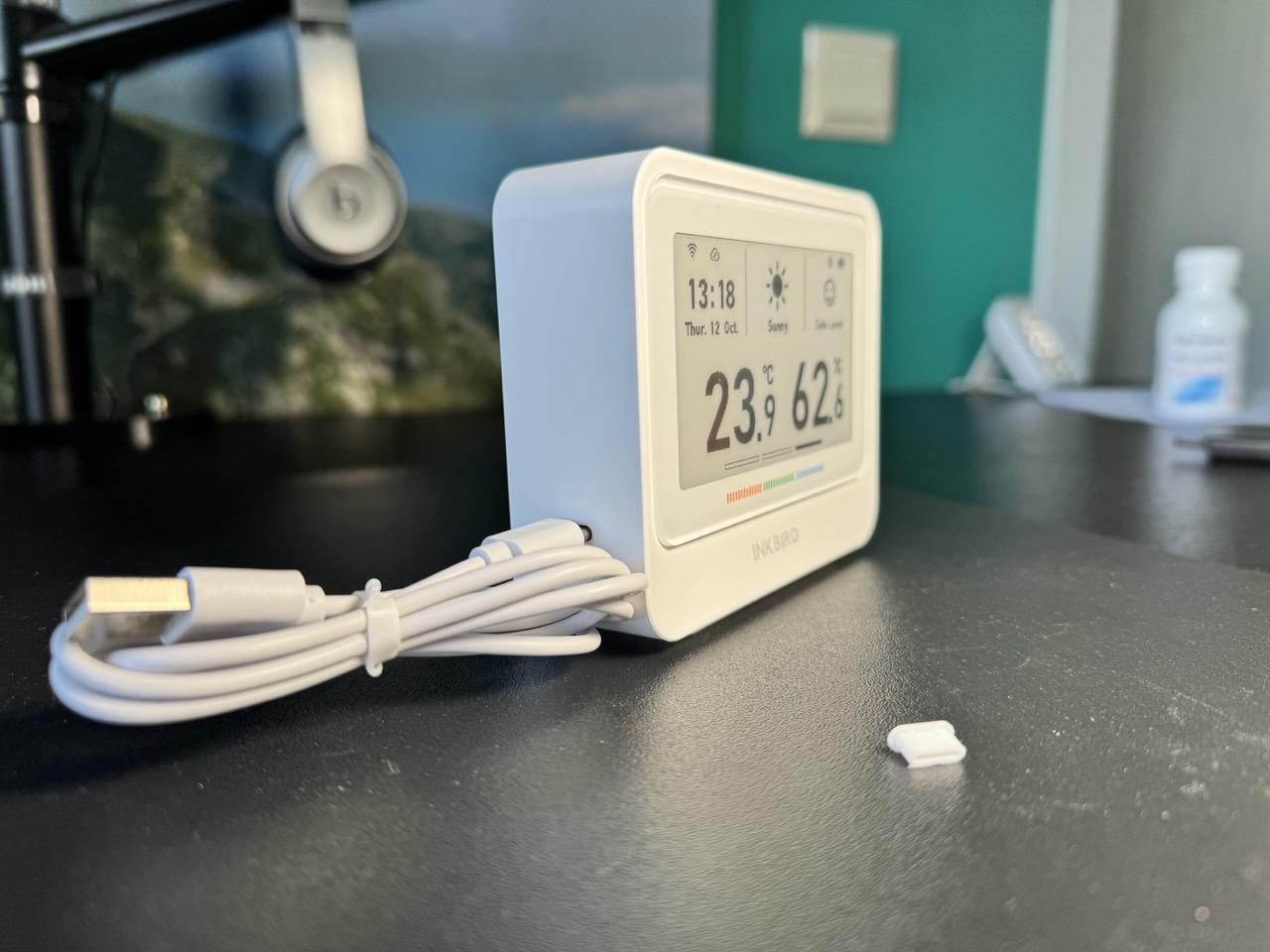 That means no need to buy extra batteries – simply recharge with the included USB-C cable after a year. And the best part? It's fully charged for several hours and then can serve you cordless again for another year or so.
Aesthetic and Versatile Design
This gadget doesn't just perform well; it looks good too. Whether you choose to set it on a table or use some double-sided 3M tape to stick it to a wall or even ceiling! Of course, just leaving it on a table or desk is possible, but what I meant that the INKBIRD IBS-TH5-WIFI is a versatile addition to any space.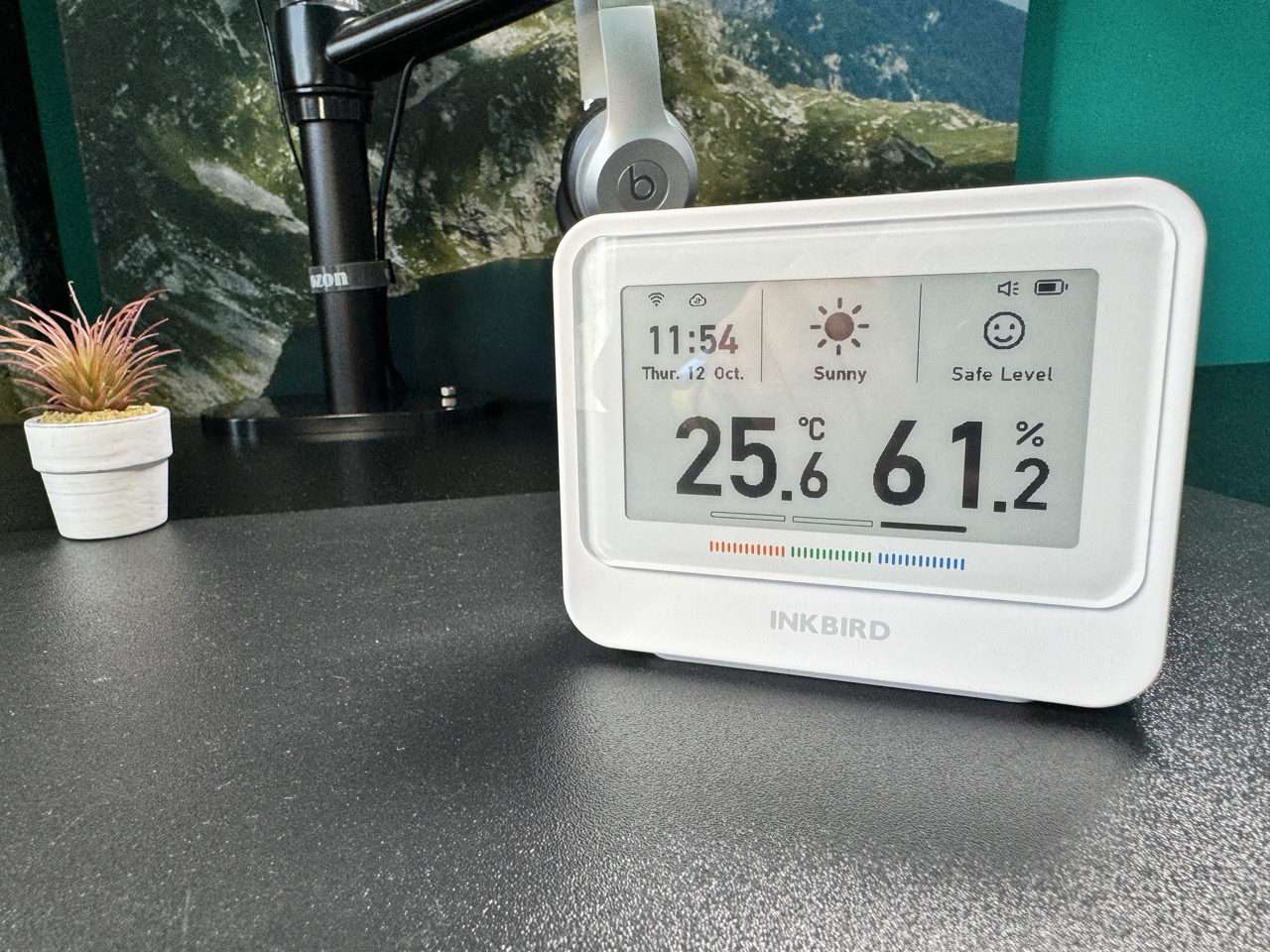 If you want a more secure and permanent placement, there's even a notch for screwing it into the wall. The hardest part here is where to leave it exactly at the end, as the options are endless.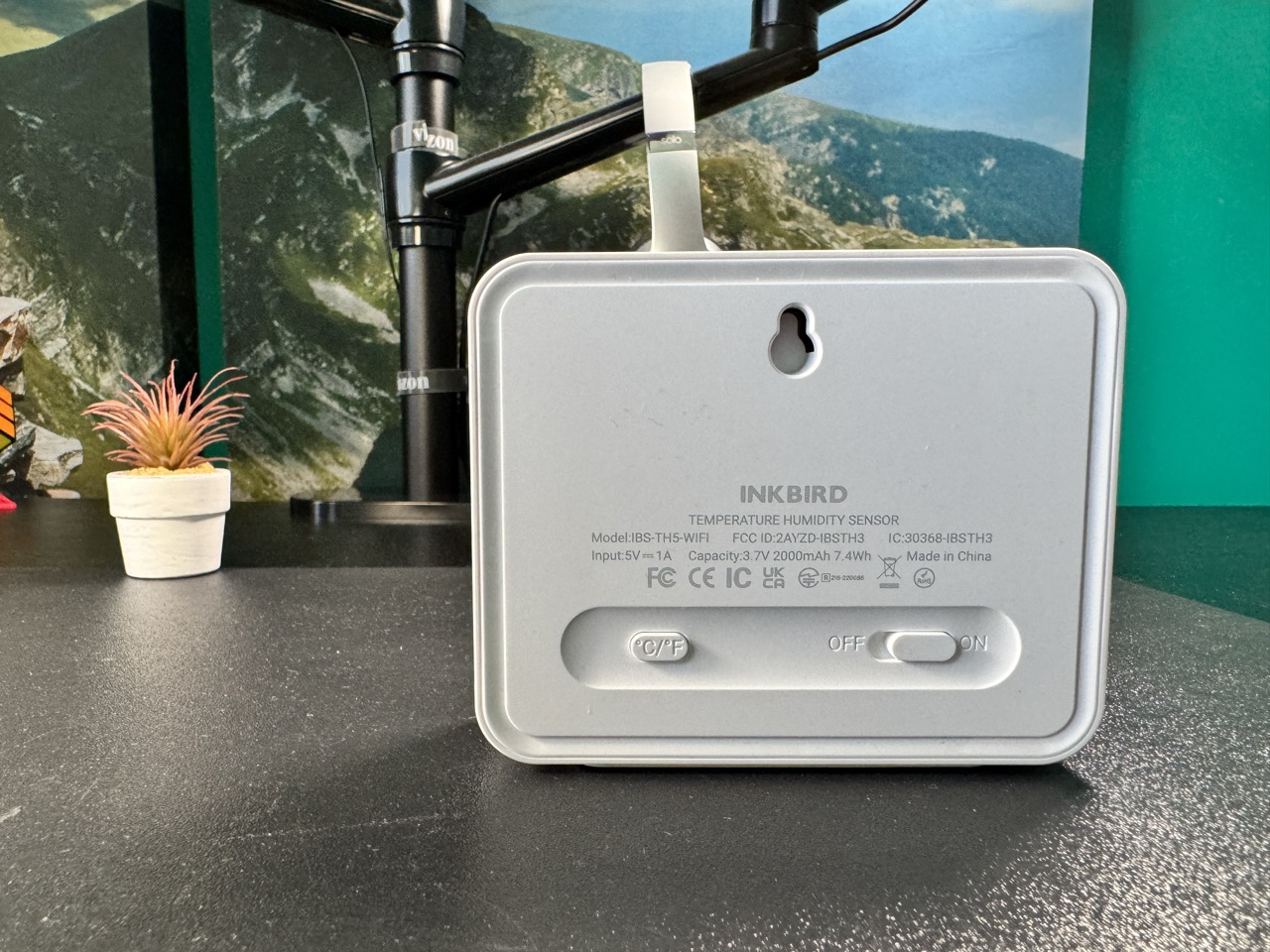 It's great near my thermostat for easy access, or I consider placing it in a separate area like the kitchen or by the door, because it is  fantastic for a last-minute weather check before you head out for the day.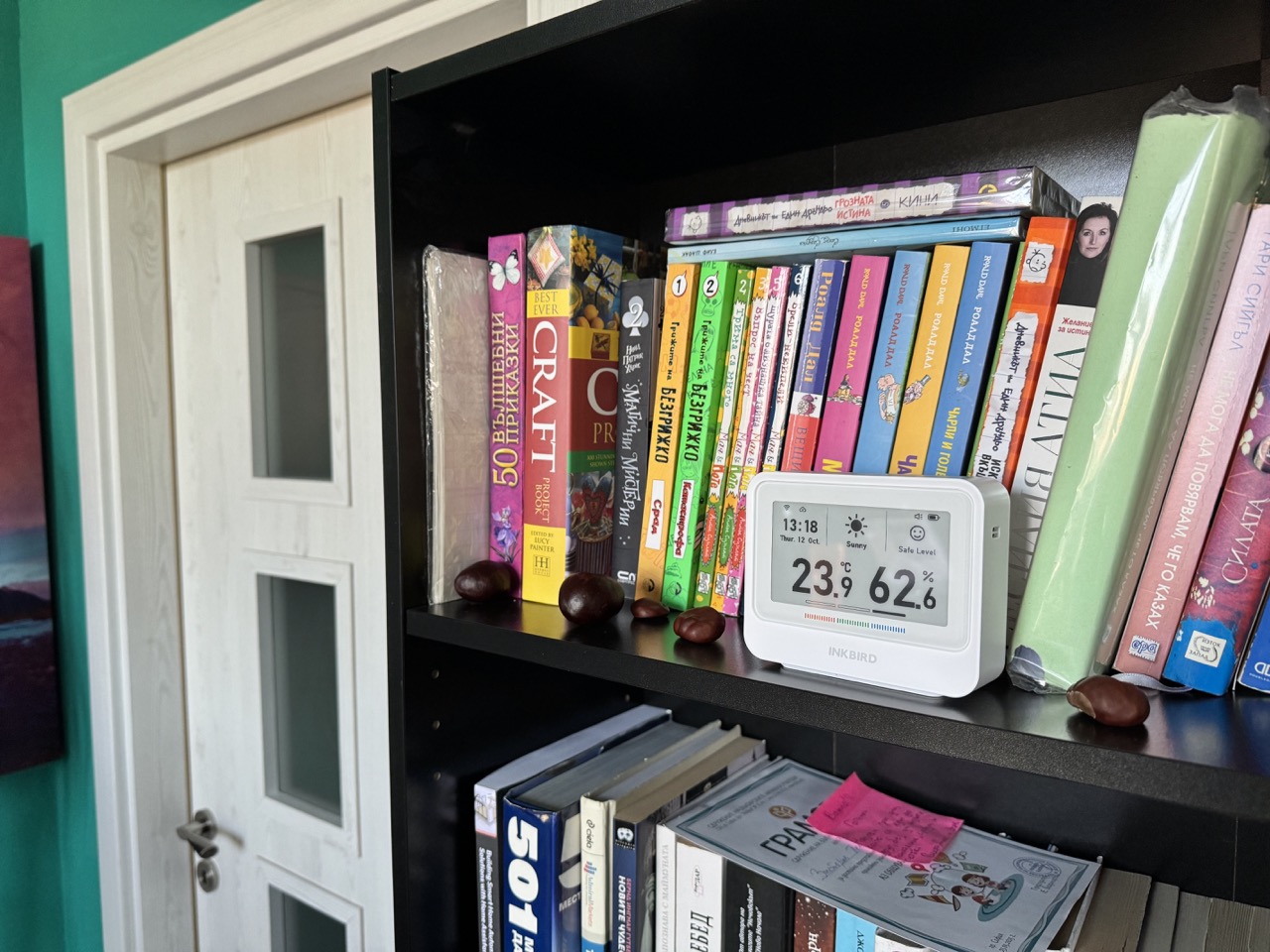 Pinpoint Temperature and Humidity Readings:
When it comes to temperature, this device doesn't play around. It's super accurate, with a precision of ±0.2°C (±0.36°F). So you can trust that you're getting the real deal, not just a rough estimate.
What about humidity? It's got that covered too. With an accuracy of ±1.8%RH, you can rely on precise humidity readings. No more guesswork!
Lightning-Fast Data Refreshing
This device doesn't make you wait around. It refreshes its data every 2 seconds. That's right, every 2 seconds you're getting the most up-to-date info on temperature and humidity. That is what I'm calling to stay on top of things!
Instant Alerts for Peace of Mind
Worried about sudden changes in temperature or humidity? Don't be. The INKBIRD IBS-TH5-WiFi has your back. It'll shoot you an instant notification if things start to get out of hand. So you can take action right away and keep your environment safe and comfortable.
With these precision features and lightning-fast performance, the INKBIRD IBS-TH5-WiFi is a game-changer for anyone who wants accurate and timely information about their surroundings. But there is more…
Influenza Virus Survival Risk Assessment
This smart device has a special trick up its sleeve. It assesses the risk of the flu virus sticking around based on some simple factors: humidity, temperature, and atmospheric pressure. The drier and colder it is, the higher the risk. It'll even display the risk level for you – Safe Level, Moderate Risk, or High Risk. It's like having a flu survival alert system!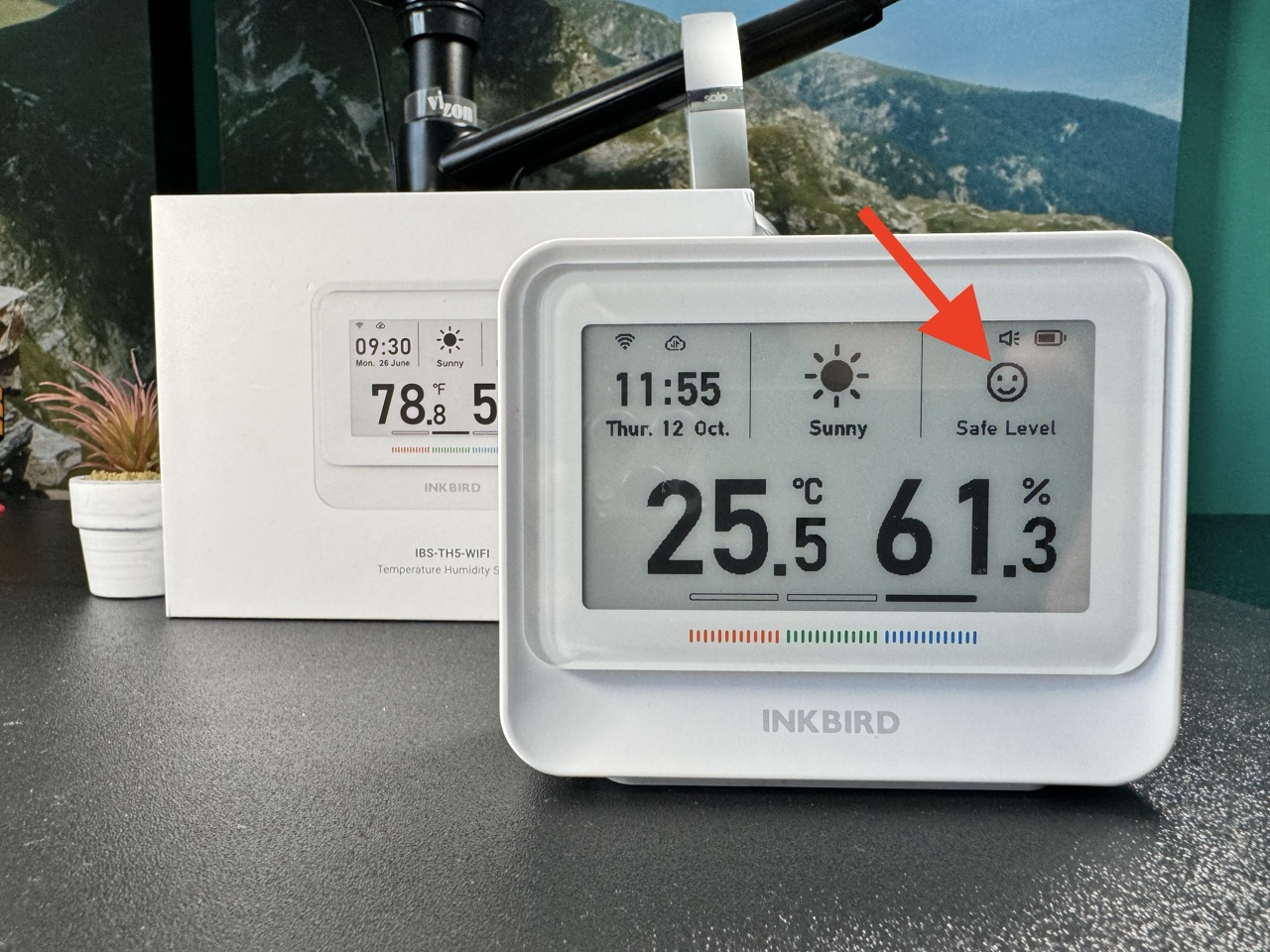 Real-time Weather Info and Forecast
No need to step outside to check the weather. The IBS-TH5-WiFi has got you covered. It provides you with real-time weather information and forecasts, so you'll always be in the know. Whether it's sunny or about to rain, you'll be prepared.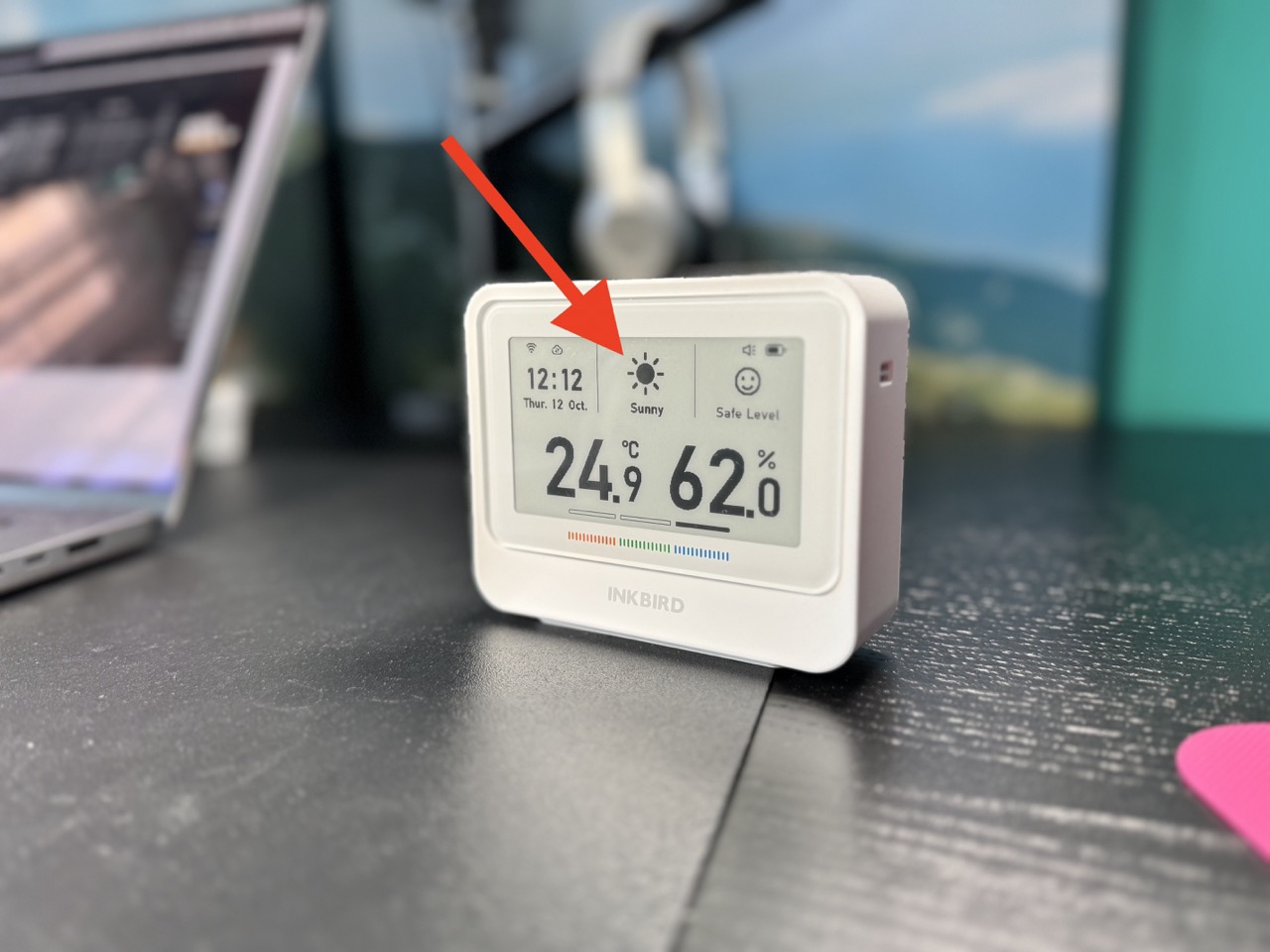 With these unique features, the INKBIRD IBS-TH5-WiFi is more than just a regular weather station. It's your personal weather guardian! 
Recommended or Not?
Imagine this: You're in the kitchen, getting ready to head out. A quick glance at the INKBIRD, and you've got the temperature, humidity, and weather conditions right there. It's a game-changer for your daily routine.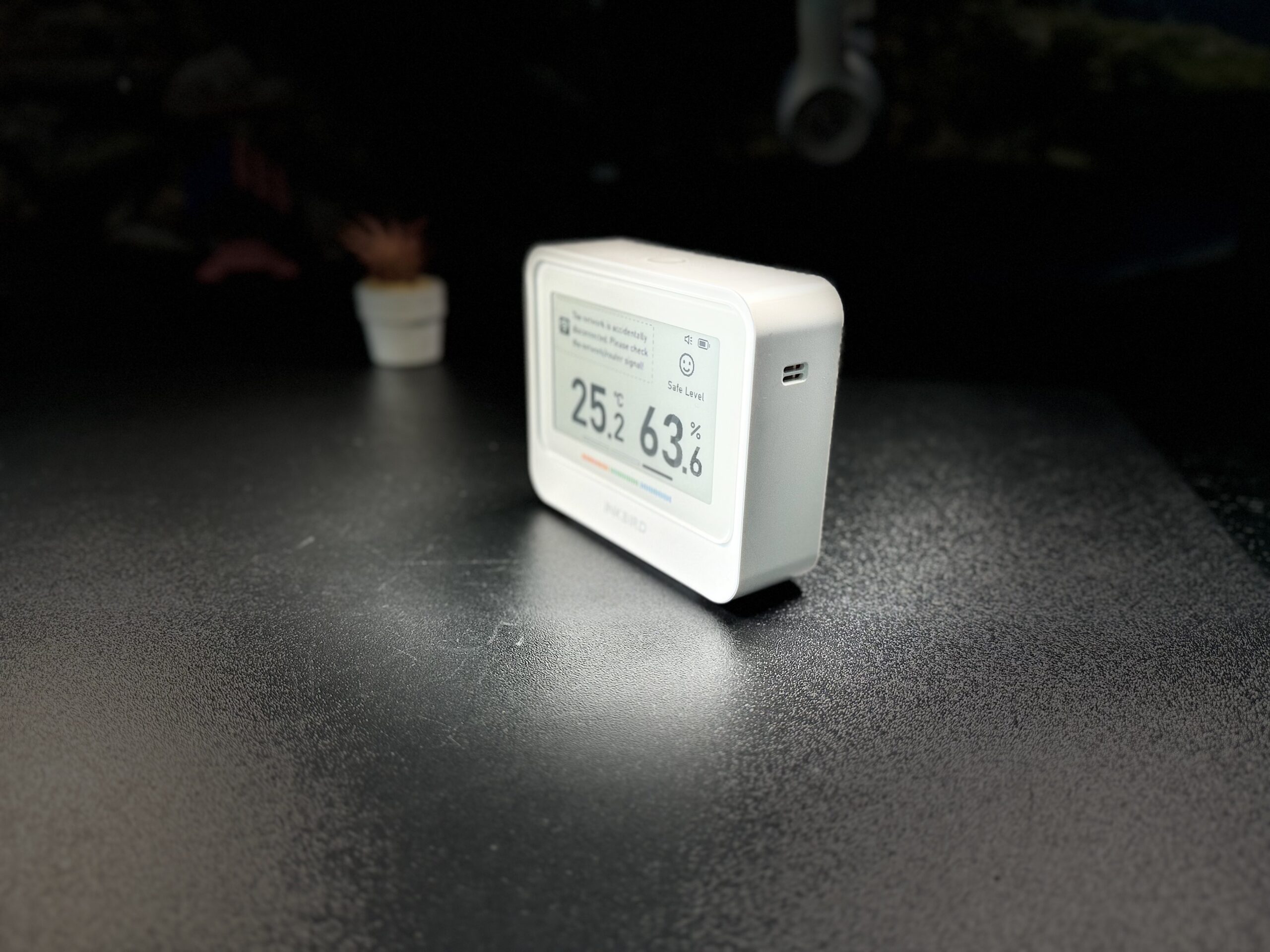 With all that being said, I can  recommend this unit. It's not just a Wi-Fi Indoor Temperature and Humidity Monitor; it's a complete weather station. The display is top-notch, and it ticks all the boxes you'd want in a device like this. Plus, it's a fantastic deal.
Check the current price using my affiliate link – https://amzn.to/3QfHEvg
Conclusion
In conclusion, the INKBIRD Wi-Fi Indoor Temperature and Humidity Monitor and home weather station with an electronic ink display is a solid investment. It offers a clear, reliable display, easy setup, and a versatile design. The app integration keeps you updated with the latest weather info. With long-lasting battery life, it's a low-maintenance addition to your home. I recommend this unit to anyone in need of a Wi-Fi thermostat and weather station combo.
So, what are you waiting for? Grab one for yourself and enjoy accurate and up-to-date weather information at your fingertips!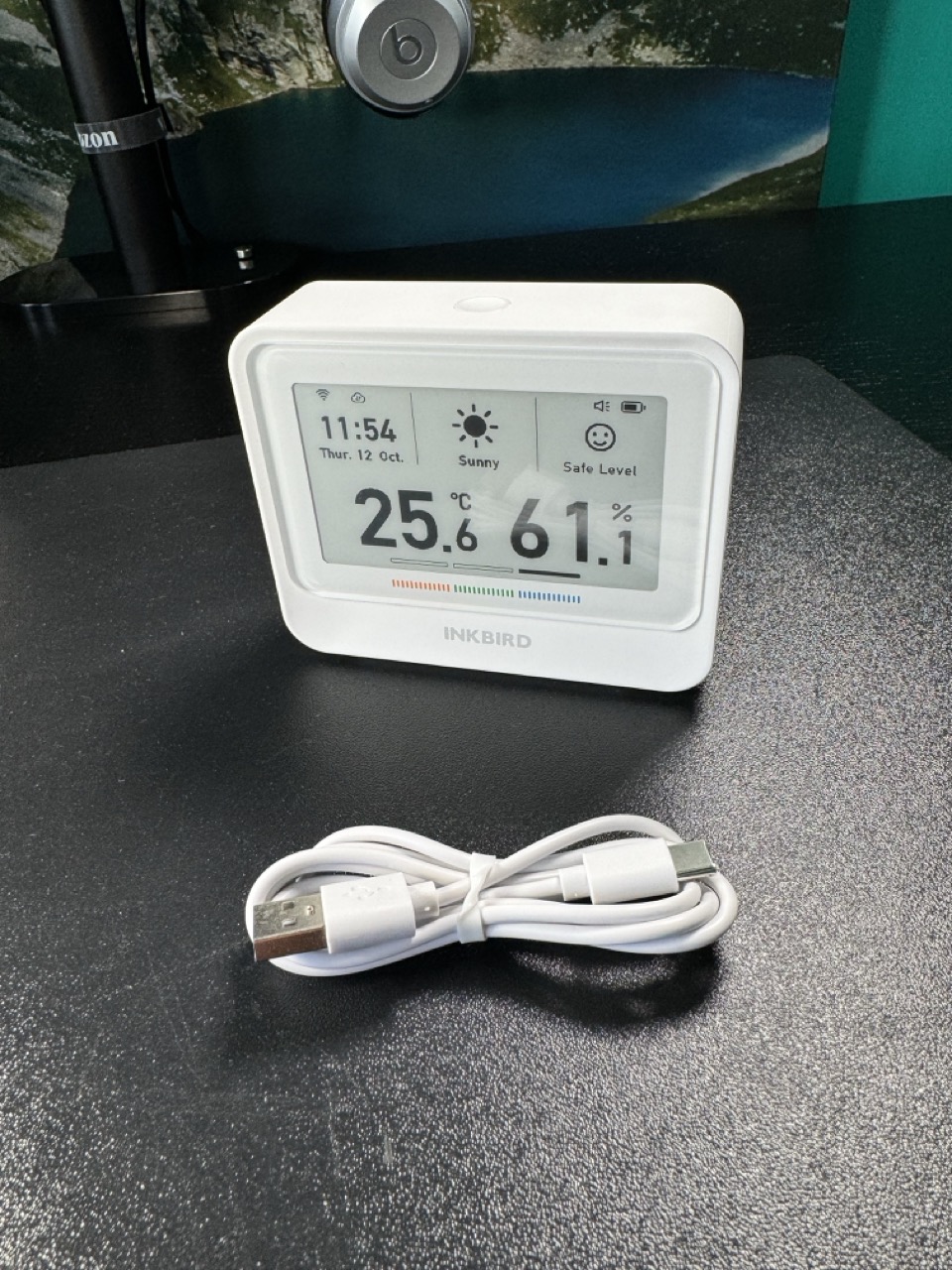 If you want to see more smart sensor articles check this category of my website – https://peyanski.com/category/smart-home/smart-sensors/
Kiril