I'm wondering why this method that protect your vehicle from stealing is not super popular as it is very cheap, easy to implement and it adds peace of mind that no other security product can provide for such a small price & very little efforts.
What this method is all about?
The method that you will see if you read this article till the end allow you to track in real time your car, Camper, Truck, boat or whatever moving property you have. Most importantly, there is a possibility to remotely stop the engine of the vehicle on demand or automatically in case of theft or other alarms directly from your phone or eventually from your Smart Home hub like Home Assistant.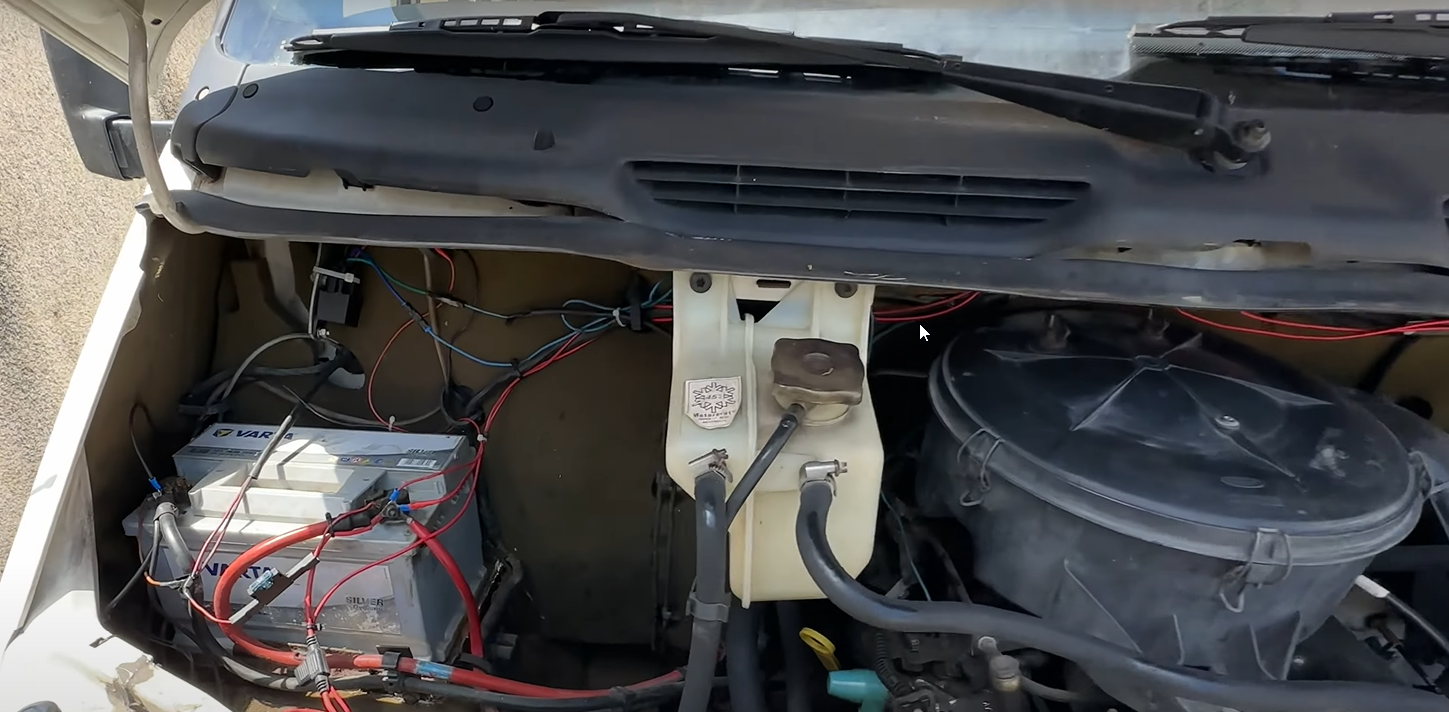 Virtual geo fences are also supported and there are no monthly subscriptions or any hidden cost except for the initial parts purchase investment that equals the huge amount of going out with your family for a dinner in your nearest restaurant. 
In this article I will share what I used to protect my camper and how I set everything step-by-step so you can replicate the process if you like it. All components cost me around 40 US dollars and this enormous expense should cover my camper security wait for it: from 6 to 10 years of operation without any additional expenses. That's peanuts per month if you do the math.
But enough sweet talks let's get to action.
What GPS Tracker Relay I used – CJ720?
I used this GPS Tracker relay which I bought from AliExpress for around 20 US dollars including the shipping. Be careful here, there are a lot of models that looks the same, but they are different inside and they have slightly different controls and features.
I'm not saying here that the other models will not work, I'm just saying that if you wish to use the exact same steps that I will show here you need the CJ720 model.
CJ720 GPS – https://s.click.aliexpress.com/e/_DEeEqNf 
For other models, you have to experiment for yourself. So, if you are an adventurous type of person or you know some Chinese get whatever GPS Tracker relay you wish, otherwise stick to the CJ720. Which is the exact model that I'm using. I will leave some affiliate links in the at the end of this article if you want to check it out. 
What are the advatages of the CJ720 GPS relay tracker? This relay have:
A built in GPS module & antenna, it weights around 50 grams;
ia history route playback for the last 6 months;
a backup battery that is enough to send an alarm and last coordinates if someone cut it off;
an over speed alarm that I didn't care much, as my Camper max speed is not much and a vibration sensor;
a SIM card slot, that I will tell you more about later;
also a lifetime free web tracking and mobile app that almost have no Chinese language in it. 
and last, one of the most important features of CJ720 GPS tracker relay is that it have two additional wires that can be connected to your vehicle oil or fuel pump or to something else that can stop the engine of your vehicle.
I personally connected my relay to the fuel pump and I can remotely shut off the engine while it is running or if it is not and if I send a CUT command to the GPS relay, the engine cannot be started at all until I issue a restore command to the CJ720.
The commands are issued to the really either by sending specific SMS commands that I will show later or by using the web or app interface of the GPS relay.
What SIM card am I going to use?
And by talking about SMS-es and mobile Internet, it is automatically implied that a SIM card will be needed, which may be a cause a recurring cost issue, but don't worry here, as I found out a great solution that I will share with you in few moments. 
Before the physical installation of the relay it is a must to put a SIM card inside it, which will be your remote connection to the CJ720 GPS tracker relay.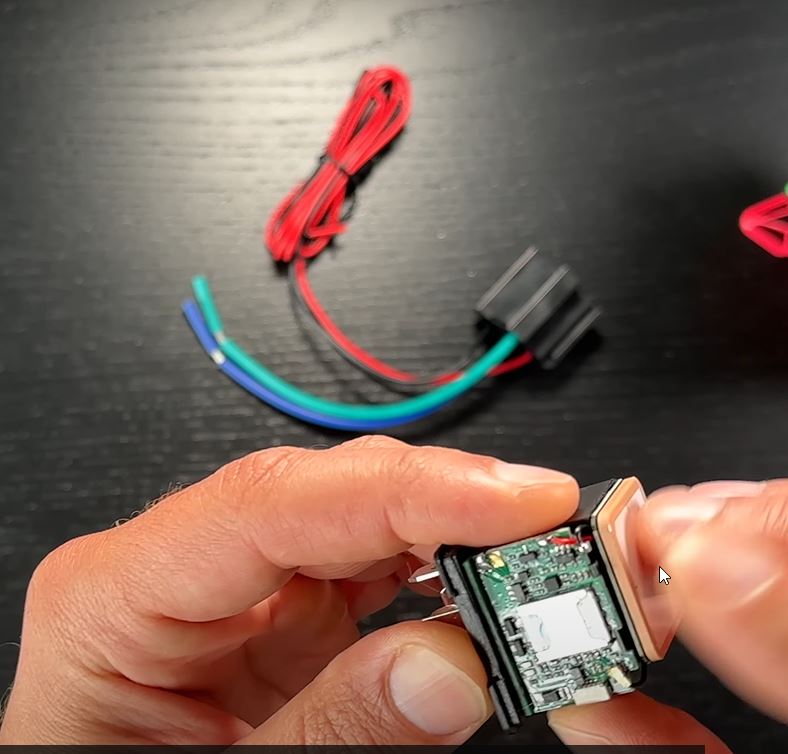 This SIM card should support SMS-es and it should have a mobile Internet. The SIM card is the next and final expense in this whole setup.
And attention here! I found a very good International solution for that problem that I will explain, but before that can you please share what's your current SIM card situation in your country? Is there any prepaid deals around you that allows you to pay once and use your card for as long as you wish or not?
Here for example (Bulgaria) all prepaid cards require recharging every 90 days or something, otherwise you will lose your prepaid amount so they are not a good deal for this exact purpose. 
Anyways, as a solution to above problem I found 1nce.com website which are selling IoT SIM cards for 10 euros flat fee that includes 500MB of traffic and 250 SMSes with a 10 years validity.
This is just perfect for our CJ720 GPS Tracker based security system.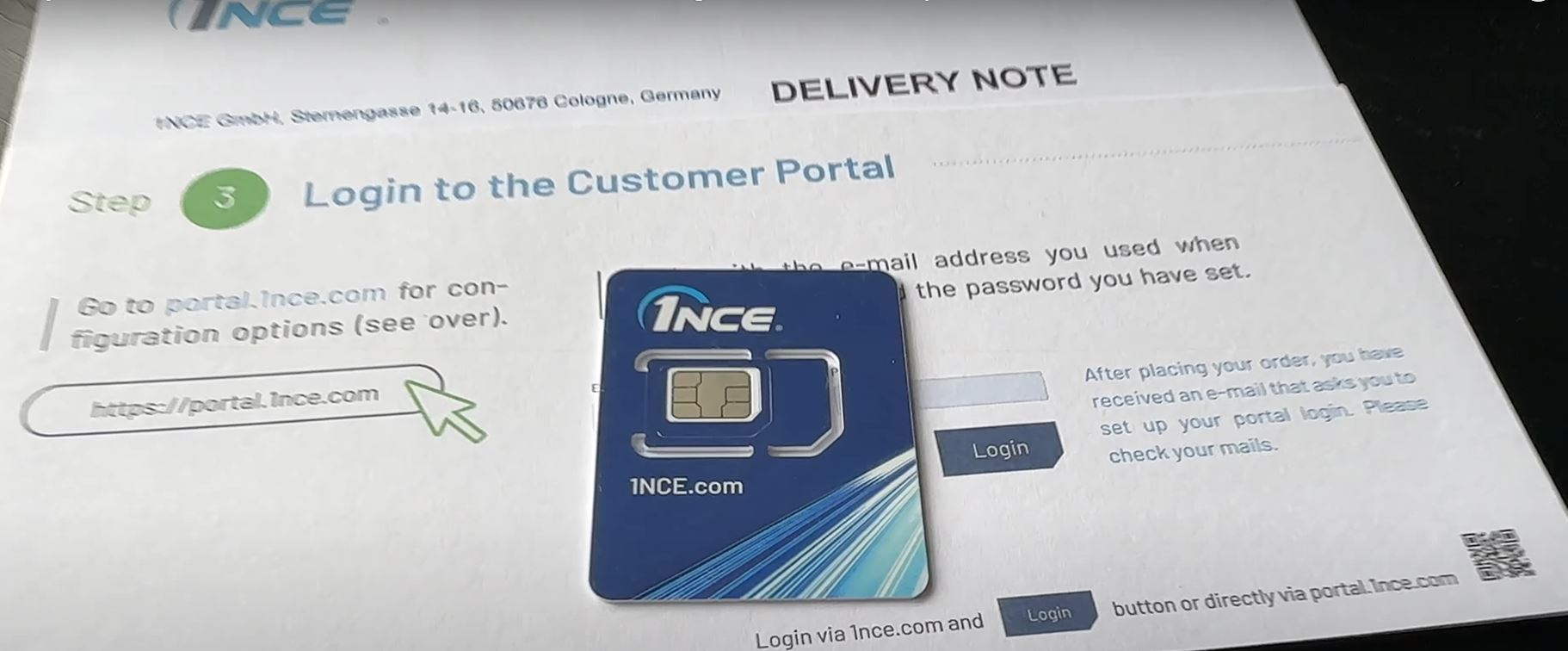 I must say that I have no affiliation with this 1nce.com website in anyway. I just found them after a quick research and decided to try their service.
If you find something better share it in the comments!
Have in mind that the 1nce SIM card price is 10 euros, but with the shipping and taxes it become 20 euros and some cents.
Also they ask for a VAT number otherwise they may not want to deliver the SIM card to you.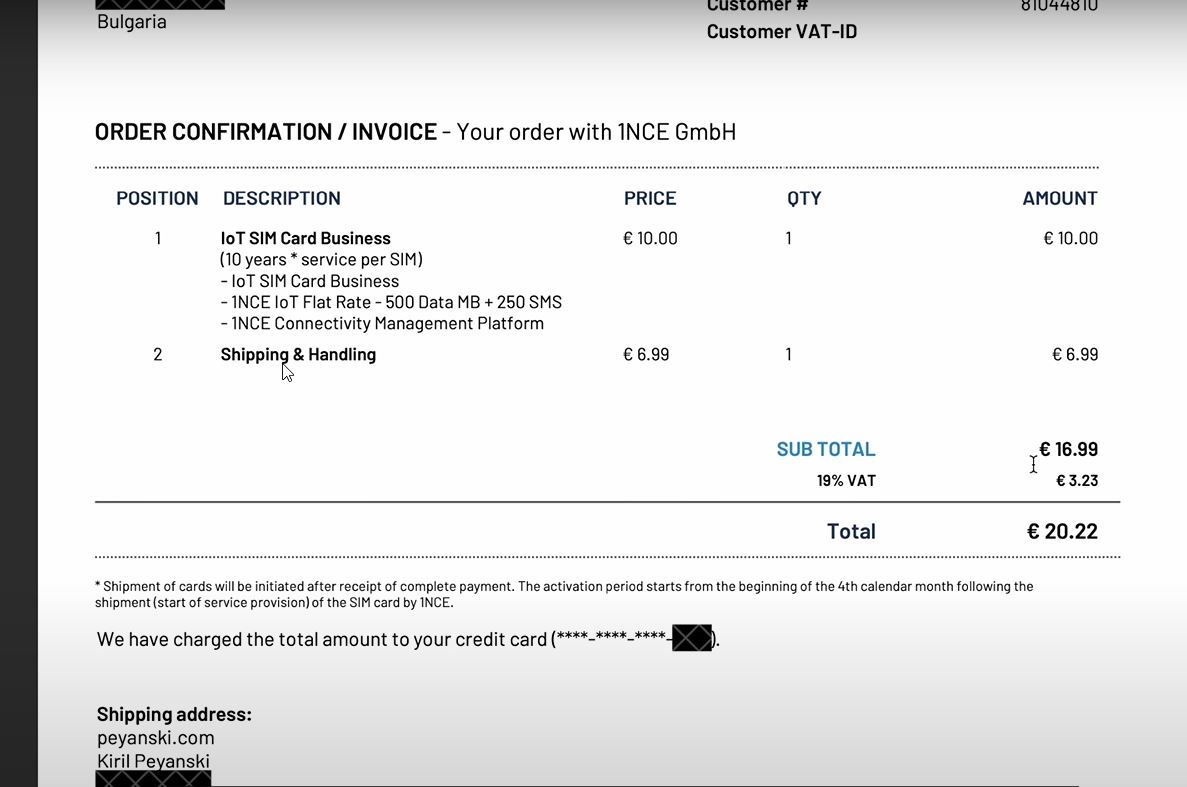 Nevertheless, once you receive your 1nce SIM card you can log in to the 1nce portal from where you can control your SIM card and from where you can send SMS-es to the GPS Relay Tracker, as you will see in few seconds. 
Next step, is to put the 1nce SIM card into the CJ720 Relay SIM card slot and to power the relay with 9 to 90V DC.
How I connected my GPS Tracker Relay?
I will use 12volts battery, but the other option is to directly install the relay in your vehicle. The physical installation is super simple. Just connect the red cable of the relay to the 12v positive of your battery,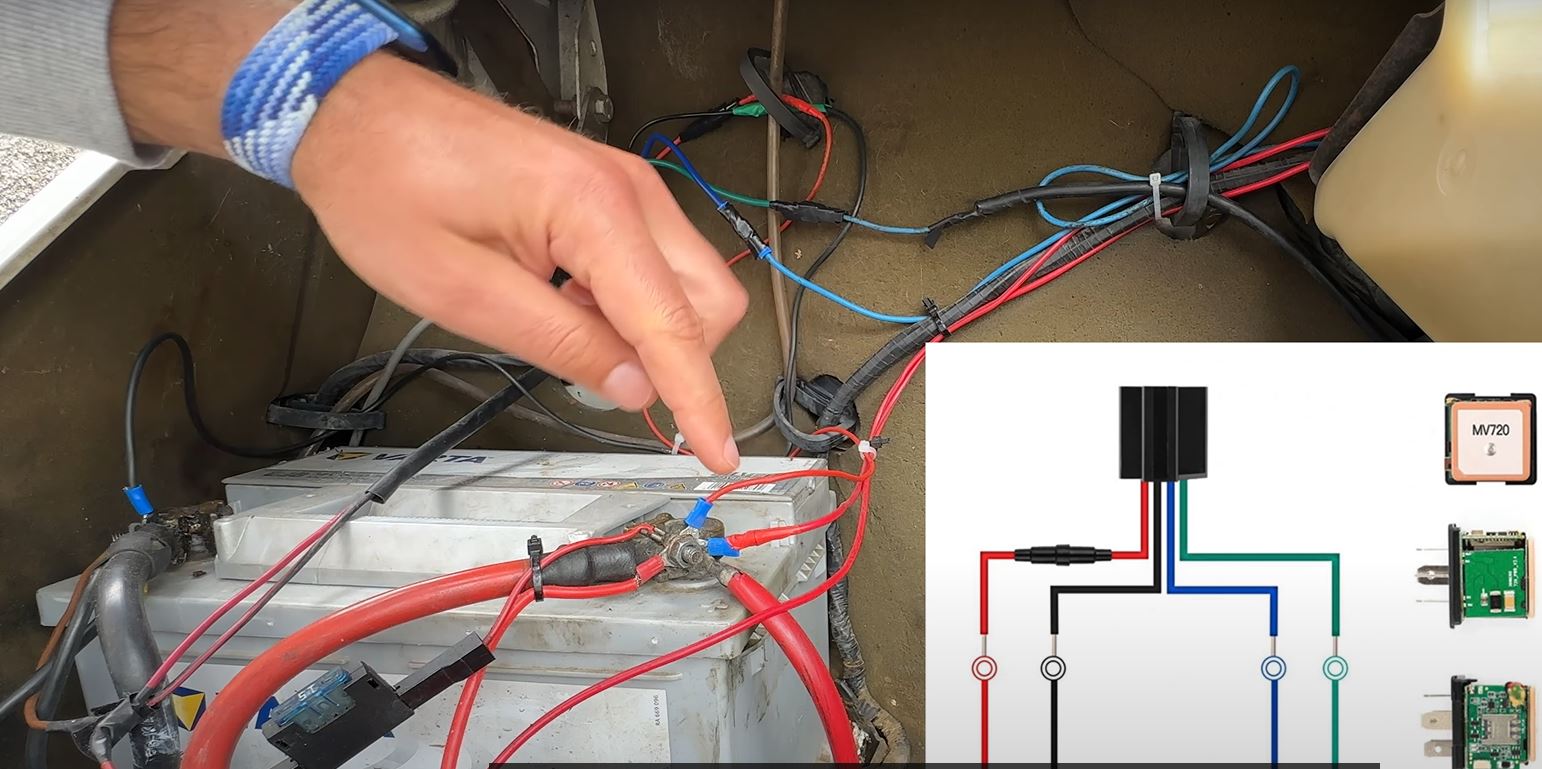 connect the black cable to the negative of the battery.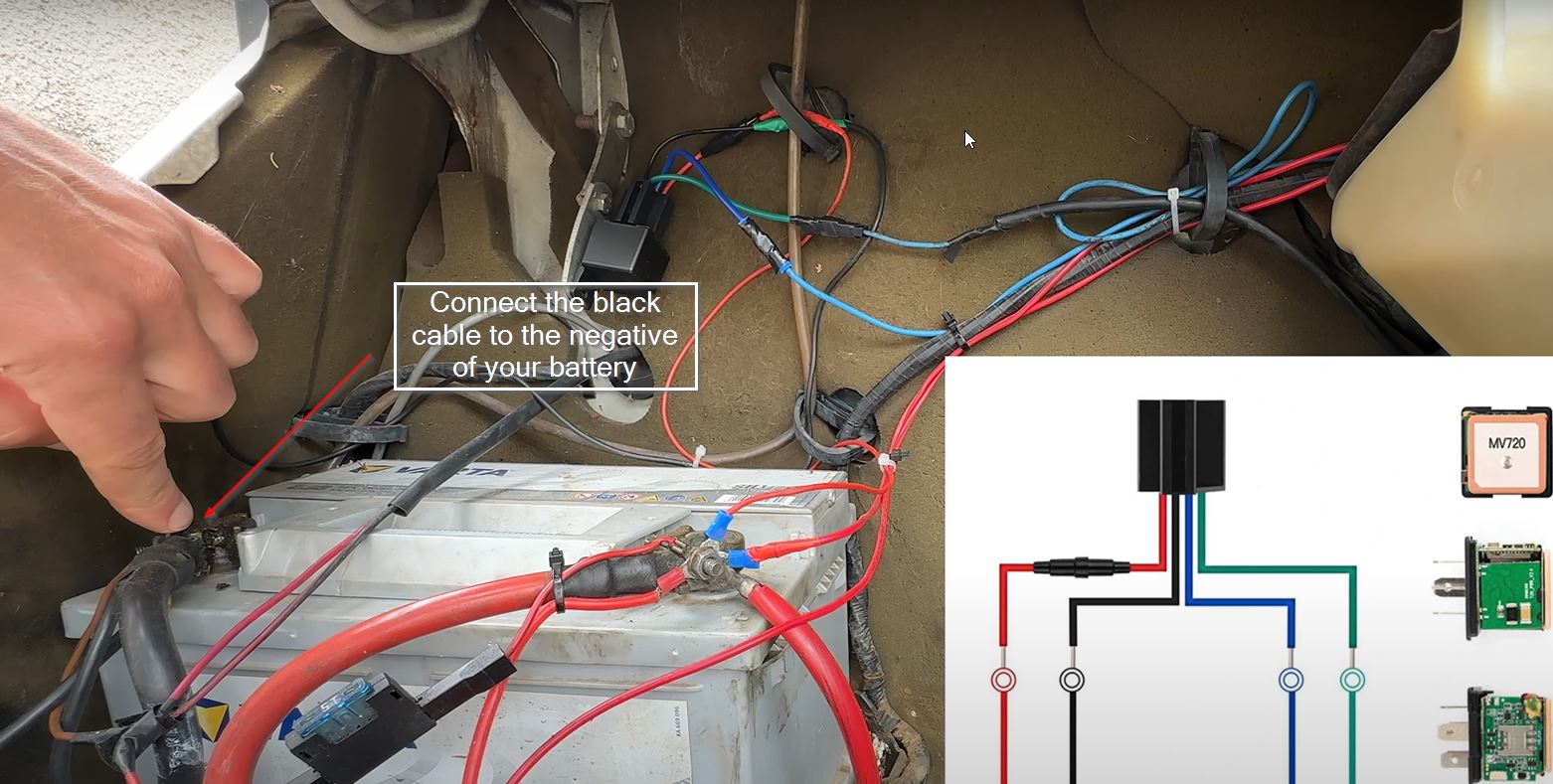 Next, you may need you to cut the wire that power your vehicle oil or fuel pump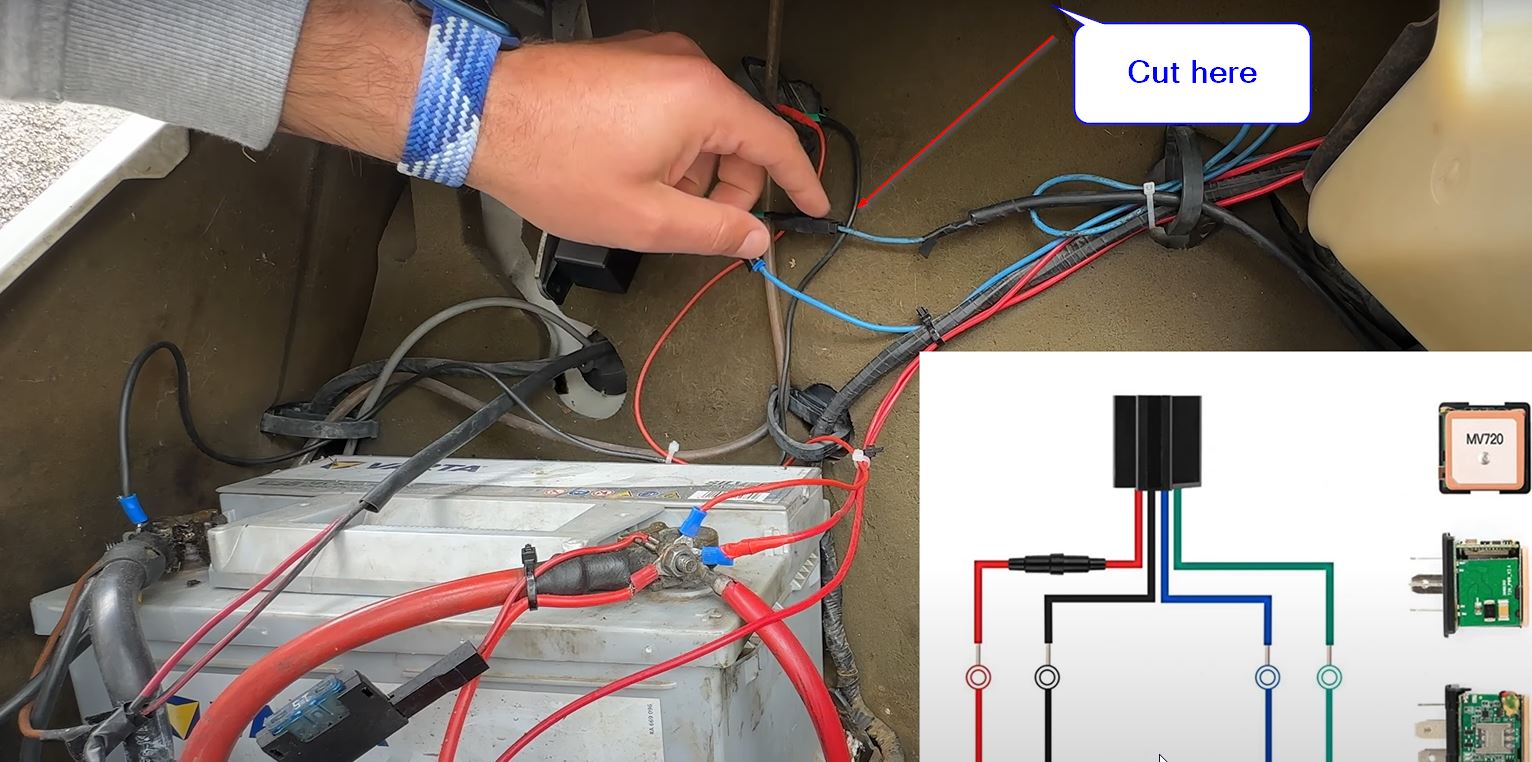 and to connect the relay in the middle, so that the blue wire of the relay to be connected to the fuel pump line and the green wire of the relay to be connected to the fuel pump.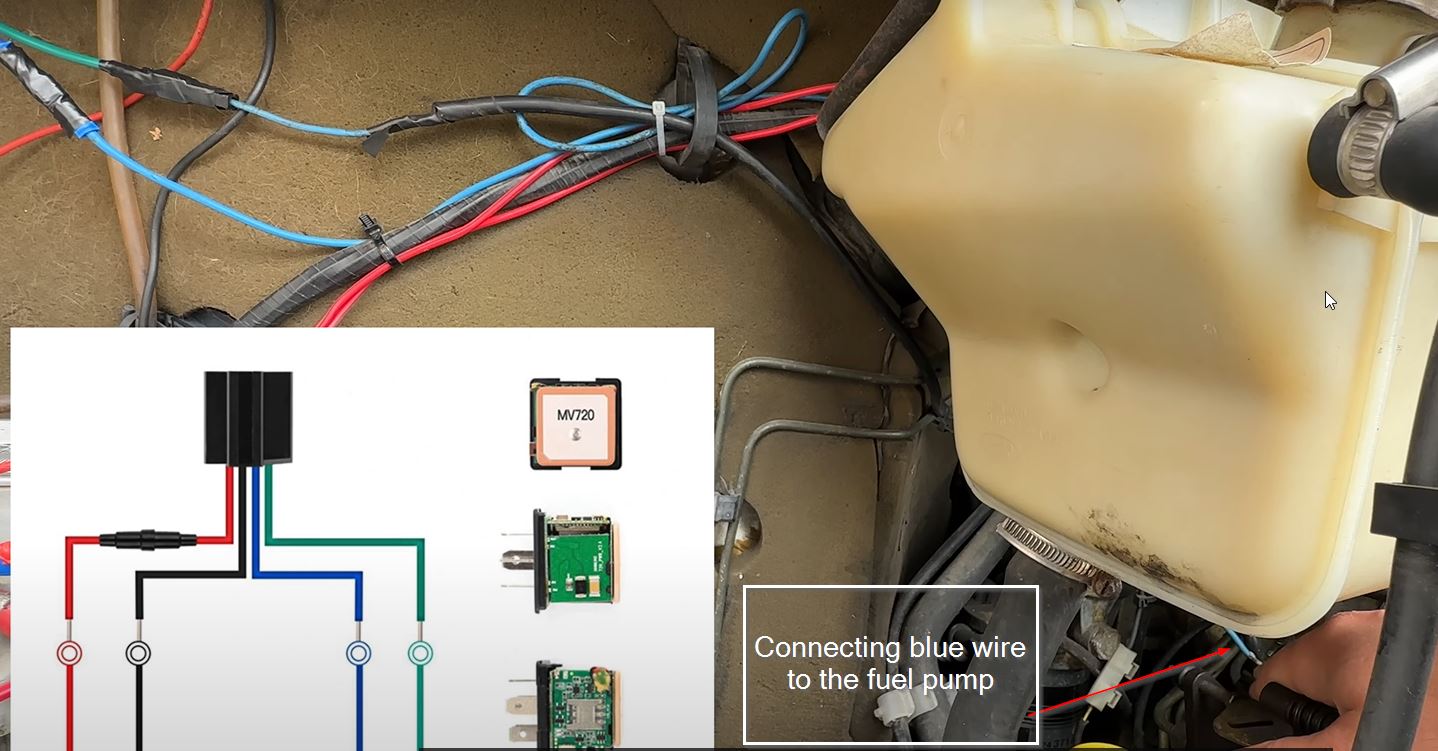 The final wiring should look like this at the end: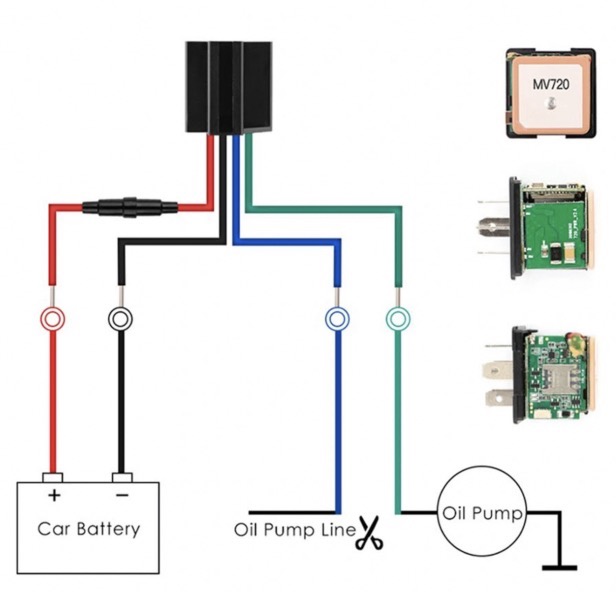 How to Setup the CJ720 Really APN for 1nce SIM card?
After that log in to the 1nce portal – https://portal.1nce.com/ and go to the My SIM menu and click on your SIM card there. Scroll down and click on SMS button. From this form you can send SMS-es to your 1nce SIM card.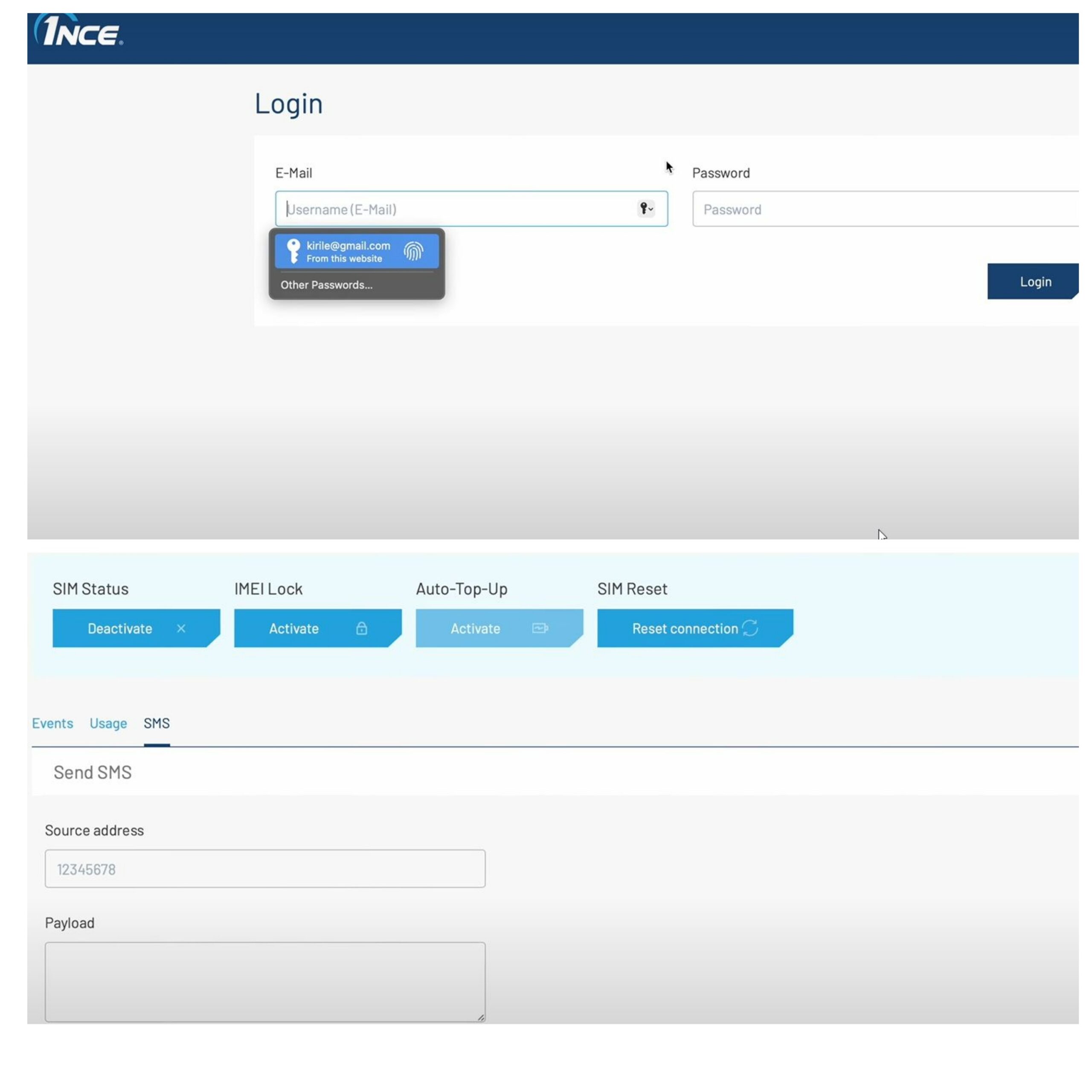 The first SMS command that we will use will set the correct APN, so that we can enable the Mobile Internet of the CJ720 relay. For that, I will enter a random digits for the source address like 12345.
These digits doesn't matter and as Payload which is the actual SMS content I will type the following command: APN123456:iot.Ince.net that is because APN123456 is the APN setting command with the default pass for the relay, iot.1nce.net is the 1nce APN.
After I send this SMS, I can refresh and I will see that my APN is set successfully.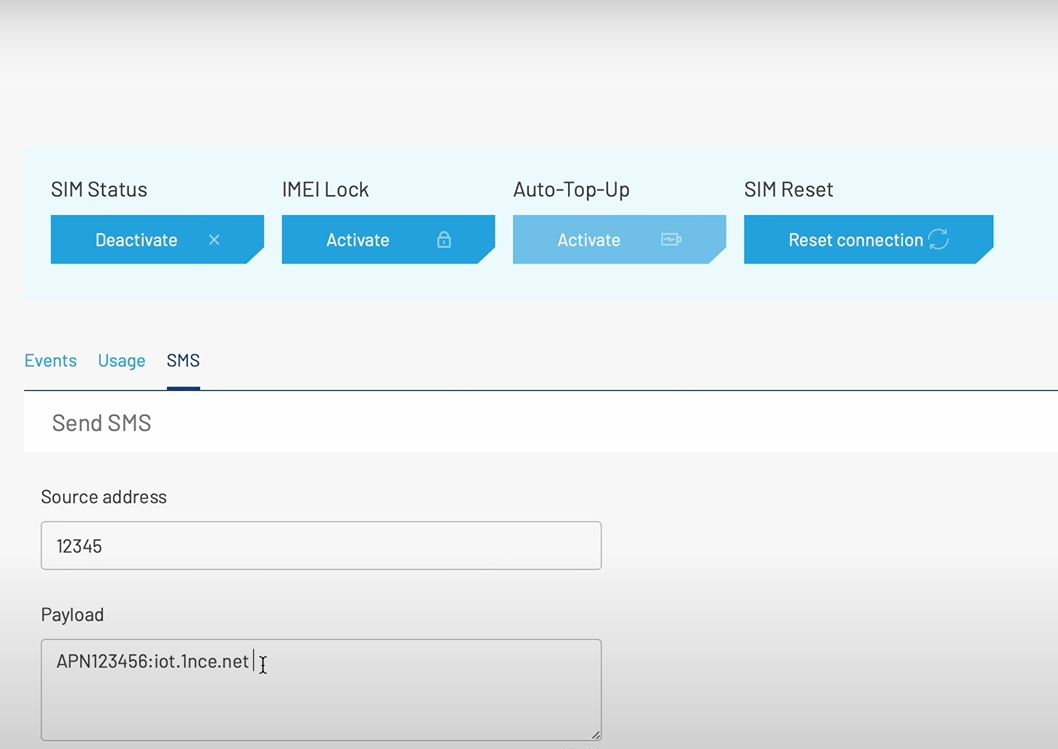 Log in to the CJ720 mobile app – Yuntrack
Setting up the APN means that I can now log in to the CJ720 web site or to mobile app available for iOS and Android with my CJ720 Relay ID printed on the relay and the 123456 as password.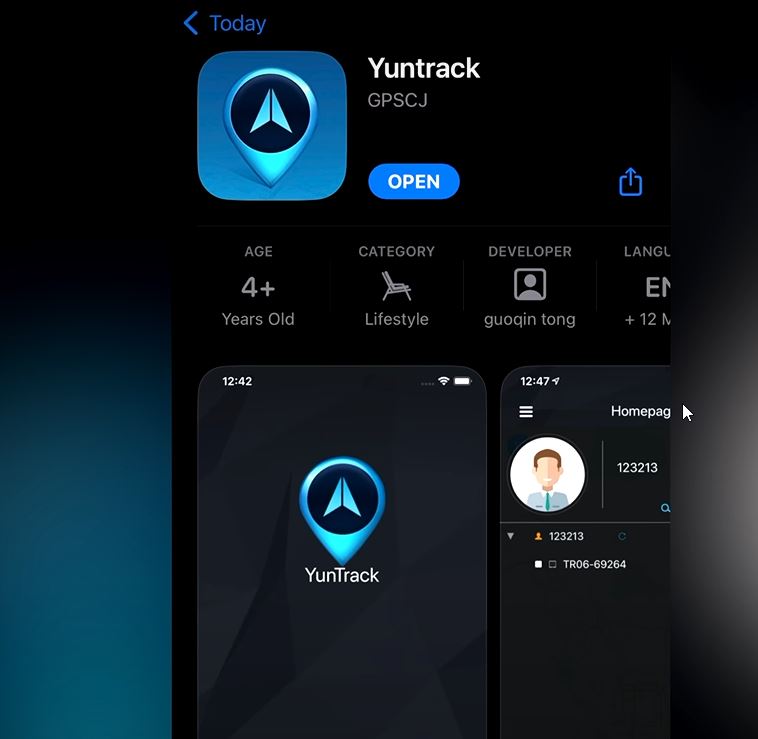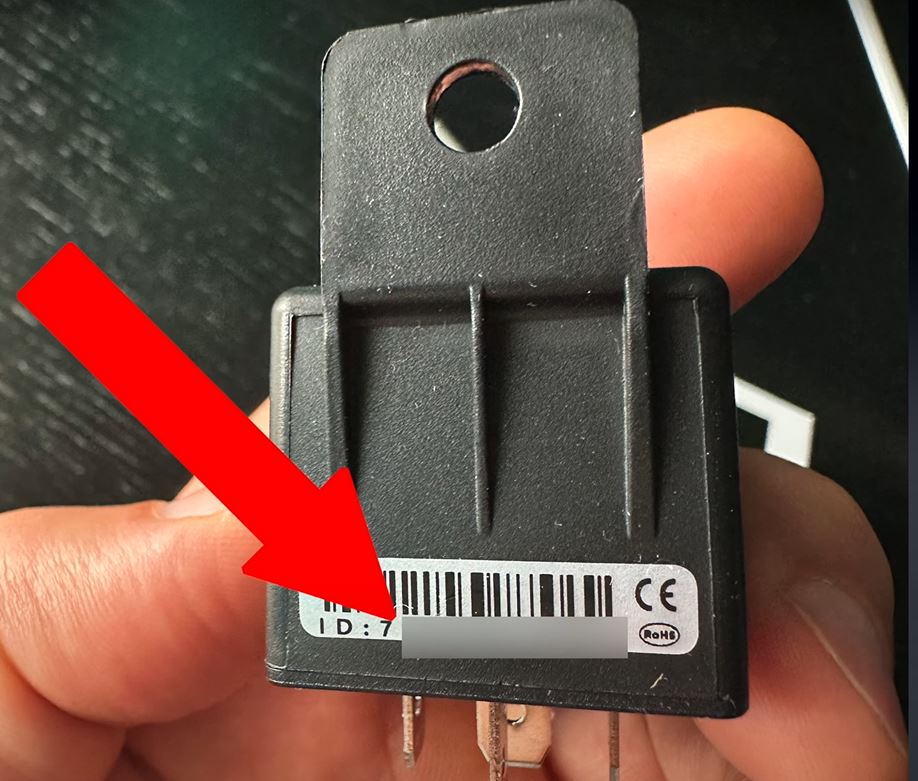 From this app I can control everything remotely. I can power off and restore the power to the fuel pump, I can arm and disarm the alarm, I can set geofences, I can playback my vehicle route for previous period and I can real-time track my vehicle on a Google Maps.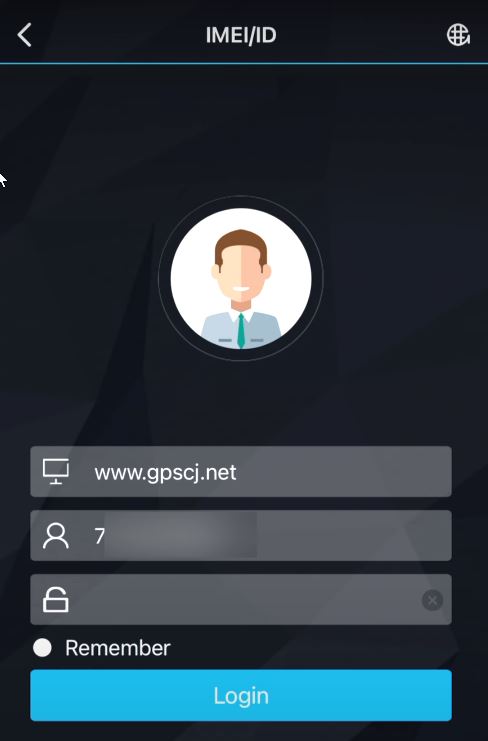 How to control CJ720 GPS Relay using SMSes?
If I don't want to use the mobile app I can control my relay and respectively my vehicle remotely from the 1nce portal sending SMS commands. For example I can cut off the fuel and I can stop the engine of my Camper by sending this SMS command 555.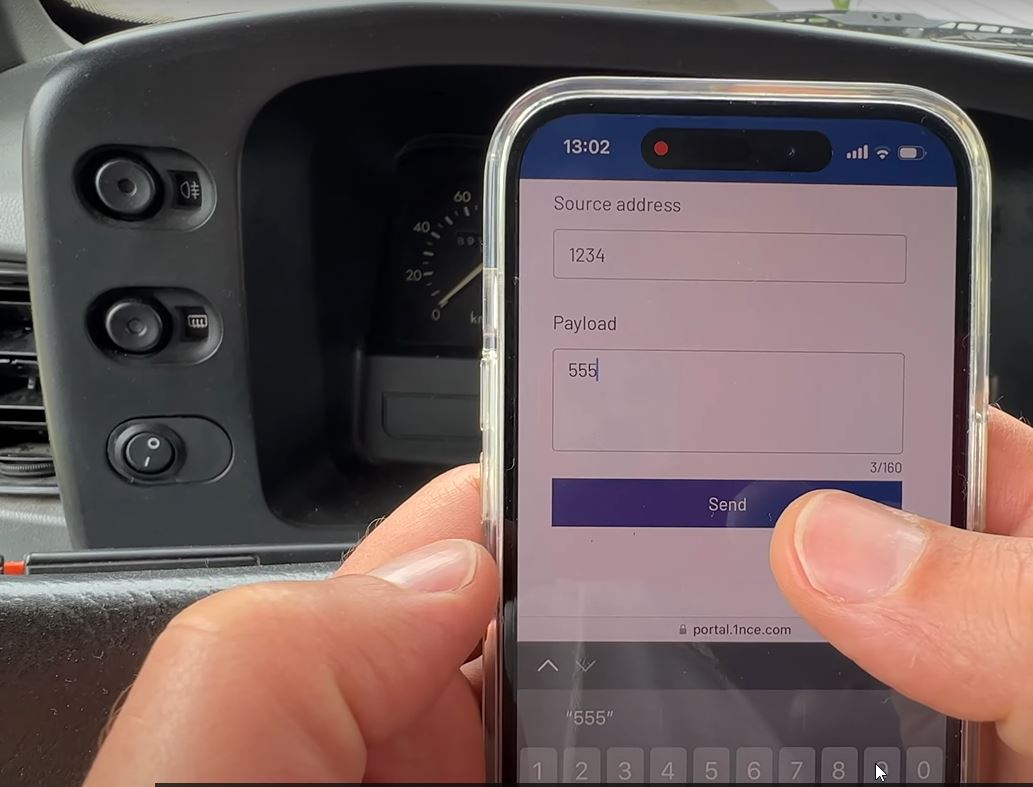 To restore it back I have to send 666. I can also send this command G123456# to get the GPS coordinates of the vehicle and there are many more commands that are also available.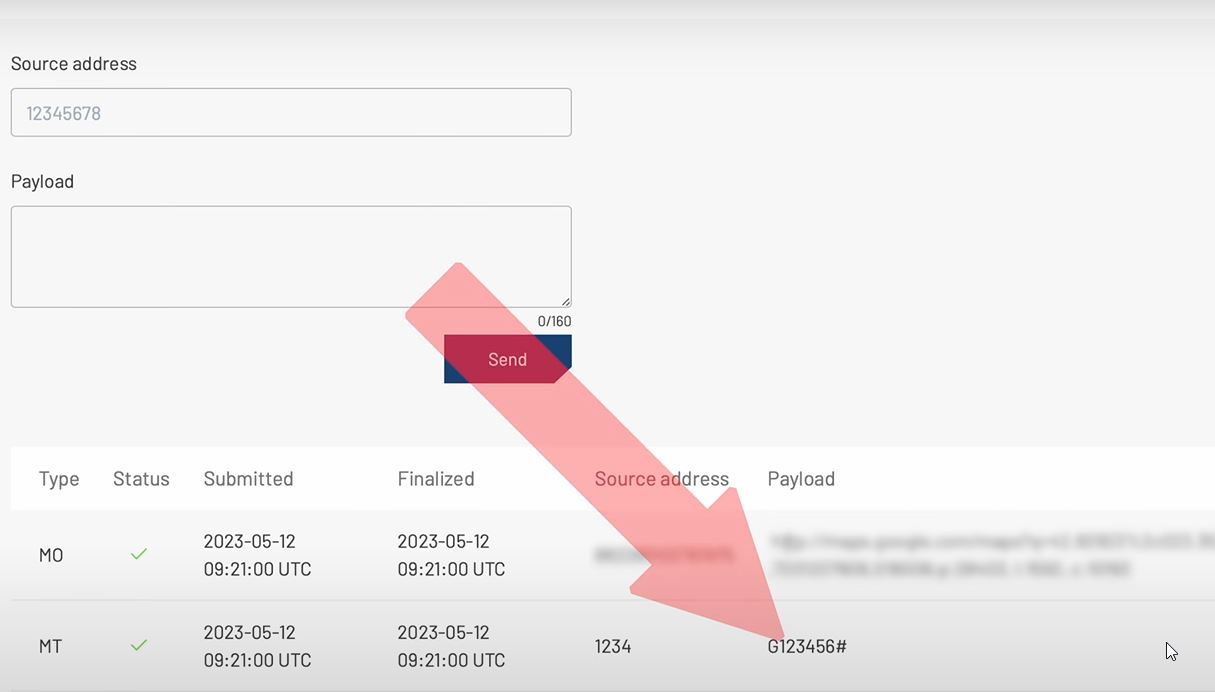 The listed commands in the user manual that is coming in the GPS Relay package is far from complete, the device is capable of much more than that. Because of this, I will leave all of the relay commands that I found working and the order in which I executed them to make my CJ720 GPS tracker relay to work with 1nce SIM card in below.
Download Full Commands List Of CJ720 GPS Relay – https://www.automatelike.pro/pl/2147694487
This article is sponsored by PCBway
By the way, are you looking for top-notch PCB manufacturing and assembly services?
Well, look no further! This article is sponsored by PCBway, the industry leader in reliable PCB solutions.
Whether you're prototyping or mass producing – PCB(A), 3D Printing & CNC, PCBway got you covered.
So, save time and elevate your projects by visiting pcbway.com and bring your ideas to life!

Current state of the Security System from CJ720 and 1nce SIM card
This current state of the GPS tracker based protection thanks to the CJ720 GPS relay and the 1nce.com IoT SIM card is now fully working and can be used that way for years without any additional cost.
Mobile data usage of the Security System
The GPS relay uses just several kilobytes per day of mobile data, which according to my calculations with the 500mb that the 1nce SIM card have – can last over 6 years and after that I just have to top up my SIM card with another 10euros.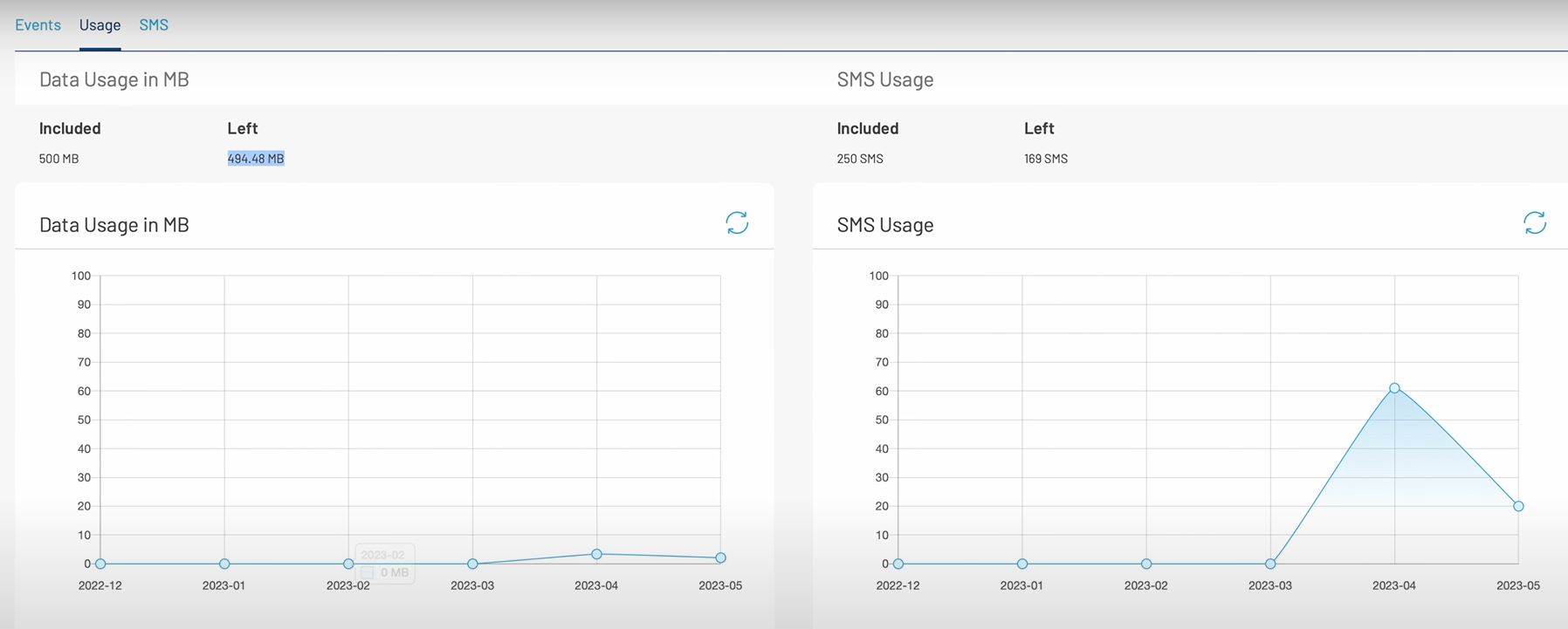 Chinese Tracking Server issue & Future Improvements
I do understand  that I'm currently using some Chinese tracking server and this may stop working at any moment or the Chinese government can see where I'm at the moment, but I don't care.
As future improvement I plan to start a local tracking server like Traccar and to connect the GPS relay there. So I will not be depended of the Chinese infrastructure anymore. 
Home Assistant Rest & Shell commands struggling
I'm currently struggling to make a Home Assistant rest or shell commands that invokes the 1nce.com API and then to use these commands in Home Assistant automations, so that if for example movement is detected in the Camper while the alarm is armed the fuel to be automatically cut off.
Unfortunately I keep getting 401 errors while trying. If I manage to do that and if there is enough interest about it I can make a follow up article & video.
Meanwhile, if you have some ideas about how to make it work, share them in the comments section below.
Here is more interesting stuff you can do to your Camper or other vehicle – https://peyanski.com/category/smart-rv-conversion/
Thank you for reading, I'm Kiril and I will see you next week. Bye!