Do you know what is Smart Home with bad Wi-Fi the answer was my home until very recently. Now I bought the UniFi Dream Machine and I hope that everything is going to change for good.
What you will see in this article?
In todays article I will show you the brand new UniFi Dream Machine or UDM for short, then I will show you how you can setup the device.
After that I will show you some Pros and Cons of the product from my point of view.
And for dessert I will show you how to configure a VPN natively from the UniFi controller, so we can connect to our Smart Home from the outside. Using the native Desktop and Phone VPN clients. 
What is UniFi Dream Machine?
Wait a minute here! You may ask what is actually a UniFi Dream Machine?
And the simple answer is: The UniFi Dream Machine is not very cheap wireless router from a very popular brand named Ubiquiti.
But if we go a little bit deeper we will see that UniFi Dream Machine can replace four Ubiquiti products namely:
UniFi Security Gateway which Is a wired router and FireWall, and it is older and slower than UDM,
UniFi Cloud Key – this is a controller allows you to manage all of your network equipment,
Also a 4-ports switch – The closest one is the 5 port switch or 8-port switch,
Last, but not least – Wi-Fi Access Point, but not the cheapest AP that Ubiquiti have. More like the UAP nanoHD one which cost by itself more than the half of the Dream Machine price. 
From that perspective the UniFi Dream Machine looks like a steal and this is exactly how the Ubiquiti catch me in their net. 
And before we go further I just want to share that this article is not sponsored by Ubiquiti, so everything you will see here is purely my opinion and experience with the Dream Machine. 
Of course you can sponsor me by hitting the Subscribe, so hard that you will break the button. Actually I don't recommend to hit anything, just a gentle click on the button will be OK.
Setting Up UniFi Dream Machine
The diagram below is showing how to initially set up a UniFi based Home or SOHO network and includes: UniFi Access Point (UAP), UniFi Switch (USW), UniFi Security Gateway (USG) and UniFi Cloud Key (UCK).

All of these four devices can be replaced with the one UniFi Dream Machine as you can see from the following diagram.

Of course there are some limitations in this setup for example:
UniFi Dream Machine is not designed to be mounted on the wall/ceiling or staying outdoor like some of the UniFi Access Points, but I'm pretty sure someone, somewhere will try some of these things.
But let's see all of the Pros and Cons based on my humble opinion.
UniFi Dream Machine Pros and Cons
Time for Pros and Cons. I will start with the Cons, as I want to end this positively.
UDM Cons
No PoE ports – There are no PoE ports, at least one would be great, but no luck here. 
No Wi-Fi 6 support – so this device is not so future proof that I wanted to be.
Not perfect initial setup – I had several issues on the last step, so I have to start all over again 3 times and last one worked after power cycling the UDM. But I believe they will fix this with the future firmware updates that will come.
No possibility to do a MAC address clone – If your Internet Service Provider like mine is locking your MAC address and when you change your router you either have to call them or you have to clone the MAC address from your old router.
Well as of now with UDM your only option is to do that call your ISP, because MAC address clone/spoofing is not possible. 
Fan inside UDM – There is a fan somewhere inside UniFi Dream Machine.
For now I can only hear it when the UDM start and doing some initial checks. But you know what they say: "when there is a fan there are problems or at least noise". I hope I'm not right here, but we will see.
(I really don't know if someone besides me is saying that about the fans, so you may not know what they say, because I just invented that, never mind let's just continue the article). 
No JSON support to separate VLAN on WAN port yet! (Thanks Mark de Vaal from the YouTube channel for that)
I'll stop with the cons list for now, but I will continue to add more in the video description and here in my website if they arise.
Let's go to Pros now:
UDM Pros
WiFi coverage and speed is a real beast. 2 floors, Partially 3th floor and not big yard here all covered with a single Dream Machine. I'm amazed with that – hats down Ubiquiti you did a really good job here.
My former routers (Linksys WRT 54gl (tomato fw), TP-LINK 1043 (openwrt fw), TP-LINK 4300 (openwrt fw) and my UniFi Ac Pro Access Point are not even close compared with the Deam Machine. 
4 in 1 – The UniFi Dream Machine (UDM) offers an all-in-one solution setup which includes access point, security gateway, switch and Cloud Key capabilities. So you can simplify your network without loosing functionality and for better price.
24/7 Global Support, articles, community – I know this is valid for all Ubiquiti products, but it's worth to mention, because you receive free support great community and articles about everything you think of. You want VPN, no worries there is a very easy to follow official article, static IPs for the clients- yes, article, VLANs of course, connecting to your neighbor's Wi-Fi – article. Come on Ubiquiti who does that?
If I put joking aside it feels like really top notch premium experience that totally worth the few extra bucks that you have to pay for the Dream Machine.
Lack of major Cons – And One of the biggest Pros Is the lack of major cons. At the end of the day there are no major show stoppers and drawbacks at least for me. Also I knew about most of them before I buy the product and still this doesn't stop me to buy it after all. 
Buying the UniFi Gear
If you are interested in buying any of the gear that I used in this video/article please consider using the affiliate links down below. I will receive a small commission with no additional cost for you.
Or look at my All in 1 page – https://www.amazon.com/shop/kpeyanski 
Setup a UniFi Dream Machine VPN server
Let's setup a VPN server right from the UniFi web interface which is actually very easy to do. If you are using the New (Beta) settings of the UniFi controller switch back to the Classic Settings.
Go to Settings > click on the Classic Settings in the upper part of the screen.

Go to Settings > Services > Radius > Server tab > Enable RADIUS server and enter a Secret.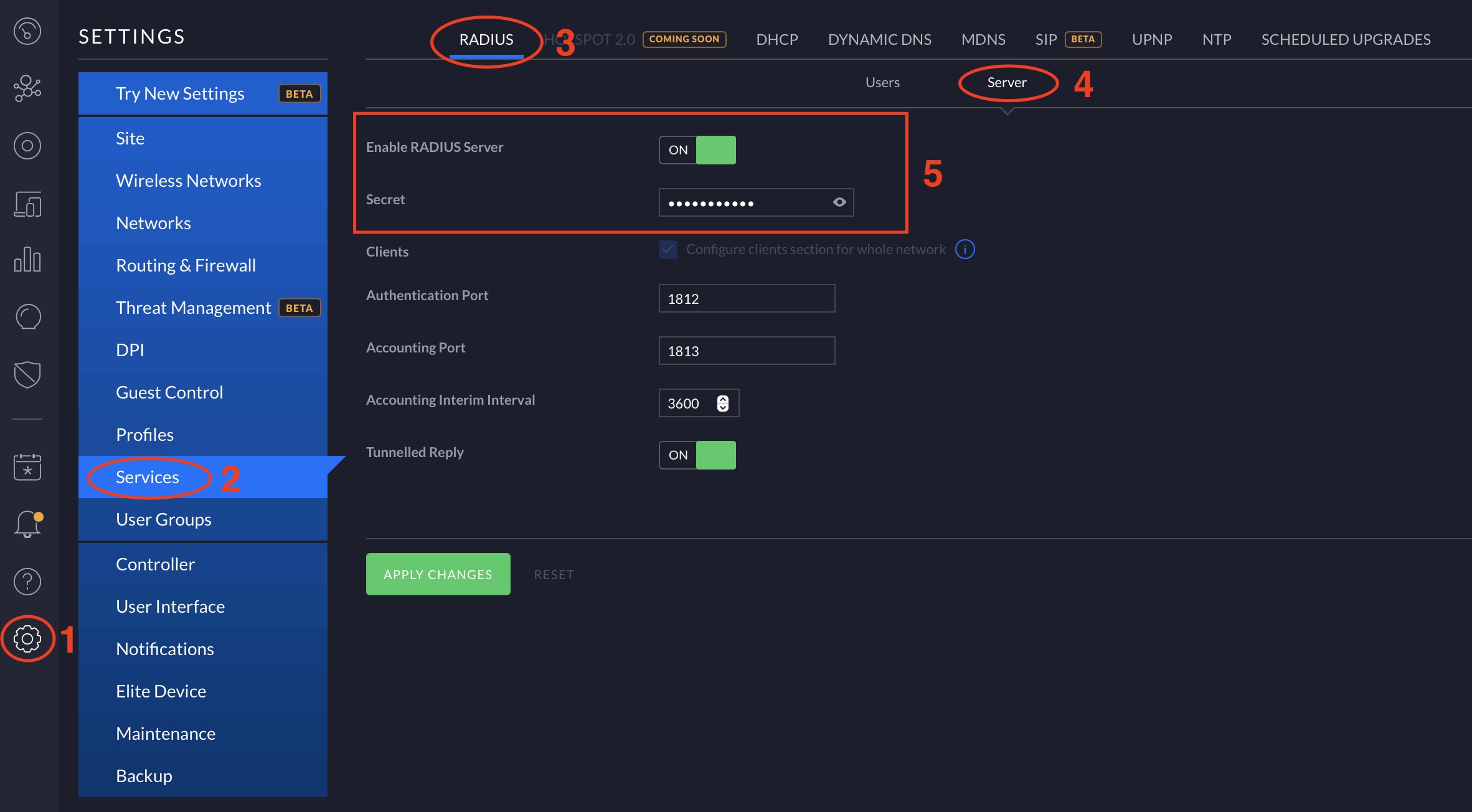 Next, go to the Users tab > Create New User and create at least one user with the following settings: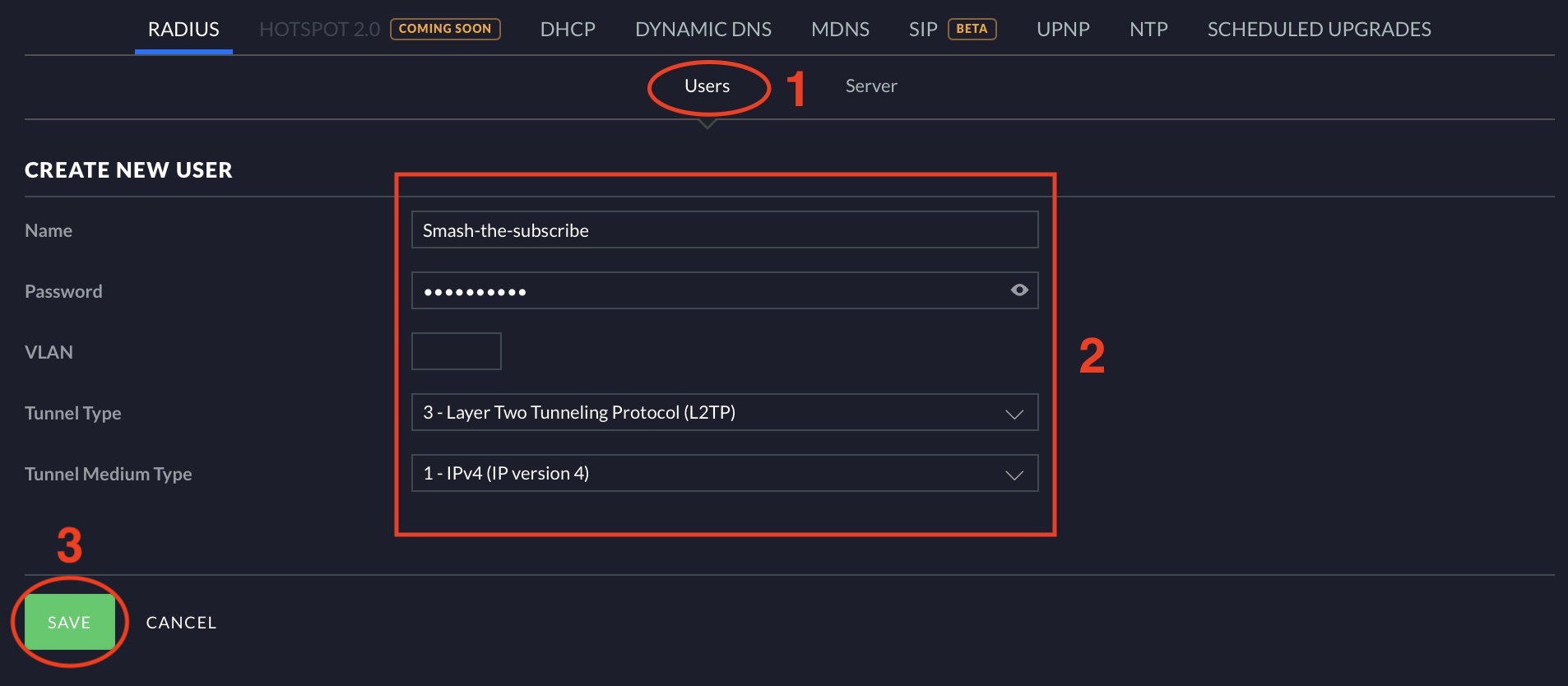 After that go to the Settings > Networks > Create New Network > and select Remote User VPN to create the UniFi Dream Machine VPN and L2TP server.
Add the following in the corresponding fields:
Name: WHATEVER_YOU_WANT
Purpose: Remote User VPN
VPN Type: L2TP Server
Pre-Shared Key: <shared-secret>
Gateway IP/Subnet: 10.0.10.1/24
Name Server: Auto
RADIUS Profile: Default
MS-CHAP v2: Unchecked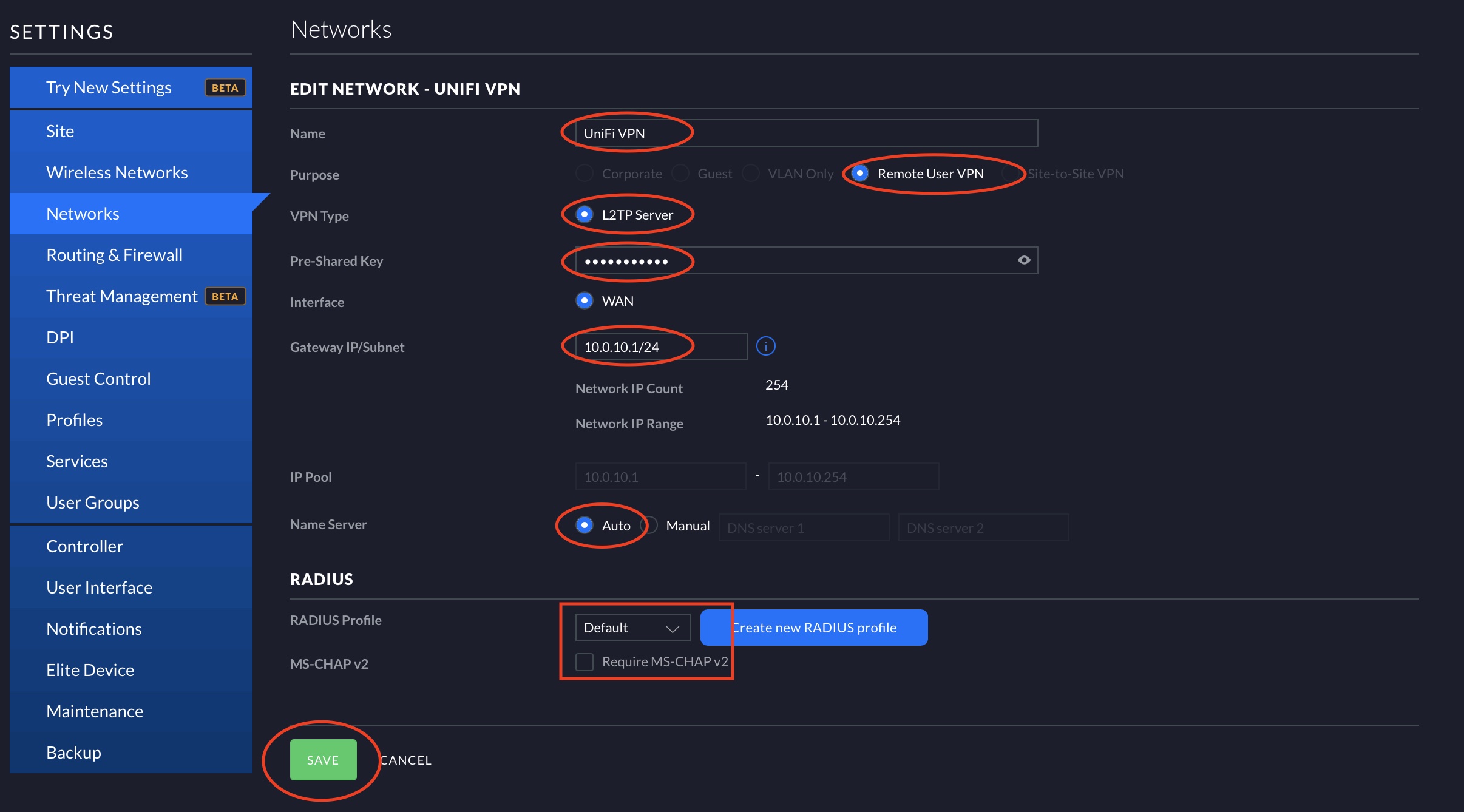 Have in mind that the The pre-shared key is a common password used to authenticate all VPN users to the UniFi Dream Machine VPN / L2TP Server.
That's it, you now have a UniFi Dream Machine VPN Server and you can test it from your Desktop or your Phone, as I will show you in a minute (next sections).
Question for You!
What is your router model and brand that you are currently using?
Let me know your answers in the comment section below. Bonus points if you say that if you are happy with it or not so. 
Native MacOS VPN Client Setup
I will use the native macOS client to connect to the UniFi Dream Machine VPN server now. Of course you can use the Windows or the Linux one without any issues.
1. Simply go to System Preferences > Network on your computer.
2. Click the + button.
2.1 Interface: VPN
2.2 VPN Type: L2TP over IPsec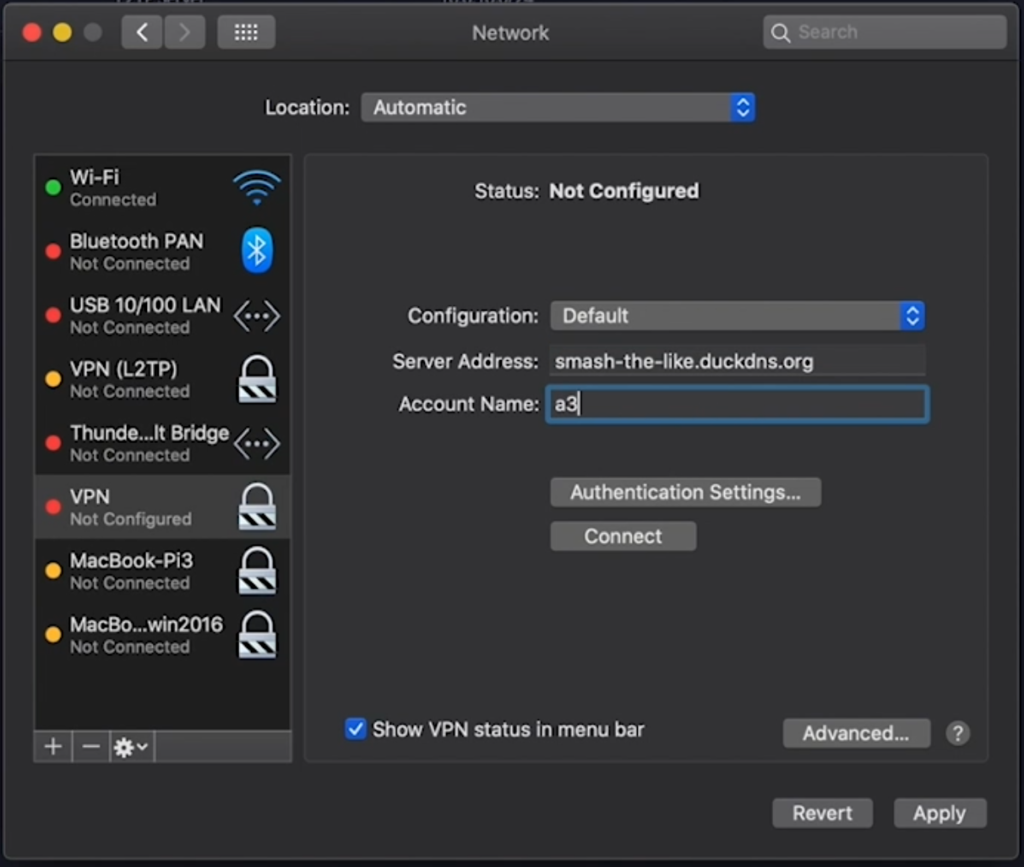 3. In Authentication settings enter the preshared key.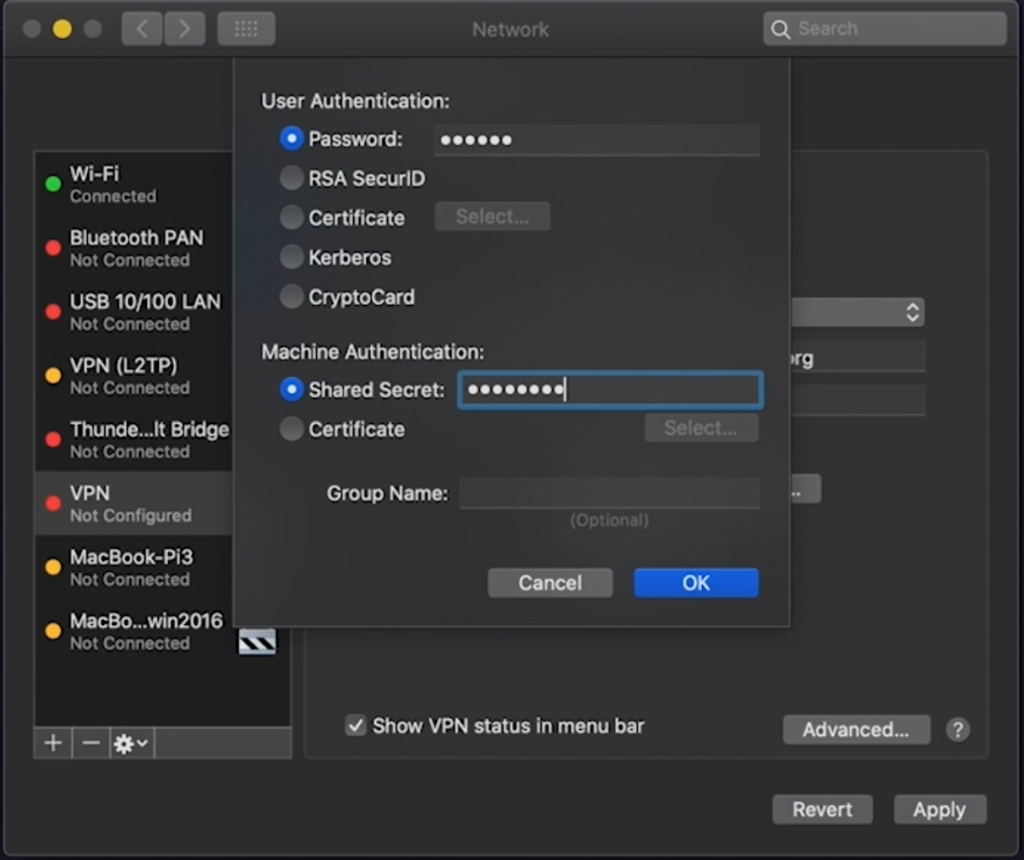 L2TP VPN doesn't have a route distribution method. If the setting on the client device to route "all" traffic through the tunnel is not enabled, it will be necessary to add the manual routes on the client, to point to the UniFi Dream Machine local networks.
Or in other words just enable "Send all traffic over VPN connection" option in the "Advanced…" menu.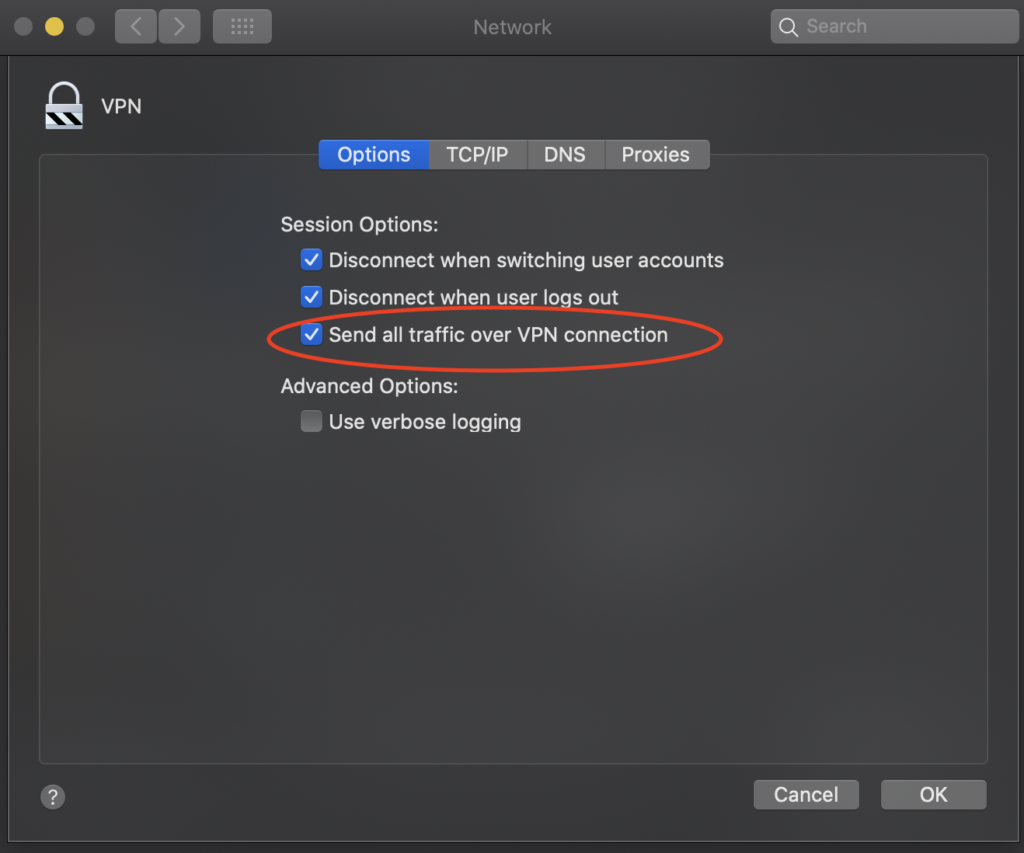 Native Windows VPN Client Setup
If using a Windows machine to connect to UniFi Dream Machine L2TP VPN (same is valid for USG), follow these steps to set it up in Windows 10 and probably in Windows 8.1
1. Go to Settings
2. VPN > Add VPN connection
3. See the following screenshot and fill the information requested.
Enter the VPN Credentials in Windows
Windows Authentication Setup
Go to Control Panel > Network & Sharing settings > Change Adapter Settings.
Right-click the L2TP adapter, then go to Properties > Security.
Under Type of VPN, select  Layer 2 Tunneling Protocol with IPsec.
Click Advanced Settings. Select preshared key for authentication and enter it.
Make sure to have the option of Allow these protocols enabled and mark the checkbox for Check Microsoft CHAP Version 2 (MS-CHAP v2), as shown in the screenshot below.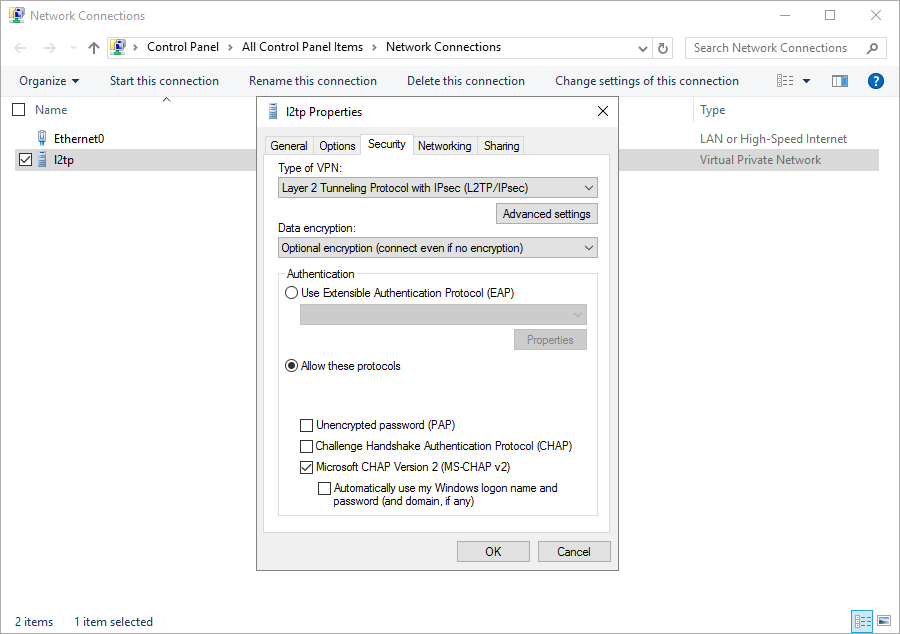 Windows requires a registry tweak in order to use L2TP w/ PSK.
So open your Command Prompt as Administrator and add the following key:
REG ADD HKLM\SYSTEM\CurrentControlSet\Services\PolicyAgent /v AssumeUDPEncapsulationContextOnSendRule /t REG_DWORD /d 0x2 /f
And then reboot your Windows.
Native iOS VPN Client Setup
Let's also try to connect to the VPN from an iOS device.
Go to Settings > VPN > Add VPN Configuration.
For the Type select L2TP and enter you Server, Account, Password and shared Secret.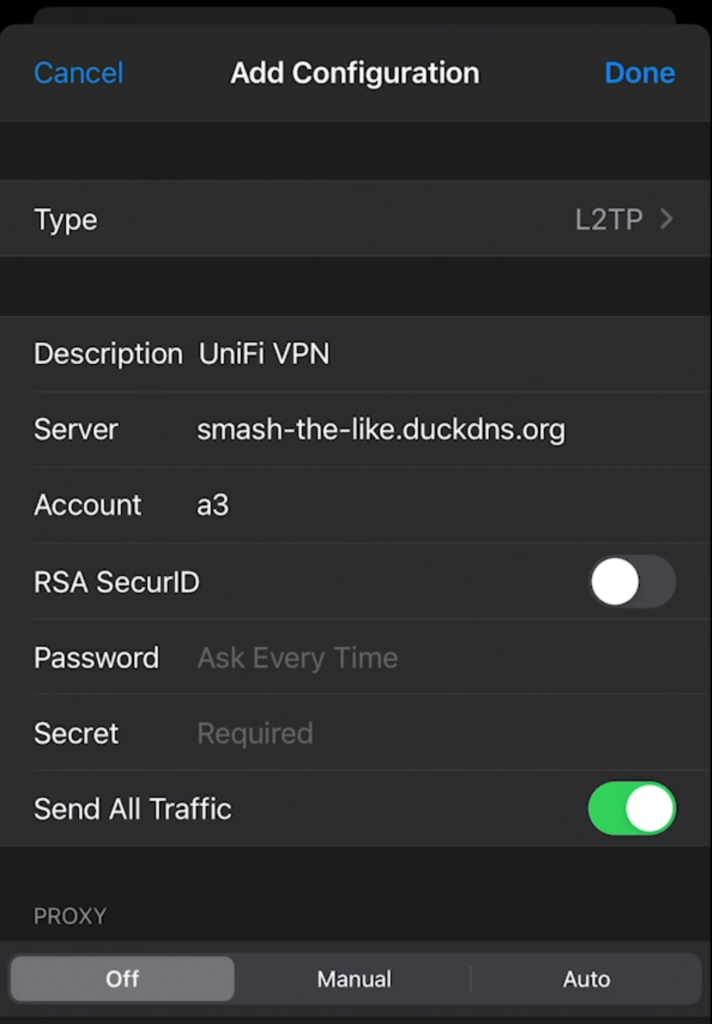 When you are ready click Done. And try to connect. If it stays green and you can able to reach your Home stuff while you are on mobile data, then everything is fine and you are in the VPN game.
Support My Work
Any sort of engagement on this website or with my YouTube channel does really help out a lot, so make sure you hit the subscribe, Like and Bell buttons If you enjoy the video.
Also feel free to add me on Twitter by searching for @KPeyanski.  You can find me on my Discord server as well.
I really hope that you find this information useful and you now know what is UniFi Dream Machine, how to setup it, how to configure a VPN natively, and the pros and cons of this device.
Thank you for reading,  stay safe and see you next time.