Do you know that new Home Assistant 2022.8 release is around the corner. Let's see what is new, what will eventually break, and what are the possible ways to repair it. As usual I will try to explain and demonstrate the new things as best as I can.
Home Assistant Webinar
Before we start I want to invite you on a Home Assistant Webinar.
The topic of the Webinar is: What are the official ways to install Home Assistant + 1 secret not so official, but super easy way to get started with Home Assistant in under 5 minutes.
You can join me by register at https://automatelike.pro/webinar it is all free and quite useful even if you already have Home Assistant installation.
Now let's start with the Home Assistant 2022.8 new features.
Home Assistant Repairs
The first new thing in Home Assistant 2022.8 is very exciting and it has a lot of potential to help you stay on the safe side during your Home Assistant journey. I want to introduce you the brand new Repairs section that Home Assistant 2022.8 have.
This Repairs section is situated in the Settings > System menu of Home Assistant or right above the updates in the Settings menu.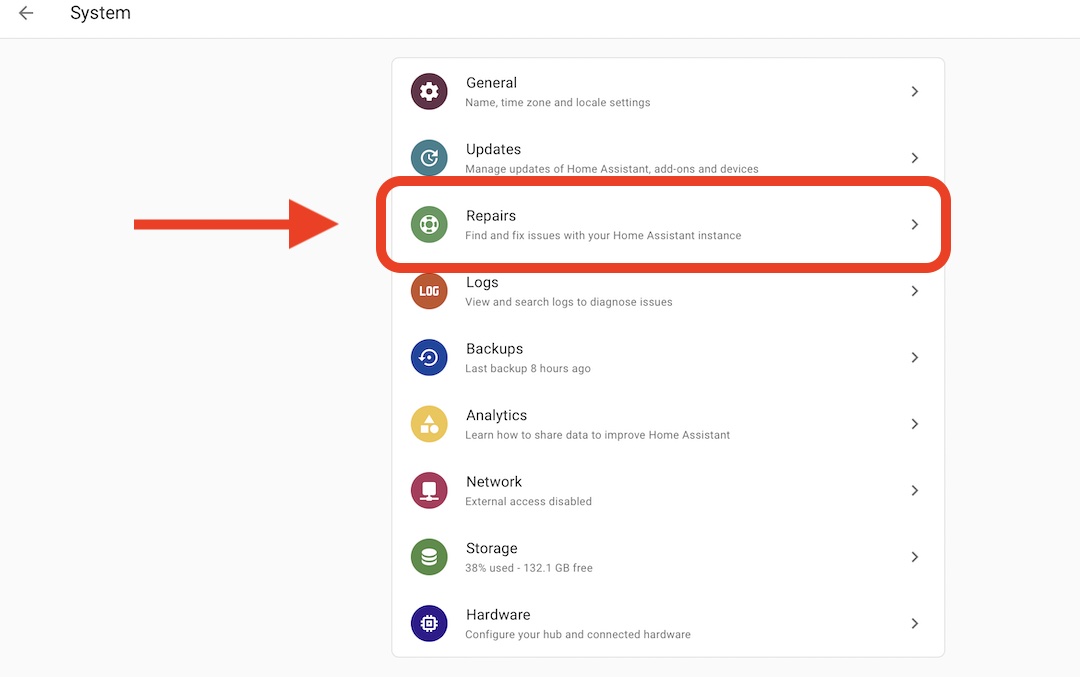 And from now on If some issues are found on your system you will see them as actionable banners saying what the problem is and what you can do to resolve it.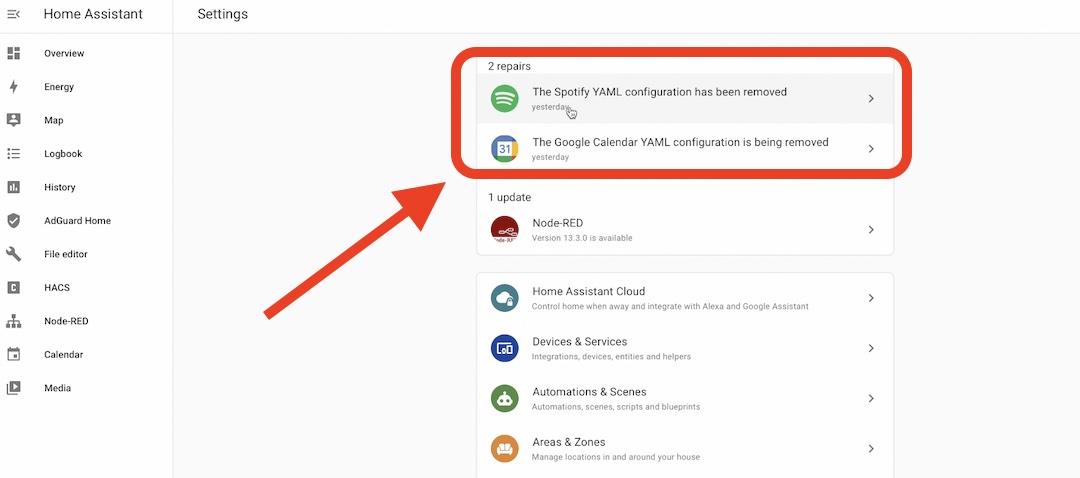 Depending of the issue it is possible to see some links to the Home Assistant documentation or you can see the exact version from which something on your system will be deprecated or other useful information. 
So, unlike the Logs section of Home Assistant which is passively saying what happened and at what time it happened and so on the Repairs are requiring some action from your side.

To help, Repairs will give you as much hints as possible. They will work for everything that we should be informed and it is actionable.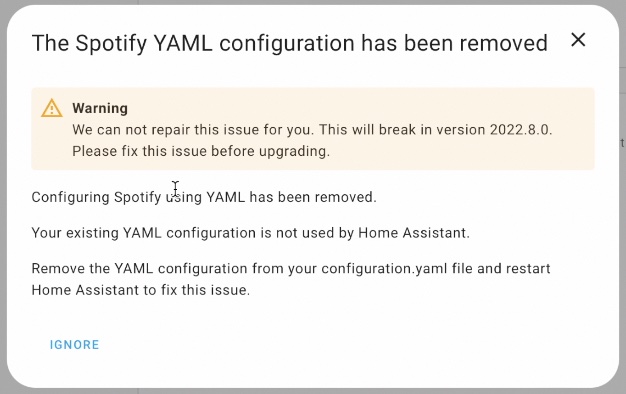 What Home Assistant Repairs covers?
For now the Repairs are limited to a bunch of deprecations and replacements notifications. For the future, the core Home Assistant team said that Repairs will be further developed and can include things like complete flows for resolving issues that can ask different questions and will allow you to enter some parameters. So, we will wait and we'll see how the repairs will be developed.
Again in my opinion Repairs have the potential to become one of the most helpful features in Home Assistant that will inform you about some known issues and not only that, but it will help you to fix them.
Also, Repairs is looking at the alerts.home-assistant.io website that have a list of active alerts for the important stuff that are actually happening at the moment and it will check if there is a match with your installed Home Assistant integrations.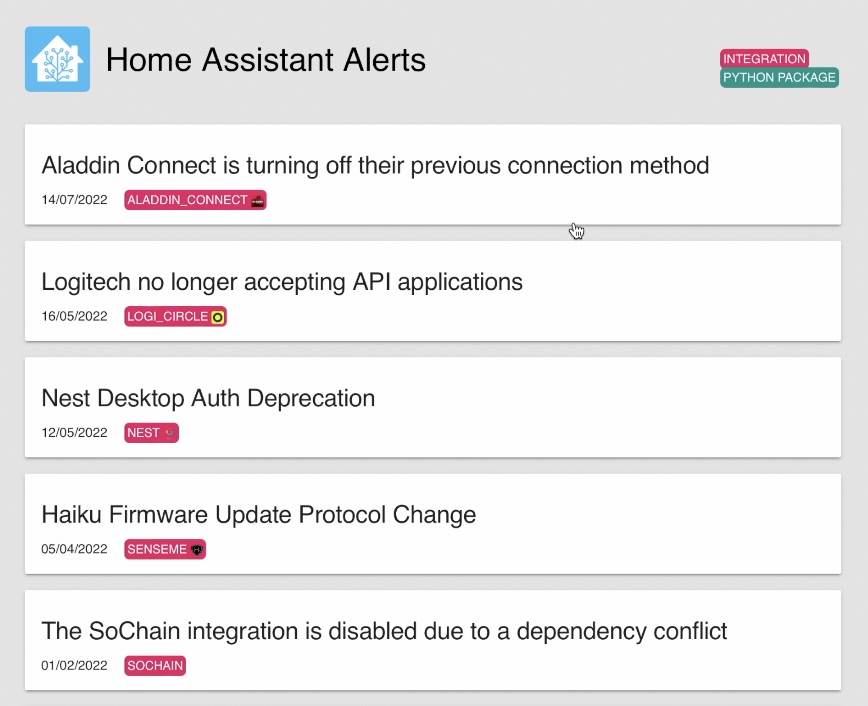 So, for example if you have a Hikvision integration installed in your Home Assistant, the Repairs will see that and will check against the active alerts at alerts.home-assistant.io and when it see the active alert there it will most probably show you a label asking you to update your Hikvision NVR firmware as soon as possible, because of a disclosed security vulnerability in Hikvision products.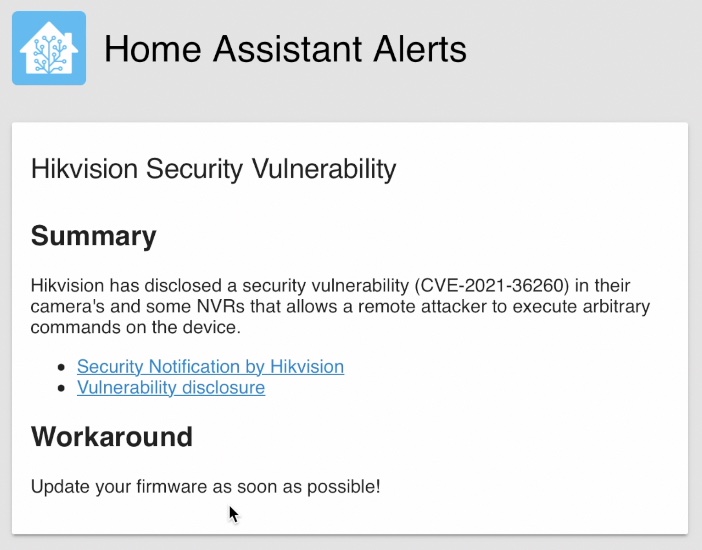 Another thing that Repairs will do is from now is showing you a notifications if you try to upgrade your Home Assistant and there is a known breaking change that may affect your installation.
Home Assistant Repairs classifications?
The Repairs notifications are classified in 3 different levels of severity:
Critical,
Errors,
Warnings.
I hope you will never see a Critical actionable notification in Repairs for your system, but if that happens you most probably booted up your Home Assistant into a safe mode or something really bad happened.
Next level is Errors where this severity level is for things that are breaking your system or some integration right now in this moment.
And finally are the Warnings which are used when there are future deprecations that will not work in the next Home Assistant releases. Have in mind that the warnings can become errors, so they can increase their severity. That can happens for example, if you ignore them and if you upgrade no matter that you were warned.  
Can I ignore Repairs notification?
When we talk about ignoring Repairs notification there is an Ignore button that will hide the Repairs warnings until the next major release.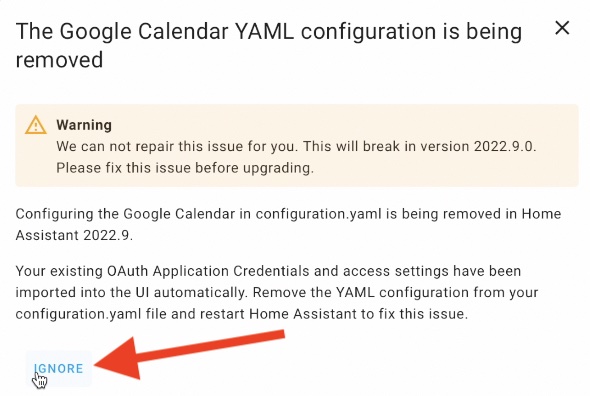 But please, do not ignore my Smart Home Glossary that you can download right now for free on my other website https://automatelike.pro/glossary. That Glossary is full of Smart Home abbreviations and acronyms and their simple, but quite useful explanations.
Again it is completely free and you can download the PDF to your computer and if you find some Smart Home acronym or word somewhere in YouTube or in an Article and you are not so sure what is the meaning then you can always open the Smart Home Glossary and check the explanation there. 
Home Assistant Bluetooth integration
And with that I finished with the Repairs. Next new big thing in Home Assistant 2022.8 is Bluetooth or as they say – Home Assistant is now having a first-class Bluetooth support, because there is a brand new Bluetooth integration and when added it will try to detect nearby Bluetooth devices.
You can Add the Bluetooth integration from the Home Assistant Integrations menu or by clicking on the My Home Assistant Link below: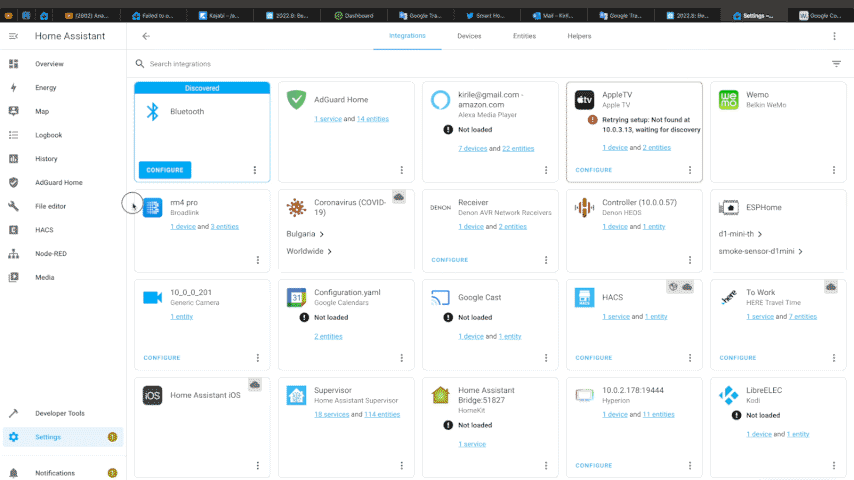 The discovered devices will show up on the integrations page in the Home Assistant configuration. As example, the SwitchBot integration has been updated to support the new Bluetooth integration, and now it is providing a much more stable experience.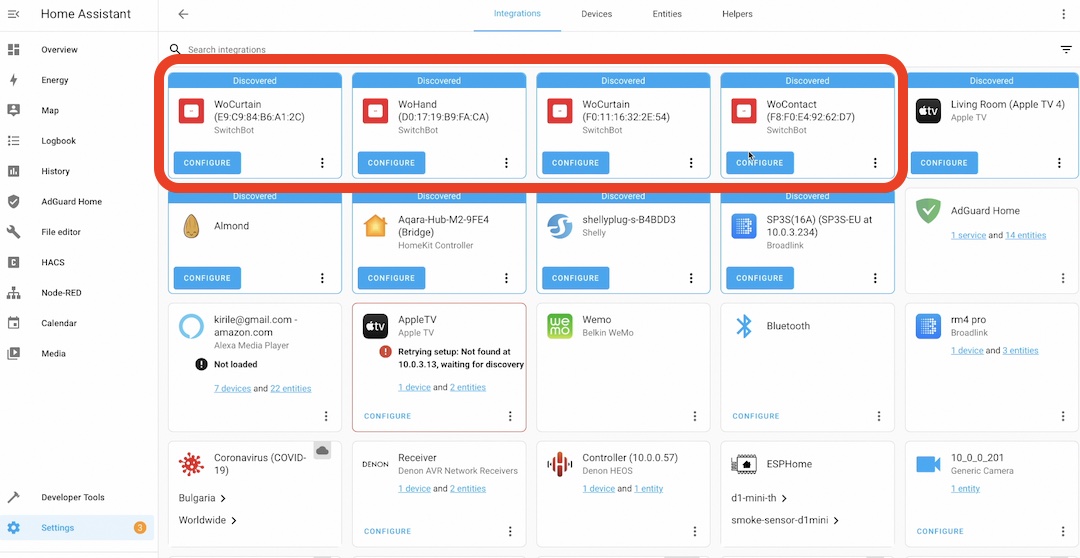 HomeKit Bluetooth Support
Also the Bluetooth functionality of HomeKit controller if you happen to have one in Home Assistant is now using the new Bluetooth integration for communication with Bluetooth devices and that leads to the next new feature in Home Assistant 2022.8 which is added support for HomeKit Bluetooth devices.
If you have a HomeKit enabled device that can work over Bluetooth it should be now working and even auto discovered by Home Assistant if it is in range. 
More Supported Brands
And the next new feature in Home Assistant 2022.8 is adding more supported brands. For example, let's say you have a device from a brand A that is not listed as supported in the Home Assistant Integrations. But, this device from brand A is somehow closely related to other brand, brand B. And that brand B is actually having a Home Assistant support that you could use if you know about that relation between brand A and brand B, but if you don't know that your device will stay out of Home Assistant which is a shame.
As a real life example if you are having a Marantz device and you search for it in the Home Assistant integrations you will now find such integration and if you click on it, the Home Assistant will tell you that Support for Marantz devices is provided by Denon Integration.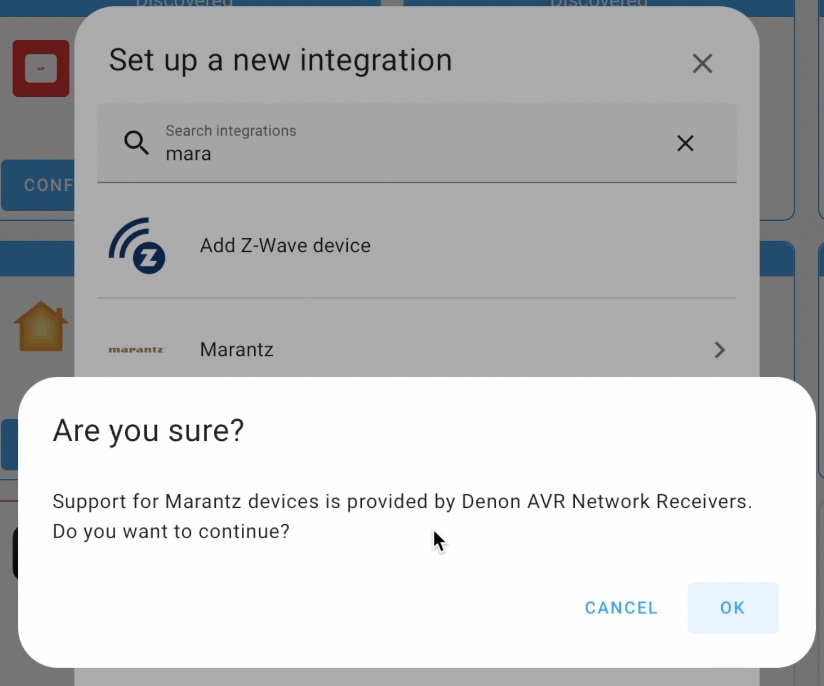 So adding more supported brands in Home Assistant is kind of cool as I'm pretty sure that nobody knows the history, the relations and acquisitions of all vendors out there. 
The Winner from the last week Giveaway
The winner can be seen in my video about Home Assistant 2022.8
Subscribe for my Newsletter, and you won't miss an upload.
I'm Kiril and I'm done writing. Bye!