I have my hands on the Aqara Smart Switch, Aqara Smart Plug, a Aqara Cube (kind of cool looking remote with 6 possible gestures) and a Aqara Hub M2 that orchestrate them all.
These devices are using ZigBee 3.0 for the communication which is pretty good. Apart from the Aqara mobile app, you can natively use Apple HomeKit, Alexa or Google Assistant to control the Aqara devices and to make automations and scenes.
What is the End goal (entertainment room)?
The end goal here is when I move the Aqara Cube (one of the possible gestures), an automation to turn off my lights, then turn on my TV, Audio Video Receiver & Set Top Box as well as my TV ambient lights.
This entertainment room automation can be done very easily using only 4 of the the Aqara smart products. Let's see what are these products and how to setup this.
Deal Of The Day promotion on Amazon!
Please bear in mind that at this very moment (Sep 18):
Aqara will hold a 24-hour flash sale event on Amazon US from 0:00 (PDT) to 23:55 (PDT) on Sep 18. No Prime membership or promo code will be needed.
All Aqara products will be discounted to this year's

LOWEST

price.
You can add your favorite products into the shopping cart before the event and all prices will be adjusted automatically when you check out on Saturday (Sep 18).
This is the Aqara Amazon Store 👉 LINK
Now, let's see the Aqara products and their capabilities in details, starting with the Aqara Hub M2. After that we will add the Aqara Smart Plug & Smart Switch to the plate and the Aqara Cube for dessert.
Aqara Hub M2 review
The Aqara Hub M2 is a multi-protocol gateway for maximum compatibility and future proofing (according to Aqara). It support ZigBee 3.0 which is faster, more stable and energy efficient, allowing you to connect up to 128 devices.
The Aqara Hub M2 is equipped with an IR transmitter allowing you to control any of your Infra Red home appliances and it also support Bluetooth Low Energy (BLE) 5.0.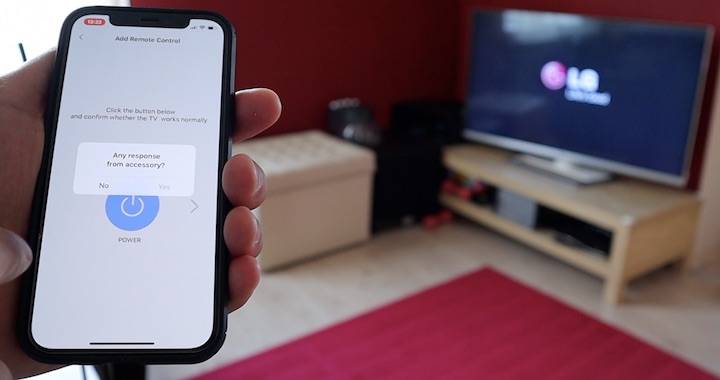 The Aqara Hub M2 has RJ45 Ethernet port, which means you can plug it directly into your router or you can use Wi-Fi, because the device is also having dual Wi-Fi antennas inside. On top, it has a built-in speaker and supports all native alarm Apple HomeKit modes.
To setup the Aqara Hub M2, you just need to download and open the Aqara Mobile app (Apple Store & Google Play), to tap add new device/accessories, to select the Hub M2 from the list and to follow the instructions.
Can I use something different for a Hub?
You can eventually replace the Aqara Hub M2 with other Aqara Hubs like the Aqara Hub M1S (Check the price in Amazon 👉 LINK) or even the Aqara Camera G2H, which also have ZigBee Hub inside (Check the price in Amazon 👉 LINK), but you will lose the IR and BLE capabilities that the Aqara Hub M2 have.
Alternatively, you can replace all of these Aqara Hubs with a ZigBee stick like the ConBee 2 (Check the price in Amazon 👉 LINK) and you will still be able to control your other Aqara devices, but that is another story and probably another article.
Aqara Smart Switch review
That was Aqara Hub M2. Let's continue with the Aqara Smart Switch. I have the European, but there is a US version as well. Also you can choose between Aqara Smart Switch with neutral and no neutral version as well as Single or Double Rocker.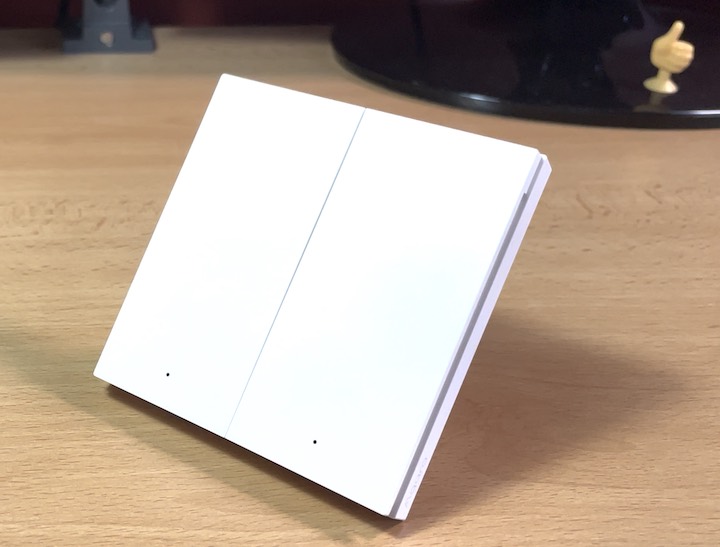 This one above is the No Neutral, Double Rocker version and the installation is dead simple. And when I'm saying dead simple, please be careful here ⚡️😵:
Make sure that the power at circuit breaker or fuse box is turned off before wiring.
Double check the wires with a test pencil.
If you are in any doubt here, ask a professional electrician for help and do not listen to some random guys from the Internet like me 🤪
With that being said, let's see how a random guy, pardon me, how I manage to connect the Aqara Smart Switch with No Neutral.
Wiring Aqara Smart Switch (No Neutral)
Connect the Live wire to the L hole and Load wire to the L1 hole. Optionally, the second Load wire can be connected to the hole L2. Where only the Double Rocker version have a L2 hole.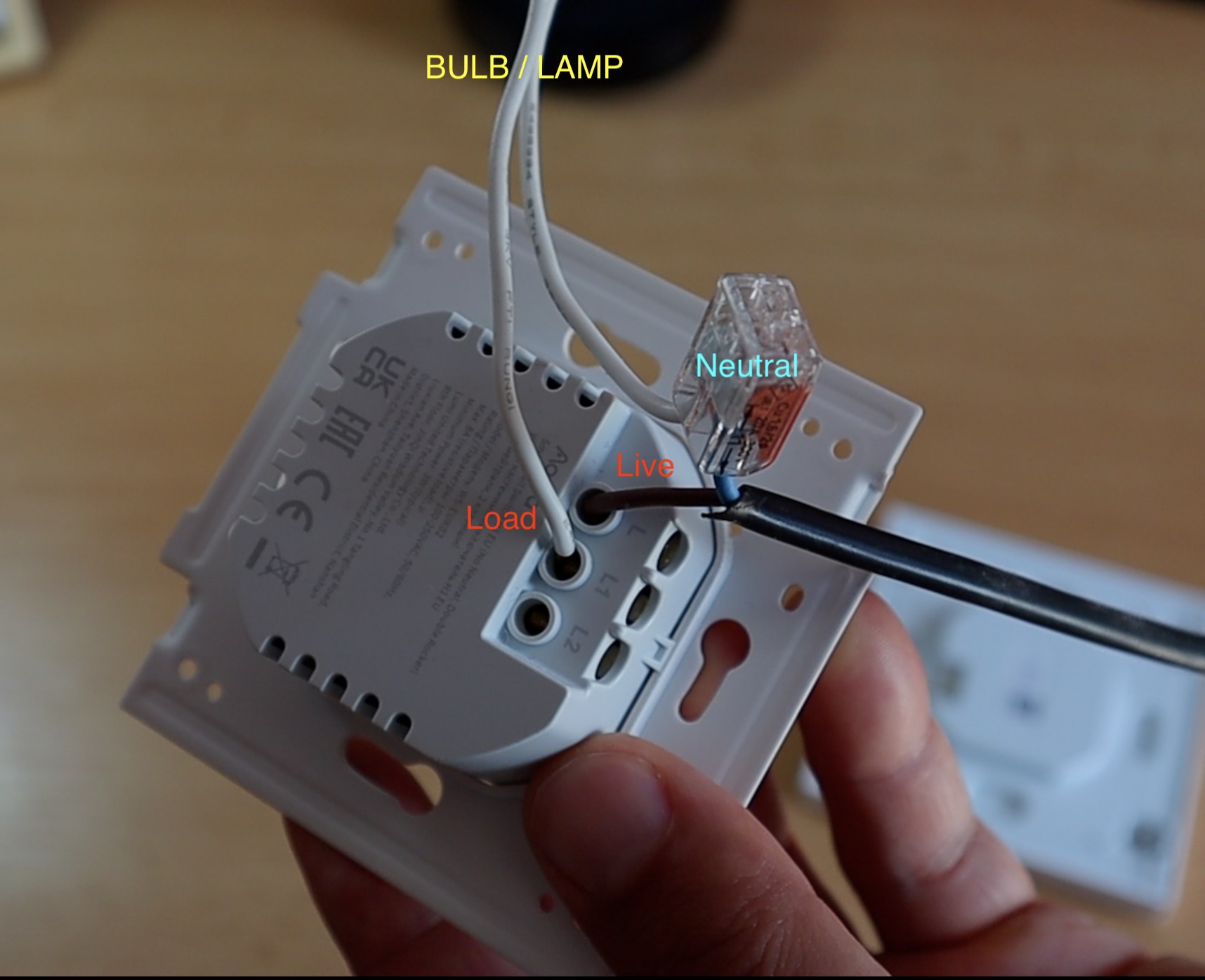 This is how I manage to connect the Double Rocker Smart Switch on my wall.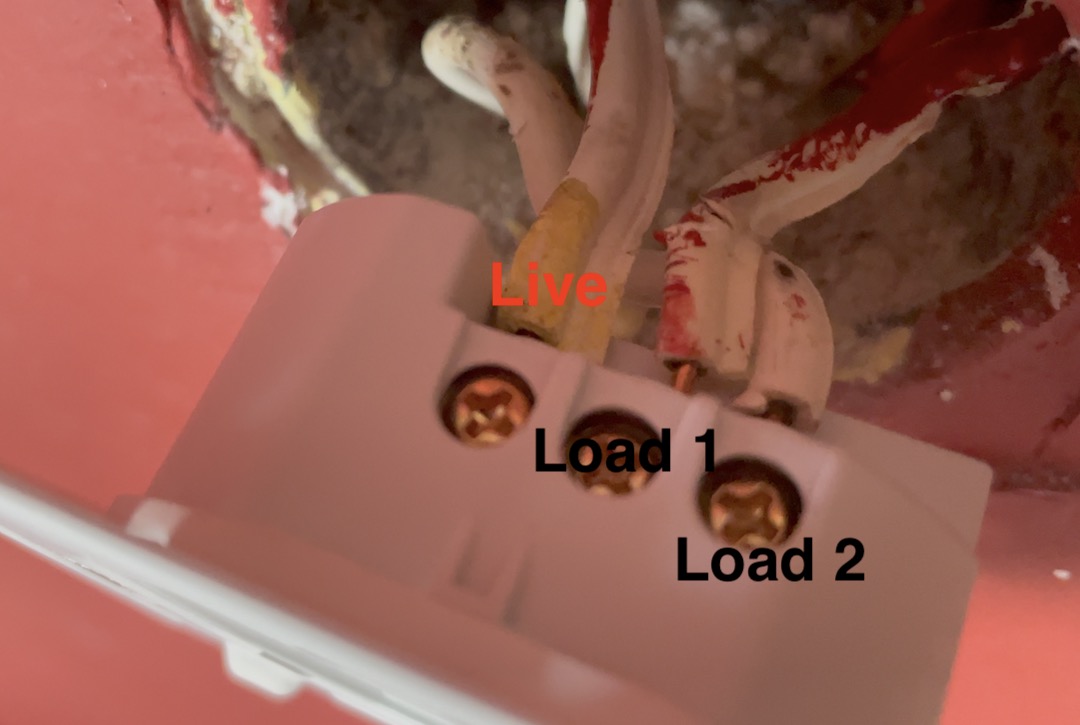 Aqara Smart Plug review
And that was Aqara Smart Switch Double Rocker with no neutral, what about something easier and safer to install, but still very useful like the Aqara Smart Plug?
Aqara smart plug is mainly used to remotely power on or off any household appliance. Both US and EU versions are available and this bellow apparently is the European version: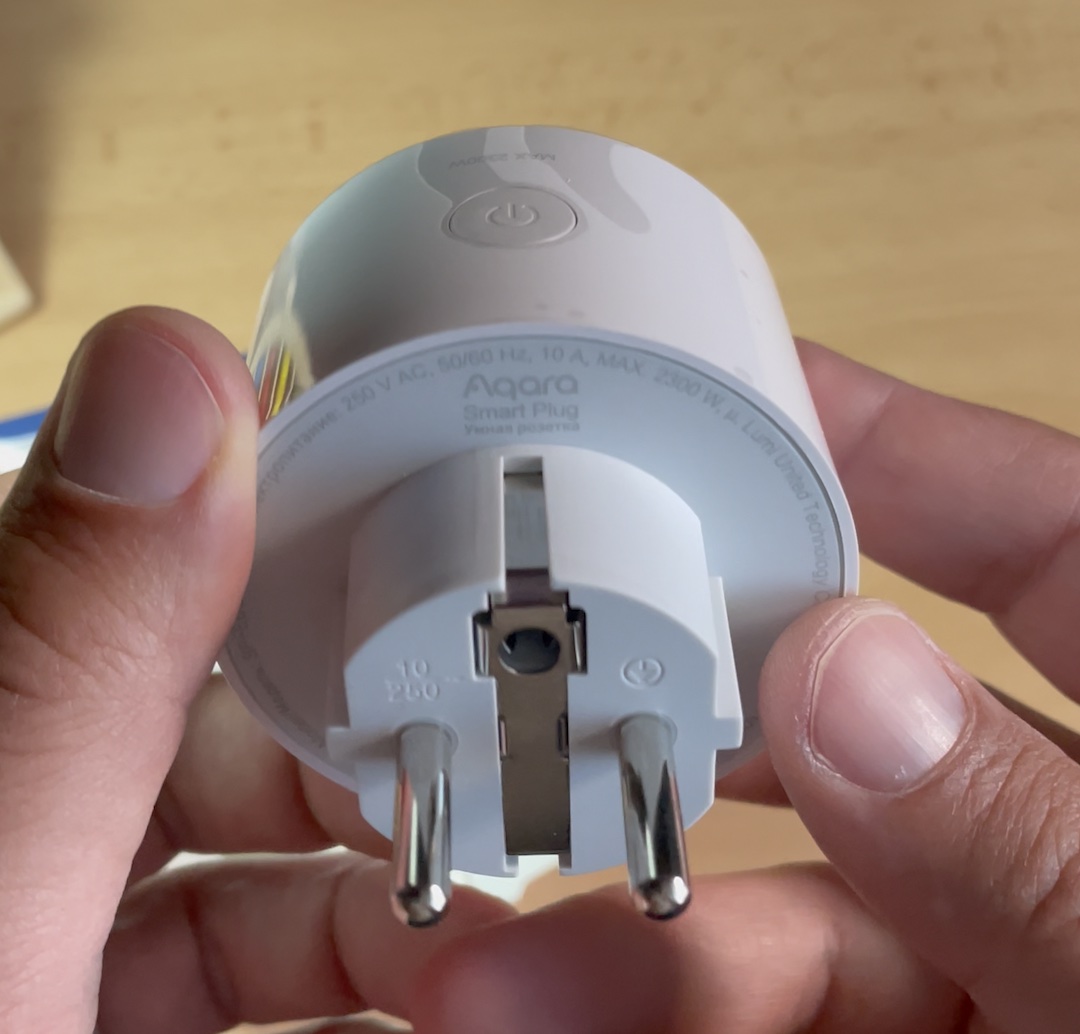 The maximum load power for the Aqara Smart Plug is 2300W and 10A. Any appliances that do not exceed these maximums can be used with the Smart Plug without any issues.
The Aqara Smart Plug is also a ZigBee device that requires a hub to function and cannot directly connect it to your Wi-Fi. Once added to your Aqara Hub, the Aqara Smart Plug can be controlled from the Aqara App, Apple Home App, Alexa and Google Assistant. Of course, you can use your voice and you can create scenes and automations in whatever ecosystem from the above mentioned that you prefer.
If you ask me, I can't buy enough smart plugs for my home and I aways want some more, just in case I may need them somewhere. Then I usually found that "somewhere" and install them, then I have to buy some more Smart Plugs, just in case again and and so on and so forth, never-ending story.
Maybe, this is some kind of illness, but I enjoy having it! 🤪 Anyways, let's see the Aqara Smart Plug.
Aqara Cube Review
Time to have some dessert! Namely, the Cube from Aqara, which is a device that can be used as remote/controller and looks like this: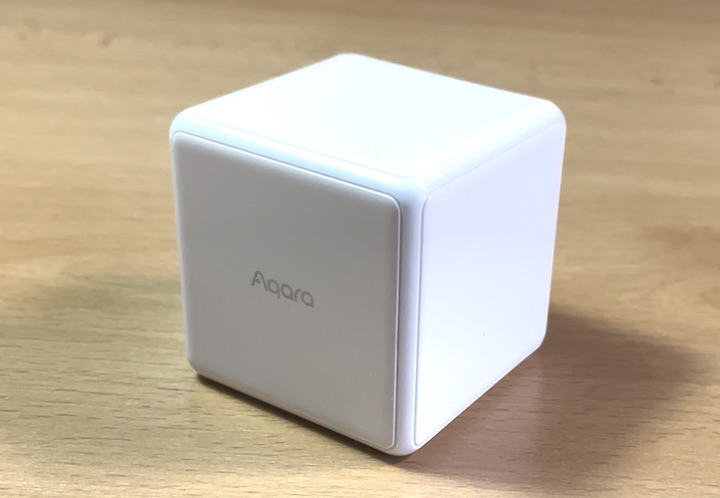 To use the Aqara Cube you need to add it to a Hub first from the mobile Aqara app. The Cube Controller have no buttons, but it works with gestures.

The supported gestures are: push, shake, rotate, 90 and 180 degrees flip, tap twice on a table.
You can program these gestures to execute specific actions or activate scenes and automations.
How I create an Entertainment Room (accomplished the end goal)?
Let's go back to my End Goal for this article – to make an Entertainment Room. To make this work:
I programmed the push move by creating a new automation from the Aqara app,
So, when I execute the Cube push action, the Aqara Hub M2 will send Infra Red commands to power on my TV, AVR & STB,
As well as command to Aqara Smart Switch to turn off the lights,
And to power on my Ambient lights using the Aqara Smart Plug.
That was real fun to me and now I have 5 more Cube gestures left to program.
Aqara Products Summary 
The Aqara is becoming more and more popular in the Smart Home world, and that is not happening by luck or something. The Aqara products are more affordable compared to most of the other accessories, especially the ones with Apple HomeKit support.
This makes Aqara products kind of one stop shop for the Apple fans with their native HomeKit support. Of course, Amazon Echo and Google Assistant users are not left behind, as there is support for such devices as well.
On top you can always omit Apple, Amazon & Google and stay with the Aqara app only, because it have everything inside. The ZigBee communication is also a plus, as the local control for the Aqara Devices will continue to be functional even if your Wi-Fi is down.
What I miss the most with the Aqara products is lack of native Home Assistant support, but I believe this will be sorted out sooner than later.
If you want to buy something from Aqara, now is a great time (remember, this year's lowest price). You will also support my work this way, as I will receive small commission from your purchases with no additional cost for you, if you use the Amazon links below:
Outro
With that being said, please smash the Like & Subscribe buttons (with the notification bell) 👉 LINK. Don't forget to subscribe for my Newsletter, if you haven't done that already.
If you want to see another article of mine check for example this How to Use Apple AirTag as Automation Trigger tutorial or any of my playlists.
Follow me on Twitter, join my Discord server, stay safe and remember – Home Smart, But Not Hard!
I'm Kiril and I'm done writing.