Prepare yourself for a Reolink NVR or Blue Iris and Home Assistant review. I got my hands on two cameras from Reolink – RLC-522 and RLC-520 as well as Reolink NVR RLN8-410.
What is NVR?
First of all let's clear this out and answer the question what is NVR?
NVR means Network Video Recorder and it's a hardware device that can record video streams from Security/Home cameras over the network. The usual NVR provide interface for playback of the recorded footage. It also provide controls and possibility to configure the connected cameras. NVR can also display the camera streams in realtime when connected to a Monitor or TV.
What will you see in this article?
As you may guess I will set the NVR and Cameras up and I will compare the cameras, but that is not enough for me and I will also try to add them in Blue Iris and Home Assistant using ONVIF and RTSP. 
You will see a security camera battle between Reolink RLC-520 and RLC-522 with optical zoom connected to reolink NVR vs Blue Iris and Home Assistant.
Let's get ready to rumble…
I'm kidding this article will not be a fight, but more likely a demonstration of the available options that will help you choose the best one for you.
First you will see what it is like to have cameras and hardware NVR from the same brand (namely Reolink). Second if you decide to go with cameras and software NVR like Blue Iris. Third if you want to have them both hardware NVR and some Software like Home Assistant, motionEye and so on and so on – just like me.
I will also show you the difference between camera with and without optical zoom.
What if you don't have the same Cameras and NVR?
If you don't have the same cameras and NVR, don't go away, because most of the things will work with every RTSP and ONVIF enabled cameras out there.
So I will show you how to smash the subscribe button for my Newsletter,
Now let's start this.
Reolink NVR and Cameras Info
If you choose to have hardware NVR and Cameras – Reolink provide everything you need.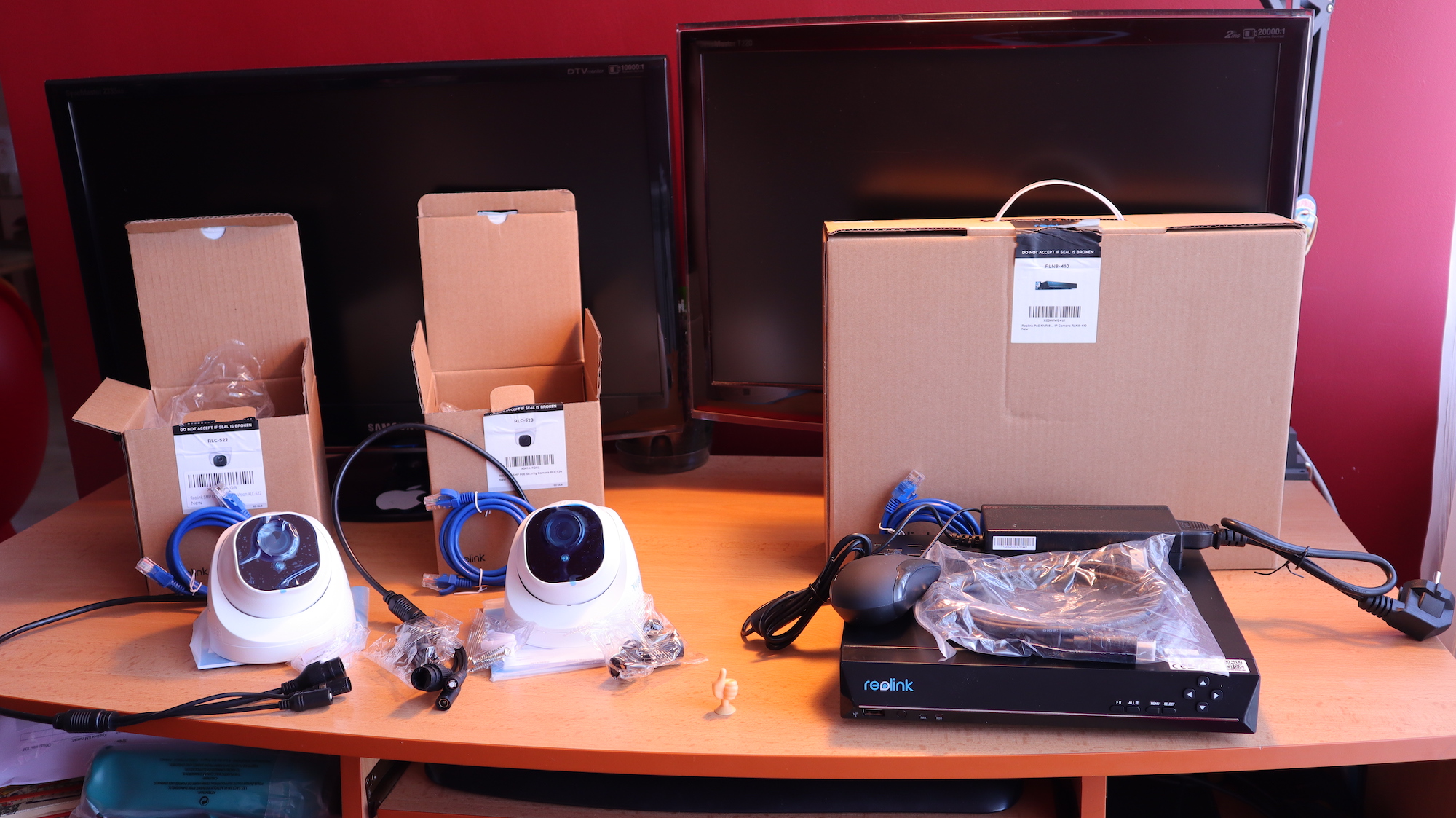 Reolink NVR RLN8-410
The Reolink NVR RLN8-410 includes 2TB of storage, 8 PoE ports (that means you can power your cameras with only one cable – the network cable) and they even give you a mouse, several plug adapters, and HDMI cable.
I really like that, because some very expensive TV brands are not including HDMI cable in their packaging, but this is not the case here and you will have everything, just plug & play.
But that is just a minor bonus. The quality of the products is what matter the most and I just want to share that Reolink have German standards in their veins and I'm pretty happy by their products quality so far.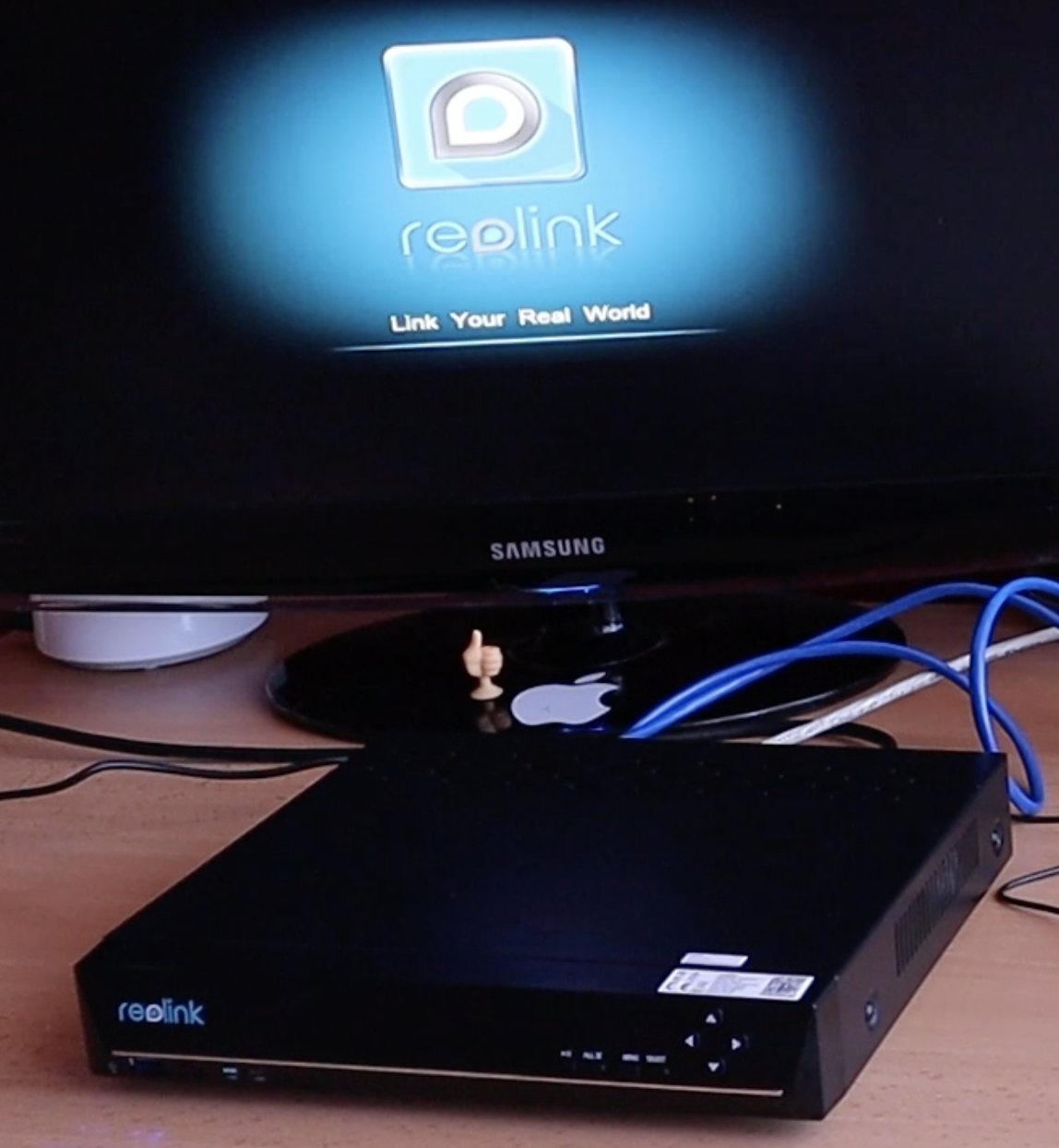 Only the time will tell if this will be the case in the future, but I promise to share details here if something happens with my gear.
Here are some links where you can check the current prices and buy the Reolink NVR.
Reolink RLC-522 or RLC-520 Camera?
To zoom or not to zoom, to pay 30 euro more or to save them? In other words to buy Reolink RLC-522 with optical zoom or Reolink RLC-520 without? Let's check this out.
First of all both cameras are like twins, they don't have any physical differences. I often confuse them, so I have to read the tiny label on the camera to find out is it 522 or 520.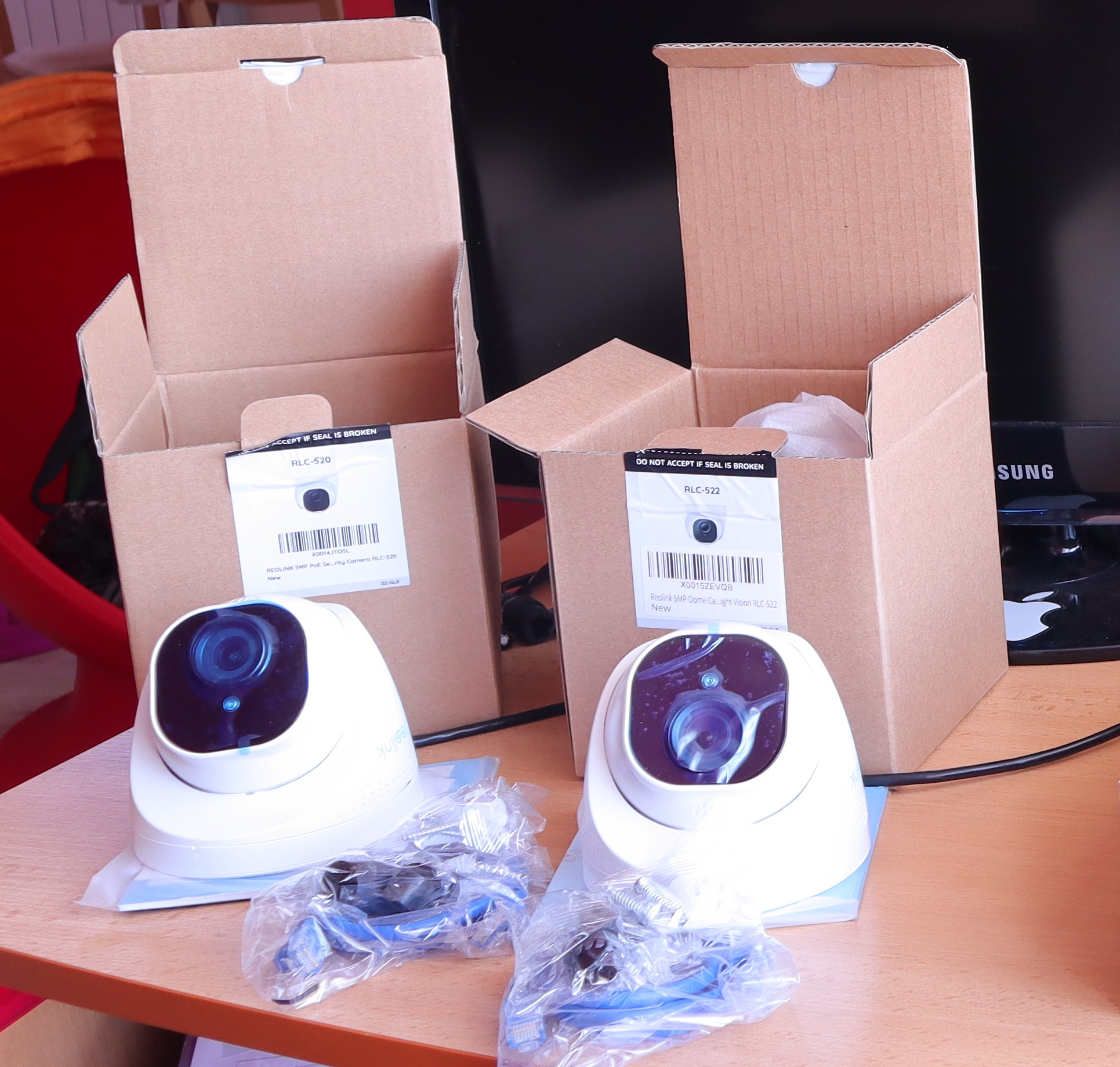 They are both made of plastic. My other Reolink Camera RLC-410W model that I have is mostly made of metal. But if you think about it – the metal eventually can go rusty and the plastic can go… what can actually happen to the plastic? It seems like nothing! It can eventually change it's color after some period, but who cares if it's working?
Both cameras can be used to detect motion and have built in microphone -you can hear the audio as well.
The Reolink RLC-522 camera have wider field of view – horizontal: 48° – 94° and vertical: 37° – 71° vs Horizontal: 80° and vertical: 58° for the Reolink RLC-520.
They are both 5MP which is pretty much more than enough unless you want to record the number plates of the vehicles over pretty big distances. Although the RLC-522 can shine here with the 3X Optical Zoom and probably can do the job just fine.
Their night vision is superb. With 18pcs IR LEDs and 100ft/30m range I have no complaints here.
What to choose RLC-520 or 522?
So in general if you want to cover more area with one cam or you want to have a sniper zoom, then Reolink RLC-522 is your choice. Otherwise choose RLC-520.
Here are some links where you can buy them if you wish:
What is the hardest part?
The hardest part when choosing this approach with hardware NVR and cameras from one brand is deciding where to put the cameras and how to cable them beautifully.
I'm currently at that stage and it is not easy – there are so many places where you can put these cameras and that is not fair…
Cameras and Software NVR
If you decide to go with RTSP enabled cameras like the RLC-520 and RLC-522 and Software NVR you will need an always on computer with good CPU and enough memory as well as storage for your cameras footage.
You will also need to get the Cameras RTSP link and credentials In order to add them in the software NVR. RTSP link for the Reolink NVR looks like this:
rtsp://USER:PASSWORD@10.0.0.20:554/h264Preview_01_main
Adding Cameras in Blue Iris
Here is how you can do that in Blue Iris.
Open your Blue Iris and click on the plus button in the upper right corner. Then paste the RTSP link inside the IP or host name field and click on another field.
Blue Iris is smart enough to get everything needed from the RTSP link like: username, password, IP, port and path.

ONVIF Cameras in Blue Iris
I can also add Reolink NVR to the Blue Iris using ONVIF, but I get only the first channel, that means first camera.
Basically you have to type exactly the same stuff and the only thing that you have to change is the "Attempt auto-configure on HTTP, RTSP and port" to 8000 for the Reolink Cameras/NVR and to click "Inspect now…" button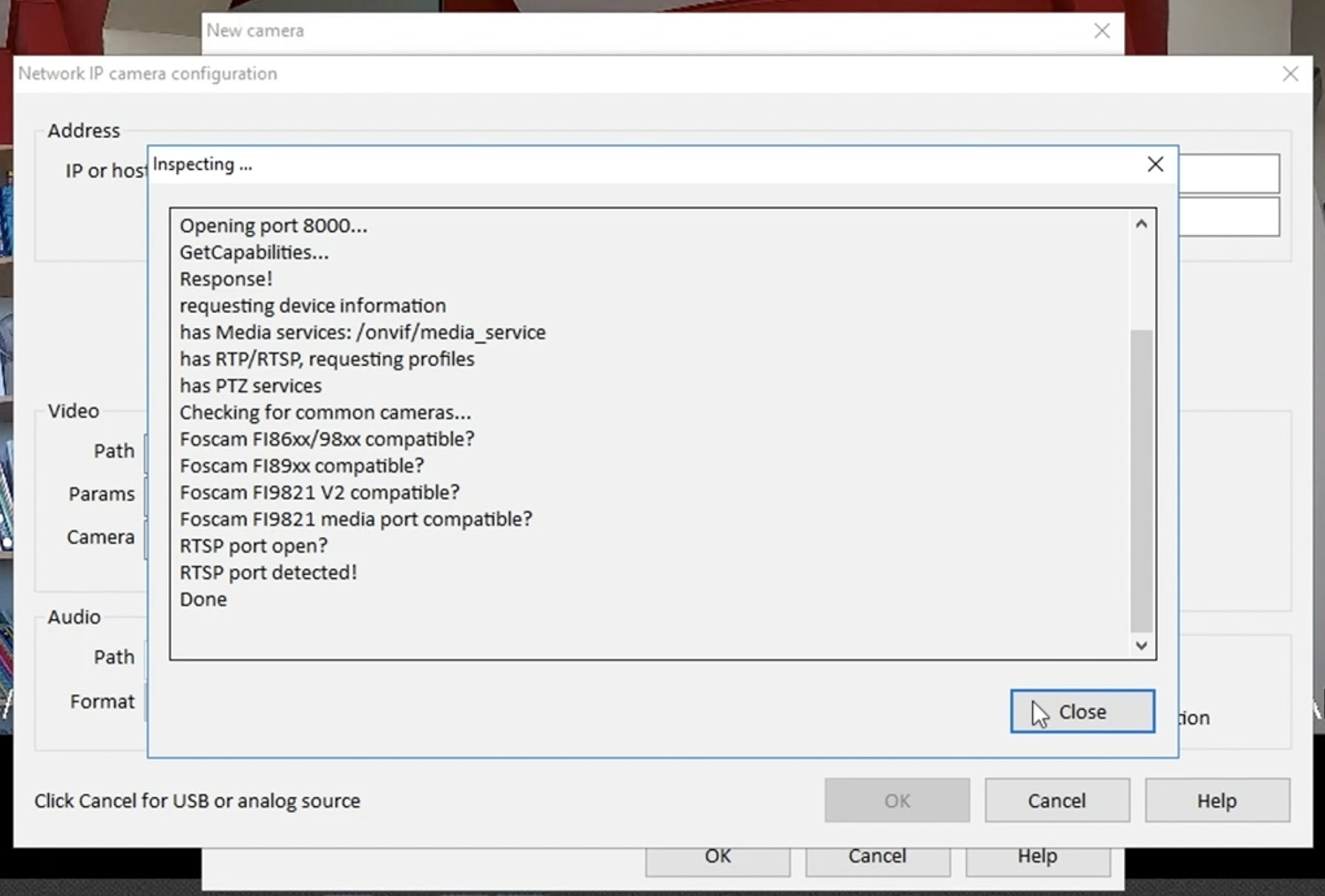 In theory when adding cameras using ONVIF you will also have to be able to use the zoom in/zoom out features and all PTZ (Pan-Tilt-Zoom) controls, but in my case only the first channel/camera connected to the NVR is added to Blue Iris. And my first camera was Rlc-520 that doesn't have optical zoom. I wasn't able to fully test that.
If you somehow manage to add all connected cameras to the NVR using ONVIF in Blue Iris let me know in the comments how you manage to do that.
I guess at the end of the day stuff like these will be the inconveniences that you may experience if you choose Blue Iris between NVR or Blue Iris dilemma.
Adding Cameras in Home Assistant using ONVIF
And this is how you can add Reolink RLC-520 and RLC-522 to the Home Assistant using ONVIF.
Open you Home Assistant and go to Configuration > Integrations > Plus Button (lower right corner) then search and add ONVIF integration.
You will then have to enter a name, host (of the NVR or camera) and port (for Reolink you have to use port 8000)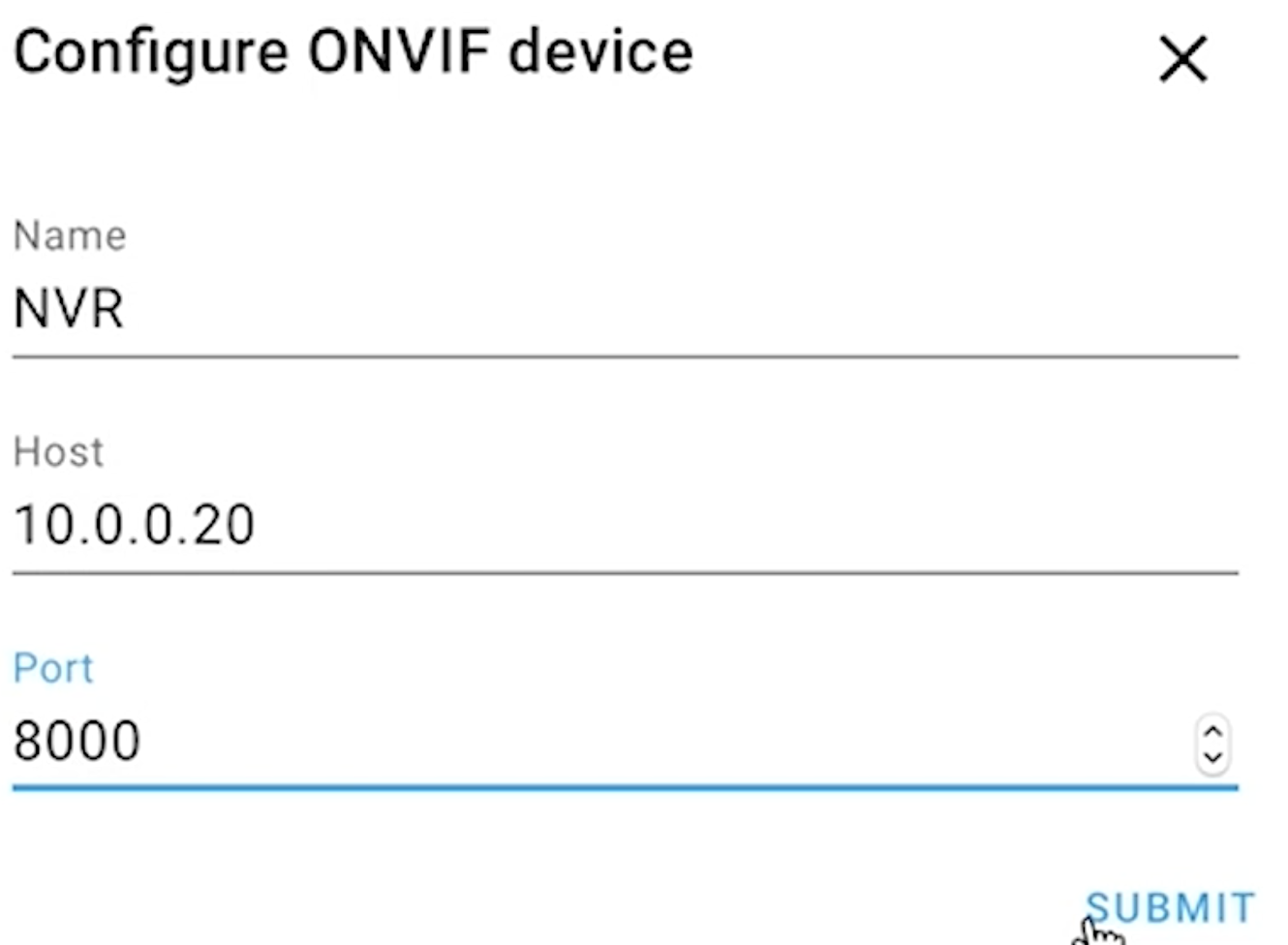 After that you will have to add your NVR/Camera username and password.
You can optionally choose an area where to place the integration objects but you can skip this and click Finish.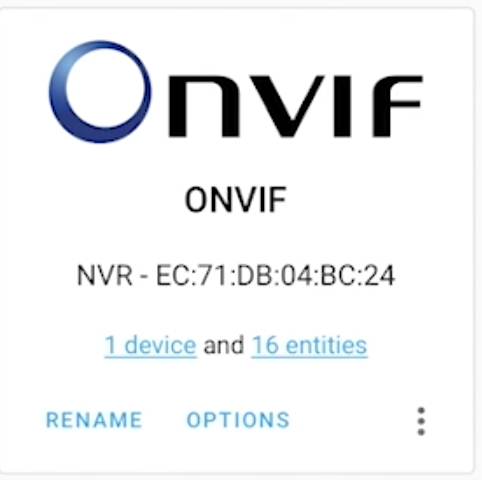 You have to see something similar at the end.
Add Cameras in Home Assistant Dashboard
When you go the Overview of the Home Assistant you will see your camera streams already added as cards. If you don't see them you can add a Picture Glance Card and add the entities from the ONVIF integration.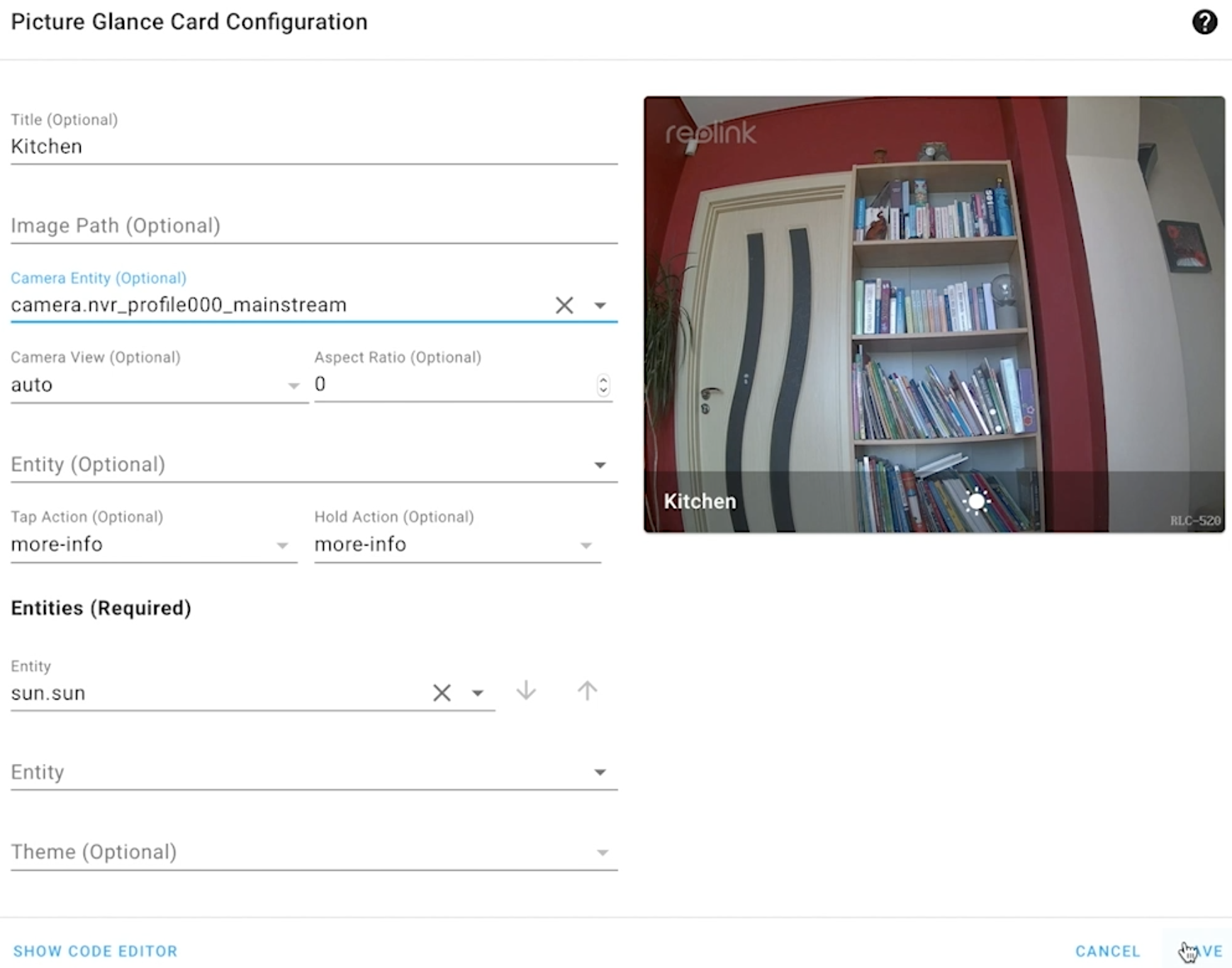 Camera Sensors in Home Assistant
Maybe you don't want to record everything, instead you want to take a look at the streams from time to time and create some automations when motion is detected.
Unfortunately I didn't manage to get the cameras motion sensors as well as zoom in/out buttons in Home Assistant.
It is very strange because I see a lot of entities in the ONVIF integration that should be the sensors, but when I click on them they are gone.
It's probably a bug or something that I hope it will be fixed. Let me know if you manage to make this work. In the comments.
Support my Work
Any other sort of engagement on this site and my YouTube channel does really help out a lot with the Google & YouTube algorithms, so make sure you hit the subscribe, as well as the Like and Bell buttons.
You can also buy my Smart Home Getting Started Actionable Guide right here -> LINK
Also feel free to add me on Twitter by searching for @KPeyanski.  You can find me on my Discord server as well.
I really hope that you find this information useful and you now know what to choose for your home. NVR or Blue Iris or in other words Hardware NVR & Cameras from one brand like these from Reolink or RTSP & ONVIF enabled cameras and software NVR like Blue Iris and as addition Home Assistant
Stay safe and don't forget – Home Smart, But Not Hard!
Thank you for reading, I will see you in the next article.