Is SwitchBot LED strip lights any good? The standard, not smart LED lights are a thing of the past at this point. Before the end of last year, almost everyone had a strip of LED lights in their space. But what if I tell you that you can have LED strips, that are smart, no additional hub is needed and they are slightly more expensive than a regular, dumb LED strips?
Well, yes, SwitchBot has introduced their new SwitchBot LED Strip Light. And it is a LED strip light that comes with about 16 million different colors and can be used to create about 24 color scenes as well as 5 dynamic scenes for the lighting definition that may suits your taste.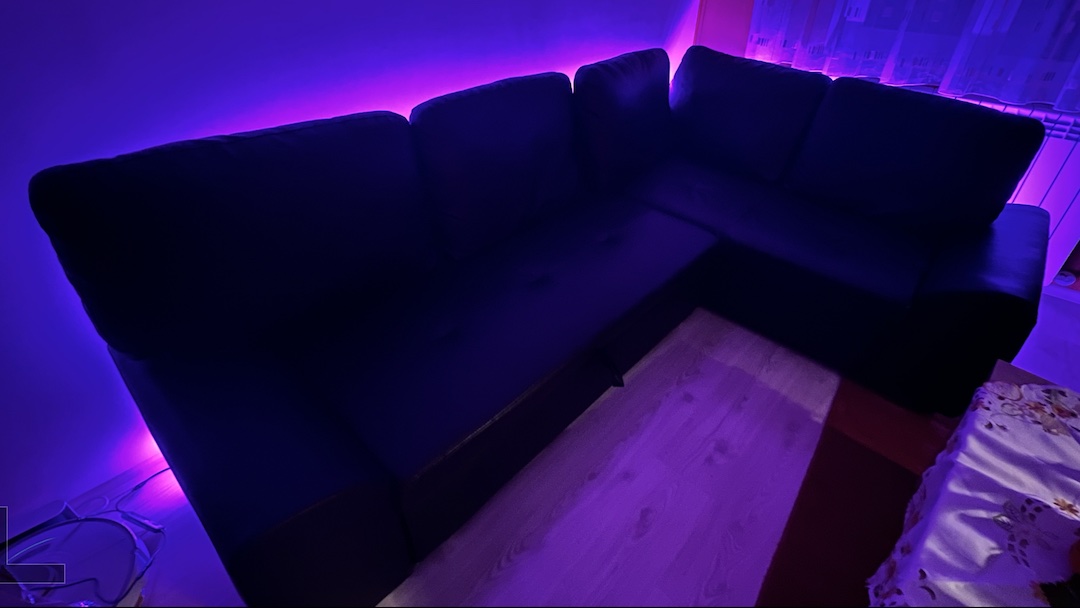 If you ever doubted your creativity, the SwitchBot LED Strip Light will make you second guess, once you take a look at your colorful home. 
Possible ways to operate SwitchBot LED Strip Lights
Just like every other basic LED strip light, it is so easy to operate the SwitchBot LED lights. SwitchBot has arranged 6 different ways that the light can be operated and that makes everything a lot easier and more fun. These 6 methods are:
The SwitchBot app,
The built-in light controller,
The IR remote,
The SwitchBot Tag,
And the Voice control, which cuts across Google Home, Alexa, and Siri Shortcuts
SmartThings & IFTTT are also supported.
With simple voice commands, you can set the mood in your space. Exactly how you want it. A simple "Alexa, adjust the LED brightness to 50%" will have your brightness changed. That is if you have Amazon Echo (Alexa), but the same can be accomplished with the Google Voice Assistant or Siri. 
SwitchBot has made it possible that with just voice commands you change the light colors, adjust the brightness and turn the LED Strip on and off. It is really that simple and fun. 
With the use of the SwitchBot app on your smartphone, you are able to regulate and control the LED strip lights, regardless of how far you are from it.
Also, with the app, you can sync the lights to the beat of your favorite using the Music Mode, and this is made possible with the built-in controller microphone.
The app's functionality can't be exhausted, as it can also be used for timing the lights. You can set a time for when the lights Should come on or when they can go off.
What is in the SwitchBot LED Strip Lights Box?
Let's see What's in the box in case you decide to buy the SwitchBot LED strip!
First, we have the 5 meters long LED strip light, and behind it is a 3M tape for mounting;

Then, we have the controller, which has the on/off button, brightness regulator, a microphone that picks up the sound, music mode button and the mode cycle button. Also attached to the controller are three cords, one of which is to be the receiver for the IR remote, then there is the cord attachment for the strip light, and the last is to be connected to the power supply.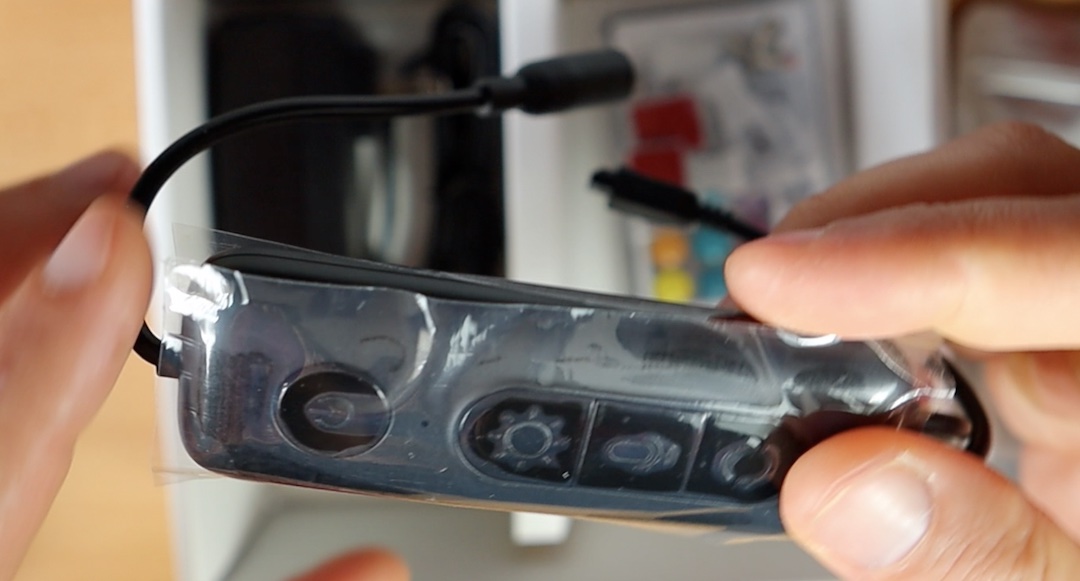 There is also a power adapter which has a cord that is to be attached to the controller (I have the US version, but I used simple US to EU convertor to use it in my home).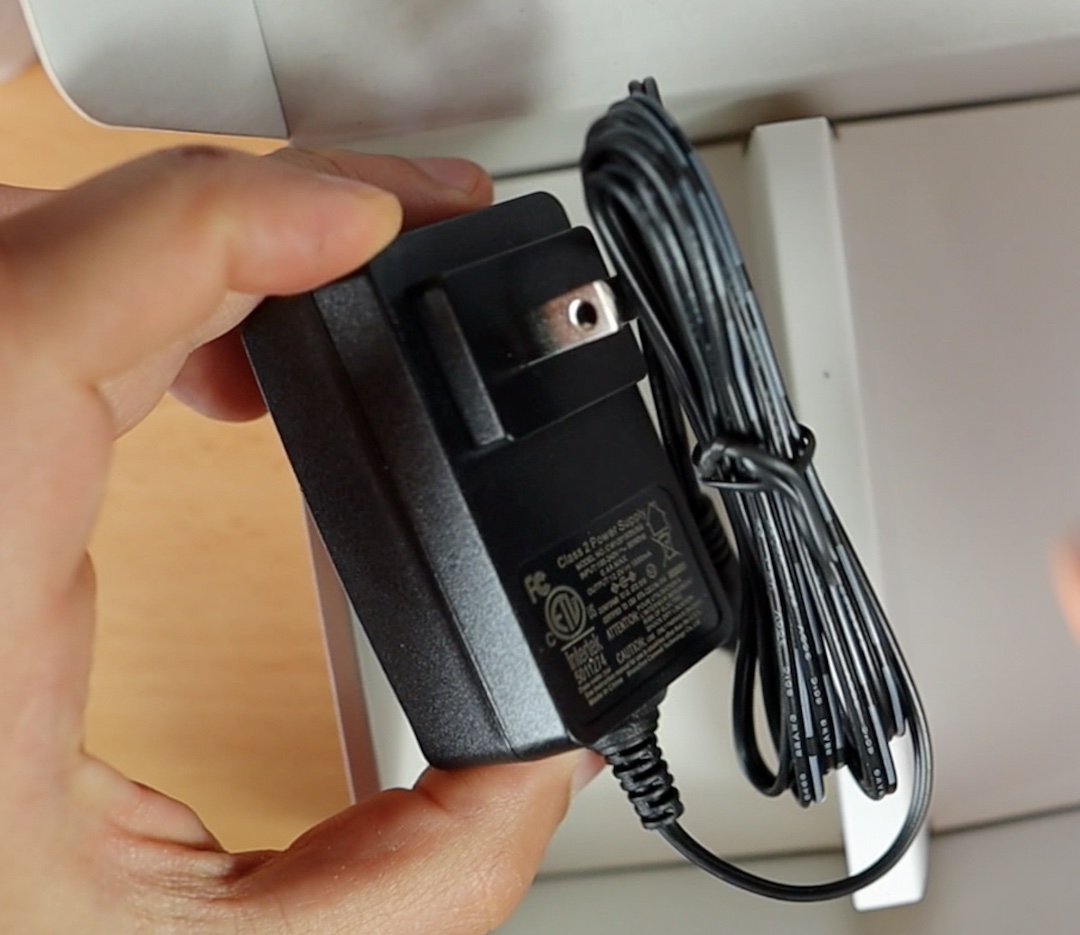 We also have the IR remote control, which comes with 4 shortcut buttons for the modes, off and on buttons, two buttons for the dimness and brightness, and lastly, a set of other buttons representing some of the colors and behind are directions on how to change the battery.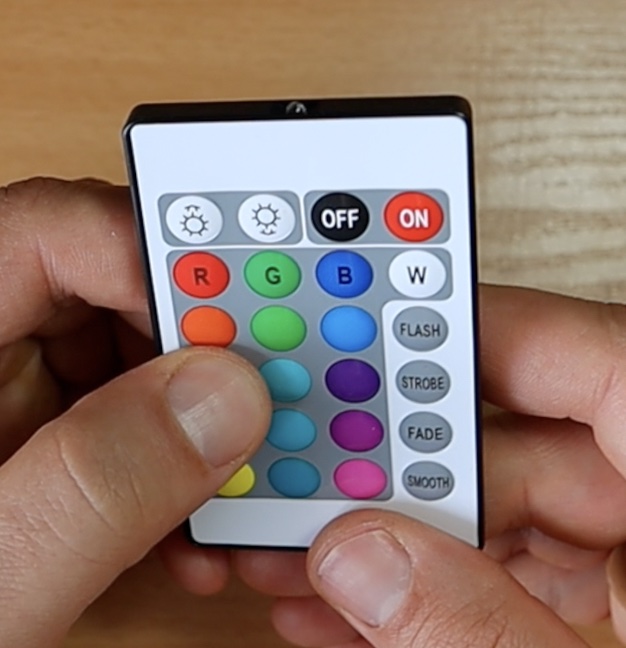 6 mounting buckles that come with screws are also included in the package, and lastly, the user manual.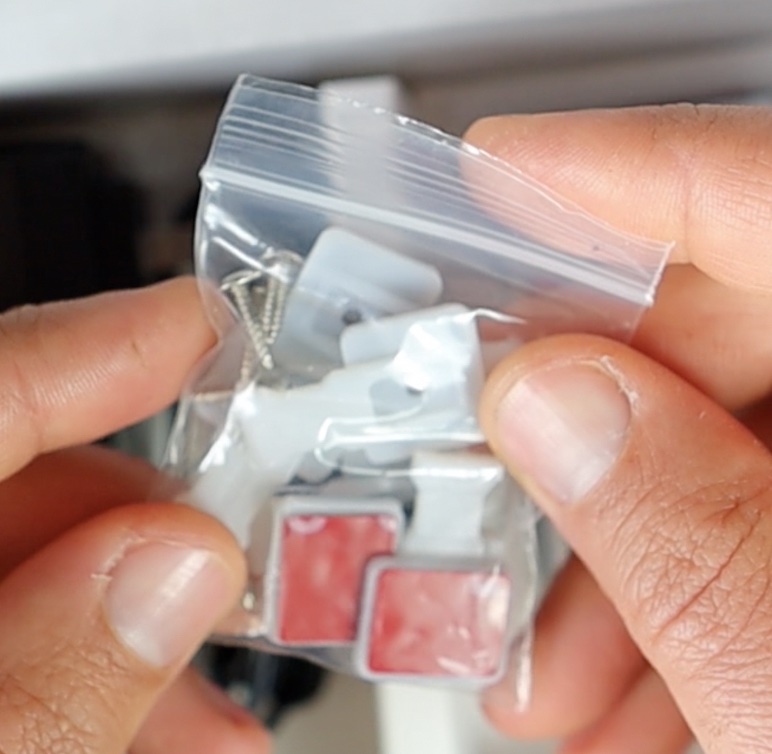 Setting up the SwitchBot LED Strip Lights
Setting up these strips is just as easy as setting up your regular LED strip light. Depending on where you want to place it, measure the area and match it with the strip, and cut across the point with a scissors logo.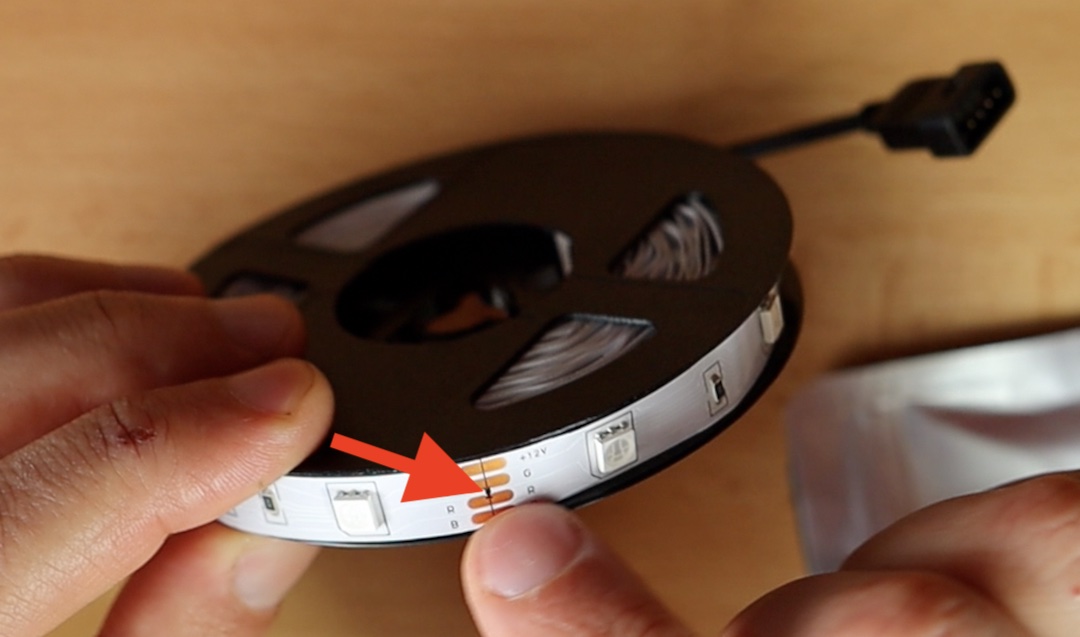 Once you've got the correct measurements and you've cut it out. All you need to do is to peel off the tape behind and stick it to whatever area you'll love it to be. You can use the mounting buckles as well. Then you have to plug in the power cable of the SwitchBot LED Strip Lights. 
Adding SwitchBot LED Strip in the SwitchBot App
Next up, you will need to add your device to the SwitchBot app, and this process is just as easy. Once you have the app installed, all you need to do is click the plus at the top right of your screen to add your device.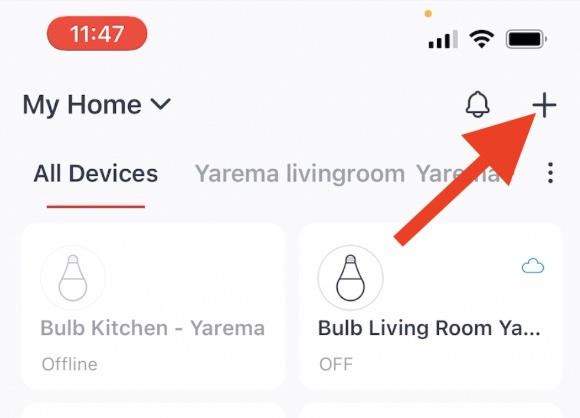 Once the app is able to detect your strip light, a strip light icon will be shown; you will need to click it and follow the instructions given as it tries to connect the device.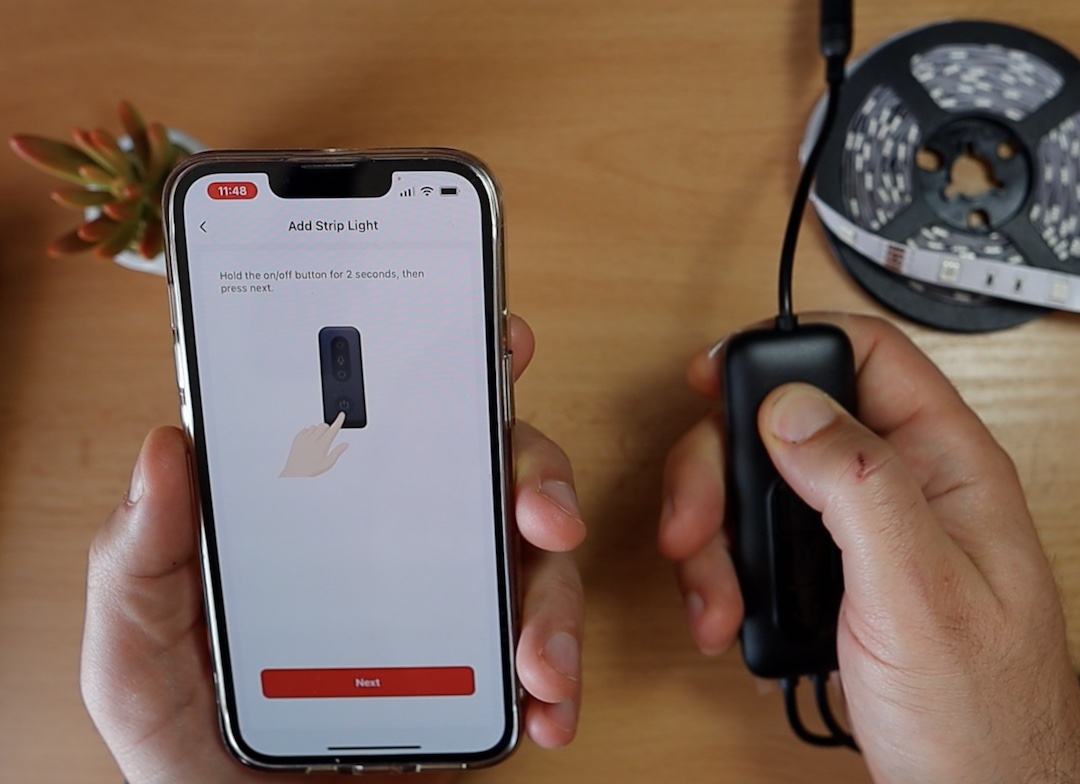 Following that, connect it to your 2.4GHz WIFI by putting in the necessary credentials, then wait for the connection to complete.
Once that is done, if you may wish to rename your strip light, then go right ahead and give it the name of your choice and put in a virtual location. 
SwitchBot LED Strip Lights – Product details
Now let's look at the product details:
The SwitchBot LED strip lights have a rated power of 15 Watts, an operating voltage of about 100-240 Volts, and a frequency of 50/60 Hertz.
The color type of the lights is RGB+W, with a brightness range from 1 to 100%. The SwitchBot LED strip lights have an operational lifetime of 25,000 hours. These strips are suitable for indoor use within a temperature of about -10 to 40 degrees Celcius and an operating humidity of 10 to 90% RH. 
SwitchBot LED Strip Lights Price
The SwitchBot LED strip lights are going for around $21, but you better check the official site as they often have some flash sales and you can get it even cheaper – https://switchbot.vip/3Mxp9h7
The LED strip can be used alongside the SwitchBot Motion Sensor, whereby, once movements are detected, the lights automatically come on to light the way. Of course, the LED lights can also be seamlessly integrated with the other SwitchBot products like Door & window sensor or SwitchBot Curtains to give you that movie theatre feel.  
SwitchBot LED Strip Lights vs Philips Hue LED Strip Light Plus
Now, what difference do the SwitchBot LED Strip Lights have to other smart strip lights? 
Our first subject matter will be The Philips Hue LED Strip Light Plus.
Compared to the SwitchBot LED Strip Lights, the Philips Hue does not have a controller. Therefore, it instantly comes on. Unlike the SwitchBot, the Philips Hue does not have the capability of directly connecting to your WIFI. Instead, it makes use of a bridge which increase the total price. And when we are talking about the price the Philips Hue Strip Light, had me shocked. 
These lights are presently going for $79.99, and that is if you are only getting the strip. If you are looking at also getting the hub, you should be looking at spending a lot more than $100. And we are talking about just 2 meters Philips Hue LED strip lights.  Let's do a quick calculation: if you want to buy 10 meters of LED strips from Philips you have to pay more than $400! With SwitchBot you can have the same length and same experience for as little as – $43.
Considering that price difference can you share in the comments do you think that Philips Hue LEDs are 10 times better than SwitchBot LEDs? 
SwitchBot LED Strip Lights vs LIFX LED Strip Lights
Our next subject matter will be the LIFX Strip light. Many people admit that the LIFX is excellent with color saturation and brightness.
LIFX is also known for its significant extra effects, especially when compared to Hue's, but can it beat that of SwitchBot? Just like the SwitchBot and unlike the Philips Hue, this LIFX connects straight to your WIFI and doesn't require any sort of bridge, hub or something.
But let's see the pricing again, LIFX goes for about $91.00 and keep in mind that this does not need a hub. However, compared to the SwitchBot LED Light Strips it is evident that price wise we have a winner. 
Who is the Smart Strip Light winner?
So, at the end would you rather spend more than 100 bucks on the Philips Hue Strip Light, or 91 dollars on the LIFX, or better still, save all that money and go for the cheaper $21 SwitchBox LED Light Strips?
Let me know in the comments what is your choice and why? It may help others to decide as well.
Where to buy?
If you immediately fell in love with the SwitchBox LED Light Strips from the beginning and would love to make a purchase for yourself, you can go to the official SwitchBot site using this affiliate link – https://switchbot.vip/3Mxp9h7
If you buy something from there I will receive a small commission with no additional cost for you.
If this article was an exciting experience, be sure to subscribe for my newsletter, and I will see you in my next Smart Home related article. 
I'm Kiril and I'm done writing. Bye!