I'm so excited to share with you this DIY Human Presence mini project featuring Home Assistant and one super tiny, cheap and useful sensor called LD2410B. I know the name of the sesnor is not so user friendly and it is not easily memorable, but the steps that you are about to see are. I think this little guy can be a real game changer in the Home Automation world, but let me explain. 
The LD2410B Human Presence Sensor Specs
I heard about the LD2410B sensor from Paulus, that is the Home Assistant founder, as he mention it during one of the Home Assistant meetings.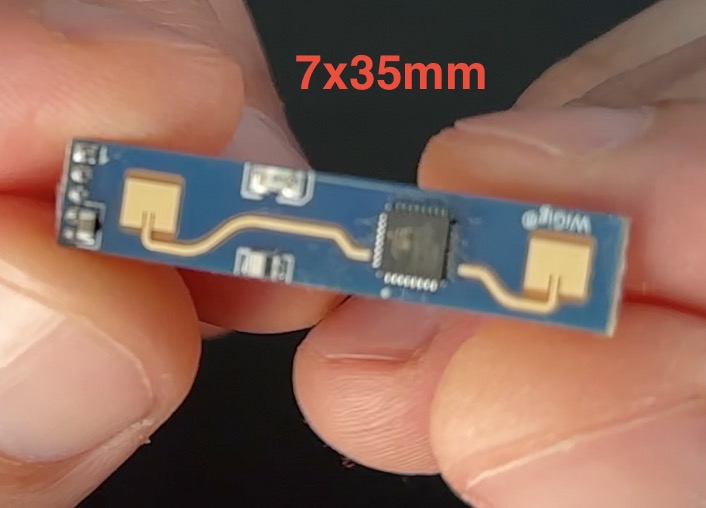 The LD2410B module is a high-sensitivity human presence detector that uses Frequency-Modulated Continuous-Wave (FMCW) or somewhere you can see it as mmWave technology to detect humans.
It can tell if there are persons in the room, whether they're moving or still, and even calculates their distance from the module.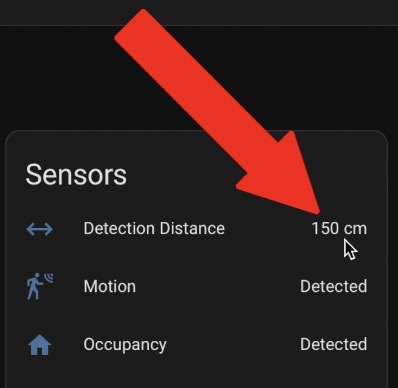 This module gives real-time detection results and it is perfect for indoor use, but it is also rated that can work from -40 to +85 degrees Celsius, so I guess if you waterproof it somehow it can be used outside as well. The module can detect people up to 5 meters away with detection angle of around 60 degrees.
The LD2410B Price?
The sensor is super cheap compared to the value it can bring to your Smart Home.
It cost around $4.5 US dollars in AliExpress – https://s.click.aliexpress.com/e/_DFFkfSx or https://s.click.aliexpress.com/e/_Ddz9CDb
And this is the bigger version with larger PINS LD2410C – https://s.click.aliexpress.com/e/_DeeEUiv
And a little more in Amazon – https://amzn.to/3YtAu81
Just have in mind that there are different versions of the board. Make sure to grab the LD2410B or LD2410C versions, because these boards come equipped with Bluetooth and have been confirmed working with Home Assistant.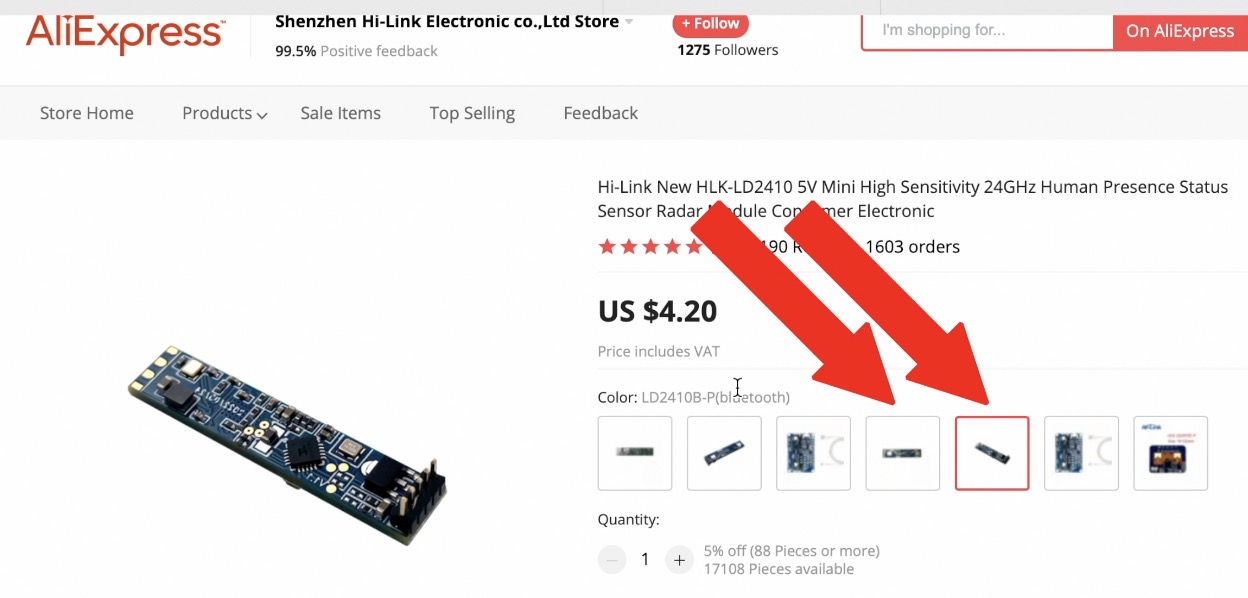 You can use the above links, if that is easier for you.  
What is needed to DIY Human Presence Sensor?
Let's see what else is needed for our DIY Human Presence Detection along with the LD2410B or C module.
The first thing is a USB cable that you are ready to cut.

This USB cable will be used to power up the sensor, because the sensor is so tiny and there are no USB ports on it this is the only way.
The next thing that is needed is a working Home Assistant with Bluetooth support. 
And third one, of course, is either the LD2410B or LD2410C module itself.
If you don't have Home Assistant yet and you want to learn more how to get it, then join my upcoming free Webinar. You can reserve your seat from this link – https://automatelike.pro/webinar
What are the options to get Bluetooth support in Home Assistant?
As I said above, the Bluetooth support in Home Assistant is also a must, as the sensor will send its data over Bluetooth Low Energy protocol, so that some useful Home Assistant automations can be created.
To have that Home Assistant Bluetooth support:
Either integrated Bluetooth module is needed on the device where Home Assistant is installed. As example, Raspberry Pi devices have that.
The other option is some of the compatible Bluetooth Dongles to be used:
And last, but not least the Bluetooth Proxy method described in these articles of mine can be used as well:
After I got everything that is needed. That is the LD2410B module, The Home Assistant with Bluetooth support and a spare USB cable – it is time to start the action. 
How to wire the LD2410B Presence Sensor?
It is quite simple.
I will connect the Red USB wire which is the USB power wire to the VCC PIN on the LD2410B module and Black USB wire to the GND PIN on the module.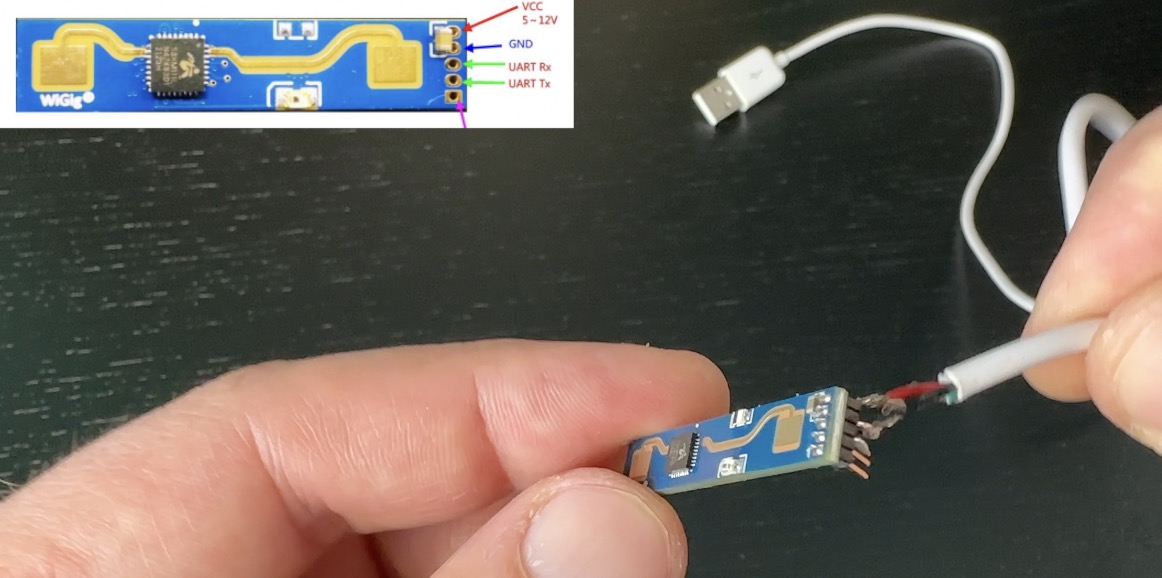 The VCC pin on the module is the highest positioned one when the sensor is facing at you and the Ground (GND) PIN is the second highest.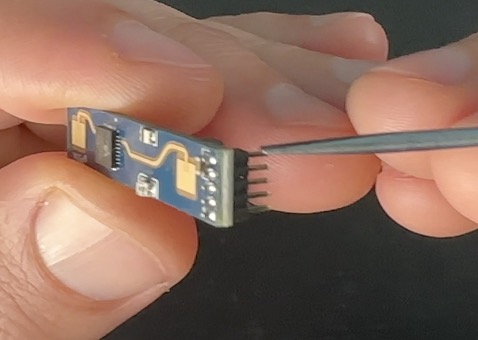 Some soldering here is needed for better and long lasting connection.
Don't be scared to solder. If I can do it, you can do it too. If you don't have a soldering iron just ask a friend or buy one from Amazon or AliExpress.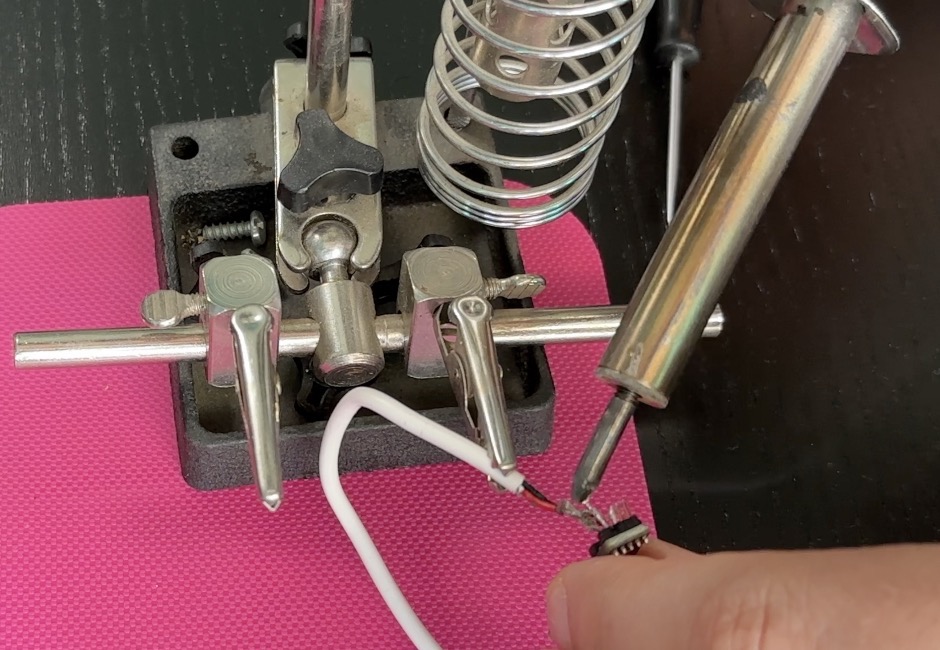 After I'm ready with the wiring, I will plug the USB cable into a USB port on any working machine or I can use a power adapter.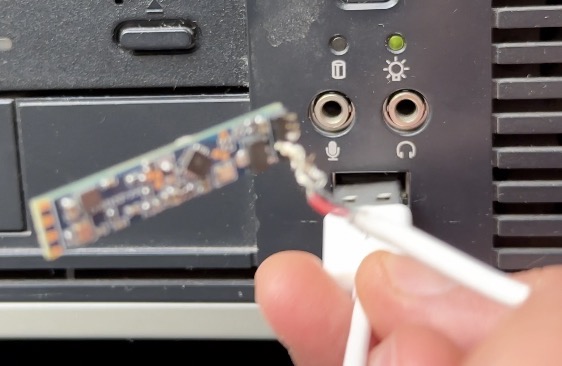 Then, I'll move my attention to Home Assistant. 
Do you need a free Smart Home Glossary?
Before I continue to the LD2410B Home Assistant integration, I want to give you something! It's my Smart Home Glossary that you can use as dictionary to find the meaning of the most common Smart Home words and abbreviations.
This glossary is actually a PDF file that I created for you and you can instantly download it from my other website for free – https://automatelike.pro/glossary
How to add LD2410B Human Presence Sensor in Home Assistant?
Adding the LD2410B sensor in Home Assistant is easy as walk in a park. Here is what did:
Inside the Home Assistant Dashboard I'll press the "c" button to invoke the command search prompt.
I'll type integrations, then I'll select Navigate Integrations.
There is a good chance the LD2410B module to be auto discovered by Home Assistant. If that is not the case:
I'll click on Add Integration button (lower right part of the screen)
I will search for: LD2410 BLE
Then I will follow the instructions to complete the set up.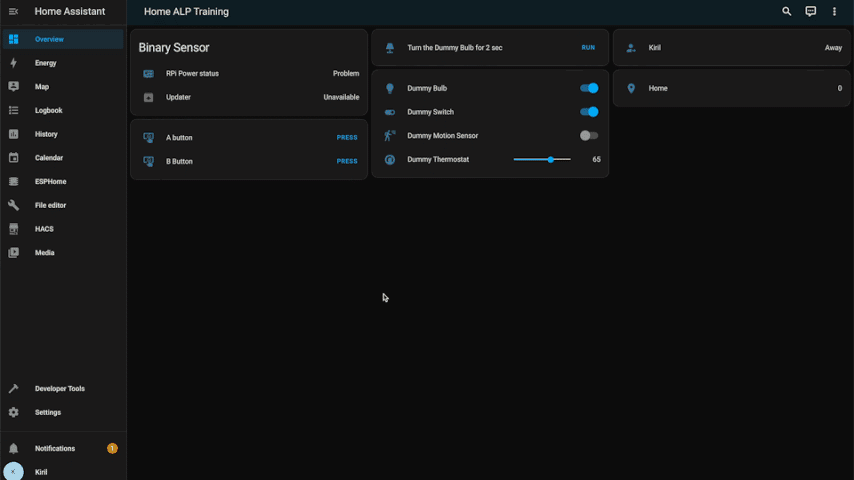 Alternatively to the above steps, you can use the My Home Assistant link below that will do the same for you:
As end result, I will have a new device inside Home Assistant with several entities/sensors and now I can start creating Home Assistant automations and scripts. For example, when movement is detected – turn on the lights.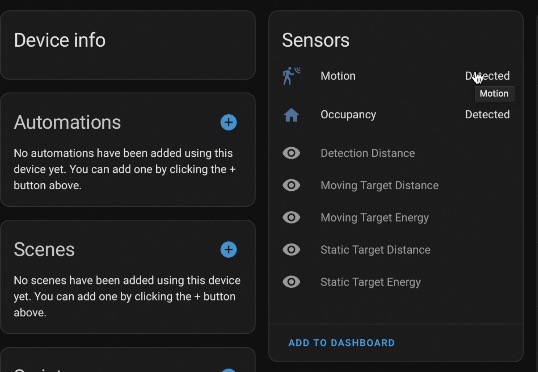 3D Cases for the LD2410 Human Presence Sensor
If you have a 3D printer, you may wish to print yourself a case for this sensor and I will leave some links to 3D cases below: 
Additional & optional configurations
I forgot to mention that it is possible to further configure the settings for motion/static triggers by using a desktop software or a mobile app.
I didn't do any additional configurations, but if you need to do this, then please, do not change the default password or the number of gates using the above software, as the Home Assistant Integration may stop working. 
What are the alternatives?
The off the shelf alternatives are over 10 times more expensive than the LD2410 sensor. For reference, check my Aqara FP1 & Home Assistant review below.
So, consider spend $5 and make your own Human Presence sensor – https://s.click.aliexpress.com/e/_DFFkfSx or https://s.click.aliexpress.com/e/_Ddz9CDb
If you mange to do it, share that accomplishment in the comments by typing #PresenceSesorOwned
I promise to congratulate you personally. 
I'm Kiril and I'm done writing. See you next week. Bye!