I'm quite excited, because I got my hands on my first of the shelf Matter enabled device and I'm talking about the SwitchBot Hub 2. So, I will talk about it in perspective of Matter, Home Assistant, Apple HomeKit & Google Home.
I will also share what are the Pros and Cons of the device and what are the actual 4 in 1 features that the SwitchBot Hub 2 have. 
What are the 4 in 1 functions of SwitchBot Hub 2?
I'll start with the basics first, before I move on.
The SwitchBot Hub 2 is a Smart Home hub that allows you to control SwitchBot devices with a single app, voice or automations. It connects to your Wi-Fi network and allows you to control devices such as SwitchBot Curtains, Sensors, little robots, Cameras and more.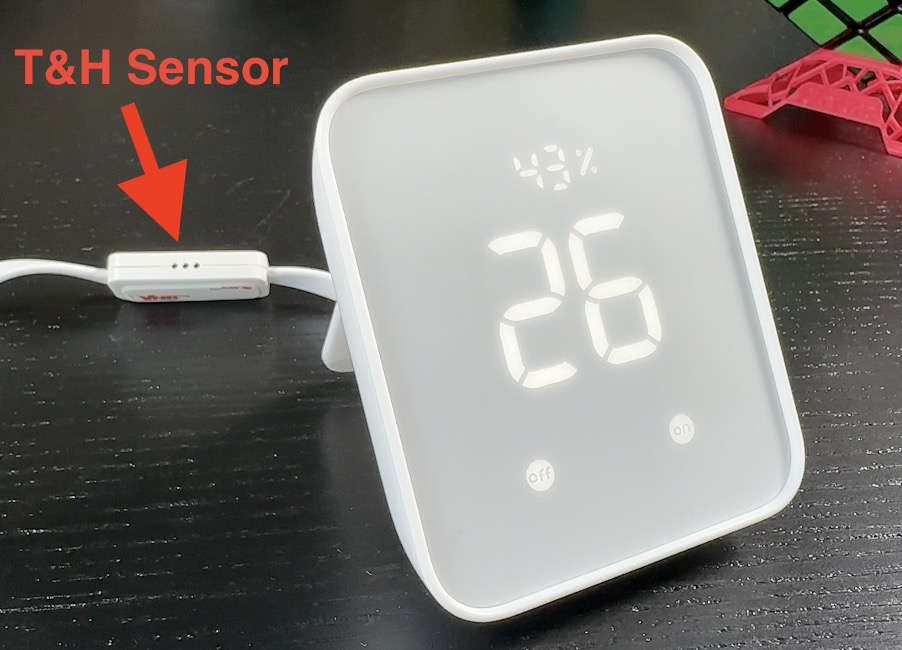 So, Smart Home hub is the first function of this 4 in 1 device. But there are 3 more.
The next one is embedded Temperature, Humidity, and Light sensors that lets you to set and receive automatic alerts in real-time when temperature or humidity changes using app notifications or built-in alert sounds.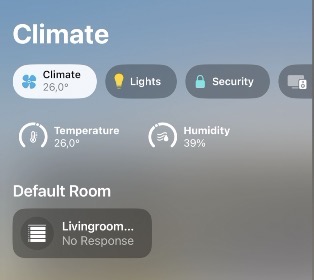 It can even Display outdoor temperature and humidity. Once SwitchBot Indoor/Outdoor Thermo-Hygrometer is added to SwitchBot account that means you can get alerts regarding outdoor temperature and humidity as well. 
The third function of this 4 in 1 device is touch remote smart buttons. There are two Smart buttons on the front of the device that can be used to trigger Scenes preset in SwitchBot App.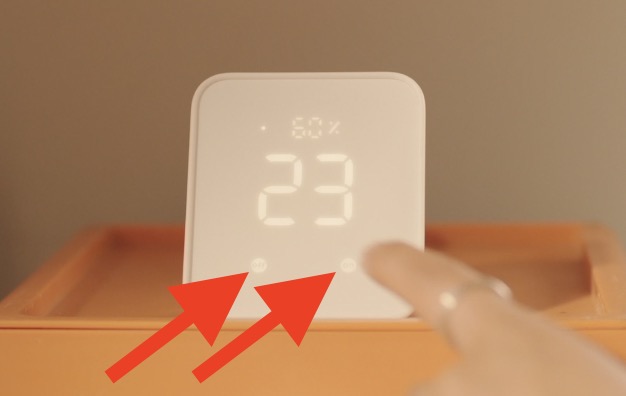 These Keys can control other SwitchBot ecosystem products, such as SwitchBot Bot, SwitchBot Curtains (My article – Home Assistant SwitchBot Curtain Integration), Blind Tilts (My article – SwitchBot Blind Tilt Will Make your Blinds Smart in Minutes) and so on. 
The forth feature of the SwitchBot Hub 2 is a Smart Remote Controls. This means that you can teach the Hub 2 new Infra Red codes, so you can control any device that has an Infra Red receiver.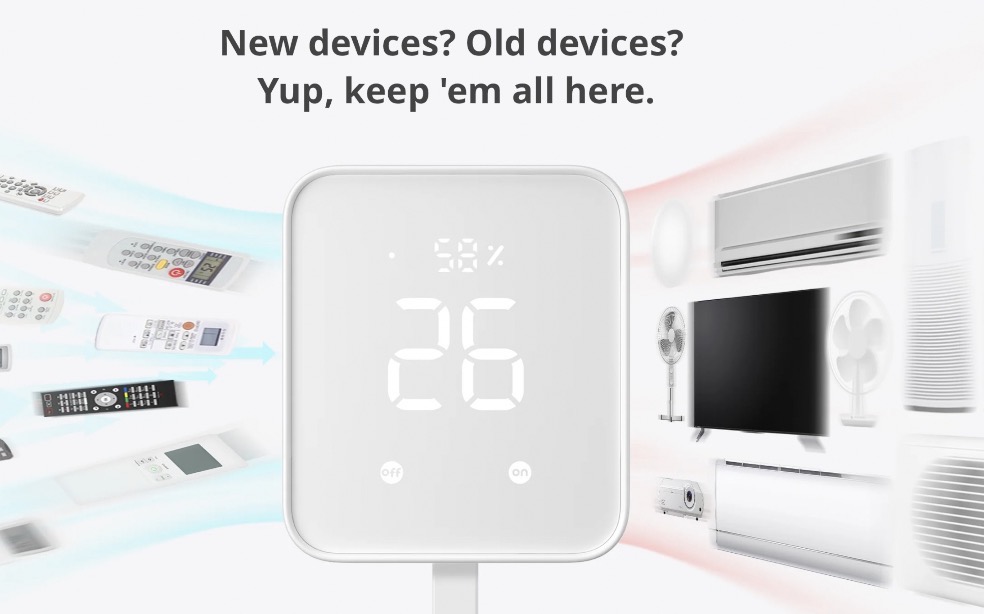 IR Smart Remote Control is possible with SB Hub 2
This feature is useful if you have a device that's not yet supported by SwitchBot, or if you want to consolidate all your Infra Red devices under one hub.
This also allows you to control your Air Conditioning, TV, and other devices with your voice assistant or through the SwitchBot app.
But there is more.
When for example you are operating Air Conditioners with a remote control, SwitchBot Hub 2 can update the status of the Air Conditioner via the SwitchBot app running on your smartphone.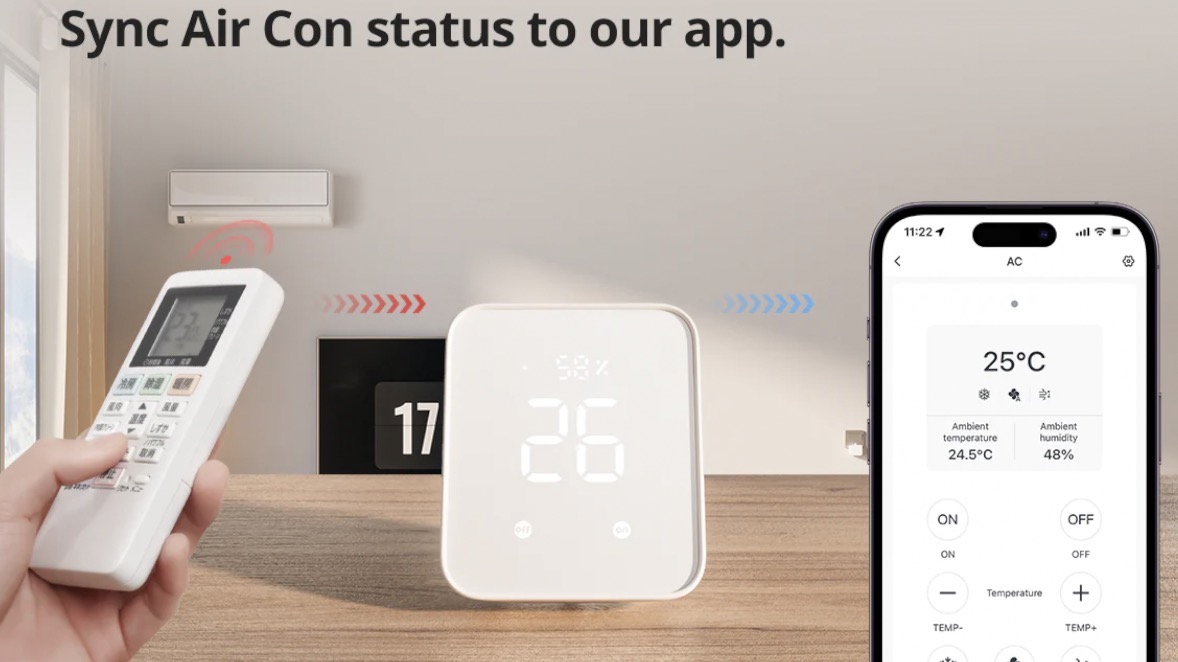 What are the SwitchBot Hub 2 cons?
Apart from the SwitchBot Hub 2 features mentioned earlier which was all roses, there are some cons as well and unfortunately they are all in the most interesting part to me – the Home Assistant integration.
If you are living under a rock and you still don't know what Home Assistant is, it is time to learn everything essential in my upcoming Home Assistant Webinar.
You can reserve your spot for free on my other website – https://automatelike.pro/webinar
So, register there and get a flying start for the most popular Smart Home Project at the moment according to the GitHub stats.
Registered or not, here come The SwitchBot Home Assistant integration part.
Can SwitchBot Hub 2 work with Home Assistant?
At the moment most of the Bluetooth enabled SwitchBot products, like Motion, Contact, Sensors, Curtain Bots, Bots, Locks and so one are working out of the box with Home Assistant and no additional hub is required. Which is almost perfect scenario.
But there are some other nice SwitchBot products such as their cameras that are not working with Home Assistant at all. The SwitchBot cameras are only working in the SwitchBot App and they all require SwitchBot Hub to operate. It is not possible for now to add the SwitchBot camera in Home Assistant.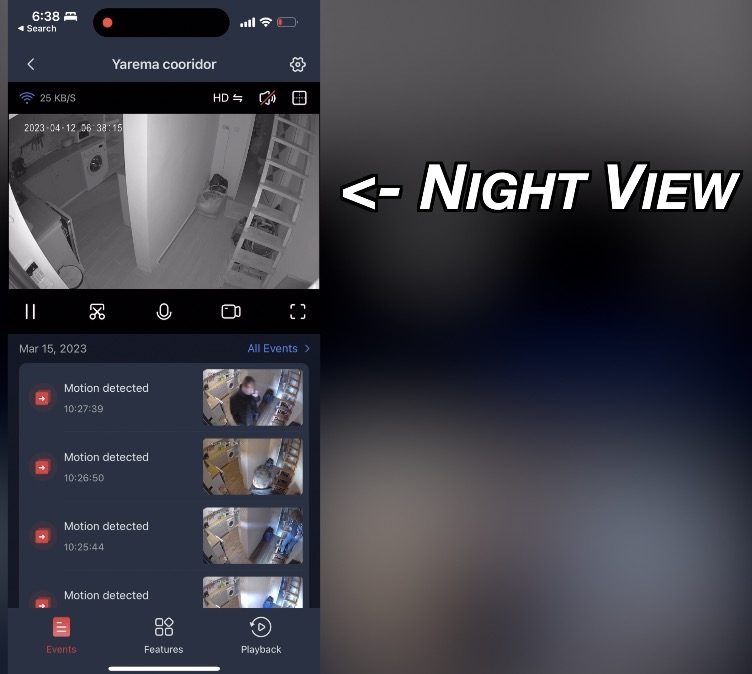 I tried to add the SwitchBot Hub 2 in Home Assistant using Matter, but my attempts were not successful, due to some unknown to me reason.
Maybe, it is because the SwitchBot Hub 2 is just released, it is a brand new device and maybe some slight adjustments are needed, Maybe is due to the Matter standard which is also a new kid on the block or maybe I'm doing something wrong.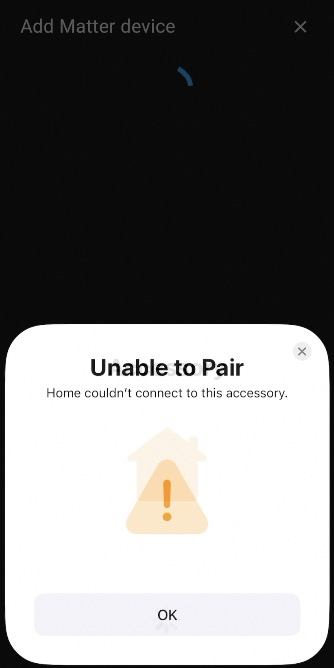 In my humble opinion, the perfect scenario will be the SwitchBot Hub 2 to become compatible with Home Assistant and once added to expose to Home Assistant all of the SwitchBot devices connected to that SwitchBot Hub 2 including the SwitchBot cameras.
I really hope to see that in the near future.
Is SwitchBot Hub 2 working with Apple HomeKit?
If you are not a Home Assistant user, maybe you are an Apple user. Apple HomeKit is another popular Smart Home ecosystem, and the SwitchBot Hub 2 has a working integration with it using Matter standard.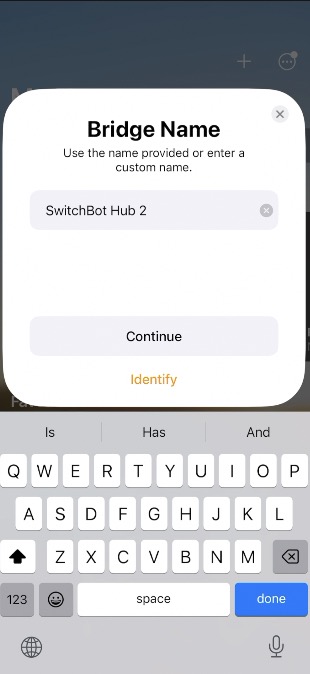 This integration allows you to control SwitchBot devices using Siri, that is the Apple voice assistant. It is also possible to control your SwitchBot devices through the Home app on your iPhone, iPad, or Apple Watch. 
SwitchBot Curtain and SwitchBot Blind Tilt products are the first to support Matter, so these are the devices that you can control from Apple Ecosystem at the moment.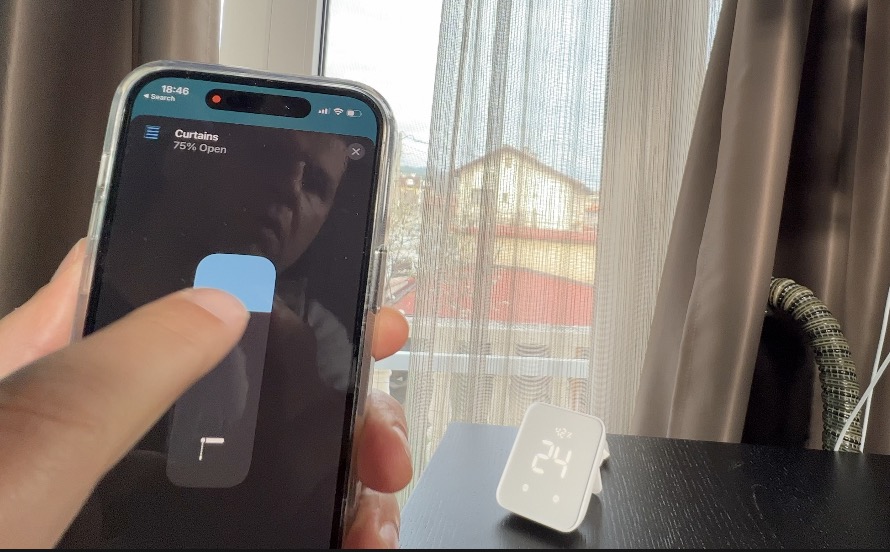 The SwitchBot indoor/Outdoor Thermo-Hygrometer is also expected to get Matter support via the OTA update, but I was not able to pair it at the time of writing this article.
Hopefully all SwitchBot products will follow soon.
Is SwitchBot Hub 2 working with Google Home?
Adding SwitchBot devices to Google Home via Matter is also supported.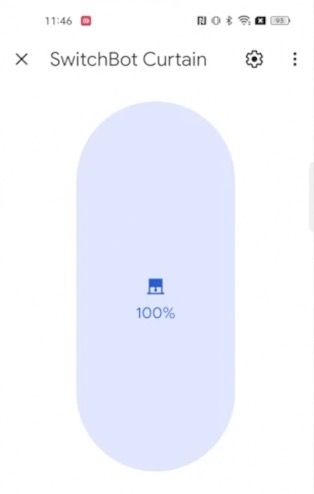 Have in mind that for both Apple & Google integration to work a Matter controller is required. These controllers are usually Matter compatible devices, which are always stationed at home, plugged in, and connected to the Internet.
For example this could be a tablet like iPad or TV device, like Apple TV or voice assistants, like Alexa or HomePod. But be aware that a smartphone cannot be used as a Matter Controller. A smartphone is needed only when pairing Matter devices.
SwitchBot Hub 2 vs SwitchBot Hub Mini
The SwitchBot Hub 2 is designed to make your life easier by allowing you to automate your home, so you don't have to do everything manually. It is full of features and it is future proof, as it is supports the Matter standard.It have a significant improvements over the existing SwitchBot Hub Mini
So, if you need a SwitchBot Hub get the SwitchBot Hub 2 and ditch the other options.
Transparency
I want to say that SwitchBot sent me the SwitchBot Hub 2 for a paid review. However, I want to emphasize that the opinions expressed in this article are entirely my own, and I have not been influenced by SwitchBot in any way. I tested the SwitchBot Hub 2 and I provided my honest feedback on its features, performance and drawbacks. I believe in transparency and providing you with unbiased reviews.
I also want to thank SwitchBot for providing me with the SwitchBot Hub 2 and giving me the opportunity to review it. They are one of the few companies that continue to innovate and providing us with interesting smart gadgets most of which are working with Home Assistant out of the box. 
Where to buy?
If you want to check the prices of the SwitchBot products you can use the affiliate links below. I will also share there a discount code for even more discounts. If you buy something from these links I will receive a small commission with no additional cost for you. 
COUPON CODE: SJ15HUB2
Discount: 15% off • Effective time: 2023/4/1 – 2023/5/10 • Available Products: SwitchBot Hub 2 • Available Channels: Website US/UK/CA/EU/international and Amazon US/CA/UK/DE/ES/IT/FR
Wanna Free Smart Home Glossary?
If some of the terms or abbreviations that I'm using are not so clear for you check out my Smart Home Glossary that I created just for such cases. It is totally free and it is full of simple but useful explanations. 
https://automatelike.pro/glossary
I hope this article helped you make an informed decision if you want to see more Home Assistant articles check this category – LINK
I'm Kiril, Thanks for reading, and I'll see you next week!