What will be the TOP 7 Smart Home gadgets during Singles day 11.11? Do you know that during the 11th of November there will be a big global shopping festival in AliExpress? It's kind of Chinese Black Friday and it is also known as Singles' Day.
AliExpress is a website with а Worldwide delivery that provides all kind of gadgets, sensors, IoT and Smart Home stuff that are going to be heavily discounted for 48h. This will be the best time of the year to purchase some Smart Home items and to make your home even smarter.
In that regard, I did a research which of the items are really discounted and I rank them for you so you don't have to bother. On top, I will not just list you 7 items that are going to be greatly discounted, but I will also point you to some good tutorials that you can use immediately after you receive your items. That is to get the max value of your purchases.
Affiliate links and why AliExpress?
If you like anything of the items that I'm going to show, you can use my affiliate links that I will list in this article. If you buy something from these links, I will receive a small commission from your purchase with no additional cost for you.
I also want to share that I will talk about AliExpress not because this article is sponsored by them, but because I'm mainly using this site for my purchases and I can speak from experience.
Of course, Singles' day discounts will be available in other big Chinese Stores like Banggood.com and you can use this site instead. With that being said let's start this:
The Global Shopping Festival (Singles Day) duration?
First, very important thing is to clear out the exact start and end date and time of the Global Shopping Festival in AliExpress in order not to enter too early or too late in the game.
The AliExpress Global Shopping Festival (Singles' Day) will start at 00:00:00 11th Nov PST and it will ends at 23:59:59 12th Nov.
That means it will be available for around 48h.
What is Singles day warm up period?
Before the exact Global Shopping Festival a.k.a Singles' day there will be a warm up period. In this warm up period the AliExpress is slowly revealing the discounted items that will be available during the Global Shopping Festival. I used exactly this information to find my TOP7 deals in advance for us – Smart Home makers.
During this warm up period you can add the desired items in your AliExpress shopping card, to collect/add coupons if available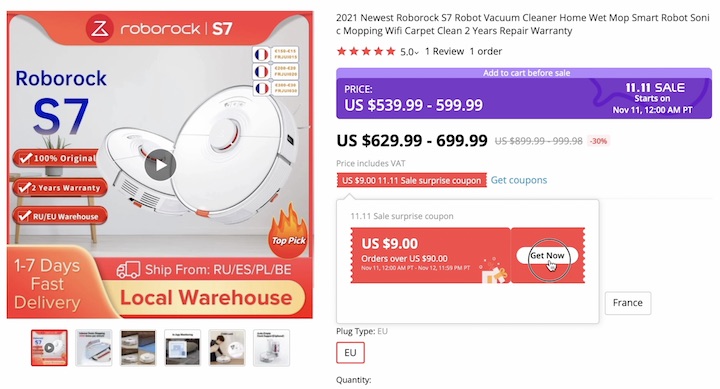 Then you just have to wait for the Global Shopping Festival to start, so you can purchase the discounted items.
That means that if you like something from my TOP 7 Smart Home gadgets ranking, you can add it in your AliExpress shopping card immediately, but don't buy it until the Singles' day start.
TOP 7 Smart Home gadgets during Singles Day 11.11
Having cleared this out let's go to item number 7 of my TOP 7 Smart Home gadgets ranking in AliExpress during Global Shopping Festival.
Item 7 of my TOP7 Smart Home gadgets during Singles Day
The number 7 Is a Robot Vacuum Cleaner with a model S7 🤪. I'm talking about the brand new model from this year called Roborock S7 which along with the automatic vacuum cleaner functionality have also an automatic sonic mop.
You can integrate the Roborock S7 robot vacuum cleaner with Home Assistant, but first you need to extract the Cloud token as I'm describing in this article:
Тhen you can try to add the vacuum cleaner to HA using the native Xiaomi integration available in Home Assistant.
I will list several links below as from what I manage to understand upfront in many AliExpress stores there will be additional bonuses. For example, the first 50 Roborock S7 orders will get some free accessories.
Additionally, you can buy a Roborock Auto-Empty Dock Automatic Dust Collecting And Charging Station, which will automatically empty the dust bin of the robot for you 👉 https://s.click.aliexpress.com/e/_9u5V37
Item 6 of my TOP7 Smart Home gadgets during Singles Day
The next item, which is Number 6 from my ranking is much, much cheaper than the previous item. It is a wireless battery powered Temperature & Humidity sensor coming from Xiaomi.
You can also add in Home Assistant and I'm describing how you can do that in details in this article of mine:
Using this sensor you will be able to check the temperature & humidity inside Home Assistant and you can make automations based on that.
These are several AliExpress stores that you can use to buy the T&H Sensor:
The battery of the device should last around 1 year. So, you set it and forget it until the next Singles' day in the New Year.
Item 5 of my TOP7 Smart Home gadgets during Singles Day
When we are talking about New Year, what is better than a smart Holiday lights with multiple effects that can be controlled from a phone or Home Assistant? Here comes the item number 5 of my TOP 7 ranking about Smart Home gadgets during Singles day.
To get your Smart Holiday lights you will need several things: LED Strips, power supply unit, a controller that will have WLED software installed and that is going to connect to your Wi-FI so that can be controlled from your phone or Home Assistant. You will also need some cables as well and this article where I'm explaining everything step-by-step.
The most important part here is to decide how many amps your Power Supply should be based on your LED strip type and length. Please, check my article first as everything is explained there. Then you can buy the needed stuff from AliExpress.
Item 4 of my TOP7 Smart Home gadgets during Singles Day
Moving to number 4 of my TOP 7 Smart Home gadgets during Singles day in AliExpress. Number 4 is also having LED strips involved, but this time the LEDs will be put behind a TV and they will be in sync with your TV image, giving you the best ambient light experience in your whole neighbourhood.
For that you will need almost the same stuff as with the holiday lights. That is: LED strip (much shorter in length unless you have a real cinema screen in your home), power supply, and additionally you will need a Raspberry Pi Zero W which will be the brain of this project with installed Hyperion software on it as well as a HDMI capture card.
This time I have two tutorials about Hyperion and TV ambient light. One for the implementation itself:
and the other is how to add the Hyperion in Home Assistant.
Of course, if you prefer to watch, I have these as video tutorials on my YouTube channel.
Item 3 of my TOP7 Smart Home gadgets during Singles Day
Going to number 3 which is an universal remote control called Broadlink RM4 Pro that can be used to control your home appliances using Infra Red and Radio Frequency.
You can create scenes and automations and it even have an optional cable with sensors that can show you the temperature and humidity.
Probably you already guess it right, you can add the Broadlink RM4 Pro to Home Assistant. I have two articles/vidеos: One for reviewing the product features:
And the other video/article is all about adding Broadlink RM4 Pro to Home Assistant.
You can buy Broadlink RM4 Pro from the following links:
Item 2 of my TOP7 Smart Home gadgets during Singles Day
Next item, which is number 2 from my list is a must have for any Smart Home maker. It is an ESP32 based board called D1 Mini ESP32.
On this board you can install multiple softwares like Tasmota, ESPHome or you can upload a custom Arduino Project like I did to control SwitchBot products in this article 👉 LINK.
On top, you can attach all kind of sensors and relays on the D1 Mini ESP32 and it is so cheap, that I just can't get enough pieces of these. So, if you want to get one of these use the links below.
D1 Mini ESP32:
Item 1 of my TOP7 Smart Home gadgets during Singles Day
The item number 1 from my list is a big one! It is a Creality 3D printer Ender3 v2. With this printer you can print all kind of stuff, some of them useful and some of them totally useless 🤣. If you have kids, this printer will become kind of best toy that produce new toys on demand.
Setting up this printer is tricky, but I have a video/article where you can see all the glitches that I faced and avoid them beautifully.
If you always wanted a 3D printer, now it is the best time to buy it. On top this is probably the best 3D printer that you can get under $300 and the price during the AliExpress Global Shipping Festival should be probably the best during the year.
CREALITY 3D printer Ender-3 V2:
Outro
With that my TOP 7 ranking for Smart Home gadgets during Singles day in AliExpress concludes.

if you wish to secure this website existence you can do one of the following or best all of them:
Remember – Home Smart, but not hard!
I'm Kiril and I'm done writing. Bye!